Remember how you used to do your eyeshadow in high school? Using the brightest of colours with some cheap brush and just slapping that product on your lids without a second thought of blending!? (hoping it's not just me). My eyeshadow was so simple and plain awful, but luckily over the years I have practised and watched a TON of Youtube videos to look somewhat semi decent when I leave my house. With that being said it's really made me quite picky with the eyeshadows I pick up. You guys know I am all about my neutral colours that pack a lot of pigment, is creamy and lasts long on the lids is a golden winner for me.
So let me take you through my palette collections that I have thus far.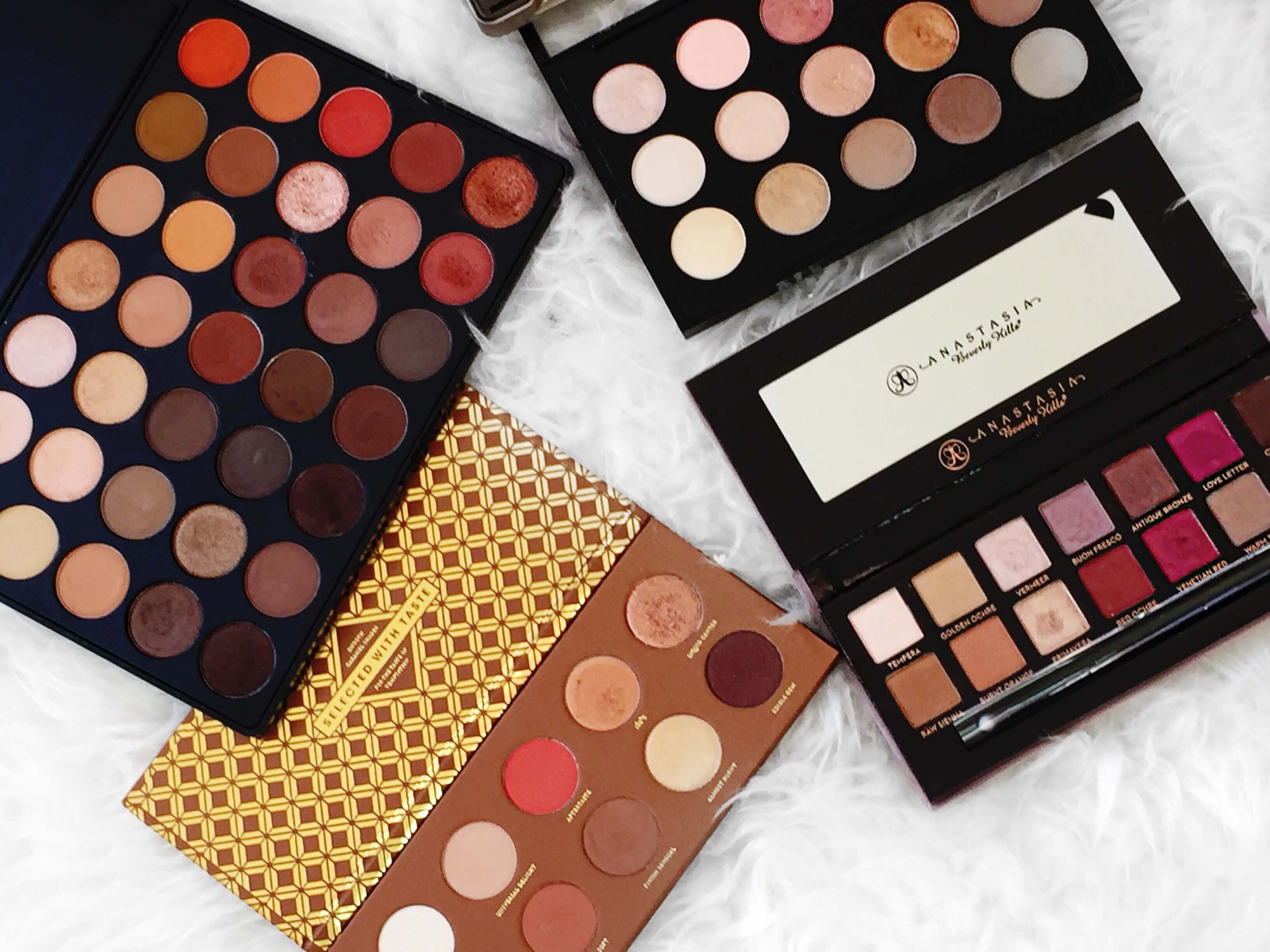 Zoeva Cocoa Blend Palette (full review)
I'm going to mention this one first because it's my most used palette out of all the ones I have, considering I've hit pan on most of them. I adore this palette to bit. Its the perfect neutrals palette for someone who loves browns and golds and pretty much resembles the wrappers you get in a confectionery chocolate box. Madly pigmented, super creamy, and lasts ALL day on the lids, you can see why I cant get enough of it. My favourite colours are Pure Ganache, Substitute for Love and Freshly Toasted. Just looking at it makes it good enough too eat. Zoeva have two more to their chocolate range which are the Caramel Melange and Blanc Fusion palette.
Zoeva Caramel Melange Palette ( full review )
So after the success of the Cocoa Blend palette, it was a no brainer when the caramel melange came back into stock on Cult Beauty that I was buying it. Same formula, consistency and texture like the cocoa blend, the colours range is more on the caramelic, toffee and butterscotch side. The thing that I love about Zoeva confectionary palettes are that they just look good enough to eat. I'm just still undecided whether to get the Blanc Fusion as the colours look very light and not sure if it would agree with my skintone.
Morphe 35O Palette ( full review )
#PALETTE4LIFE is how I feel about my Morphe 35O palette. An array of 35 warm toned colours to suit every skin tone (IMO) you will most definitely find a colour or two, or three or damn even the whole 35 colours to work with to create everyday looks, smokey eye looks, weekend looks etc. Their is a selection of matte, shimmer, metallic and foiled shades to work with. Buttery smooth with perfect application and blends so easily on the eye with pretty much any brush, its no wonder why I have been using this palette religiously since I got it.
Morphe 35T Palette
Ok so I bought this palette as the Morphe 35O was not in stock at the time. From the pictures it looked like a warm toned colours with a lot of shimmery shades and the matte colours looked more like transition shades. Before using the 35O I was very much a shimmer eye lid chick so I thought why not. Now do I like this palette? Hmm I like it but not as much as my 35O. When I opened it up it looked more cool toned to me. Its like you know when summer is over and its still warm but you get more breeze!? Thats what this palette is, a combo of warm colours with an undertone of coolness. Besides the colours, everything else is perfect in terms of the formula, high pigmentation, no fall out and decent pan sizes.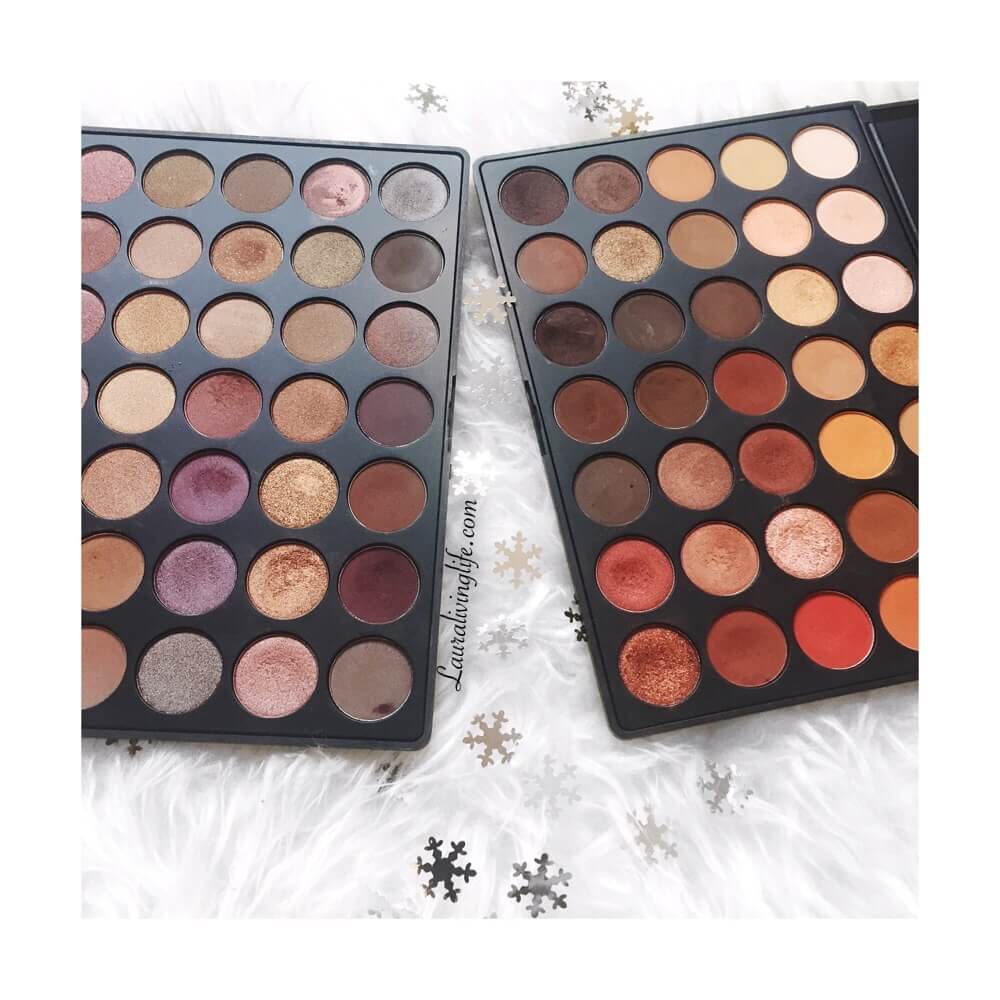 Urban Decay Naked 2 Palette
2014/2015 was all about the naked 2 palette for me. This was my first ever high priced eyeshadow palette, when I decided to take my eye makeup looks more seriously. It was and still worth the £38 I paid for it! Admittedly it does sit in the dark in my drawers as other palettes have rightly taken my attention away but that doesn't take away the fact that its a banger of an eyeshadow! The colours range from pale to deep and matte to shimmery. There is no look you can not create with this palette. From neutral, glam and smoky there is many looks to be achieved. I really love the metal casing and it comes with a double ended cruelty free shadow/crease brush which is an additional bonus!
Anastasia Beverly Hills Modern Renaissance Palette ( full review )
One of the most talked about palette of 2016 has to be the Modern Renaissance Palette, and I mean you can totally see why right? From the gorgeous velvet pink casing to the eye watering 14 colours included, theres no forgetting about this palette. Out of all the palettes I own, I can honestly admit that I was contemplating just keeping it as decoration, because its literally too perfect to even use. The palette has a collection of matte and metallics shades and also includes a dual ended soft bristle brush. If you can get you hands on this palette don't hesitate and just buy it. Its totally worth it.
MAC Eye Shadow x15: Warm Neutral Palette ( full review )
No matter how many products I buy, I always find myself drawn to MAC. With so many brands constantly coming in, MAC to me has become an oldie but still a goodie! The warm neutral palette is right up my street, because its pretty much 15 colours of warm toned shades. It has the right colours to create a bronzed or golden look, and two dark colours to give yourself a seductive smoky eye. The formula is pigmented and smooth and doesn't crease at all on my lids. The lasting power is also amazing of at least 8 hours plus. I would highly recommend buying their pre-made palettes, because if you was to make your own you would be forking out over £160 as opposed to the £49.50 I paid for the pre-made one.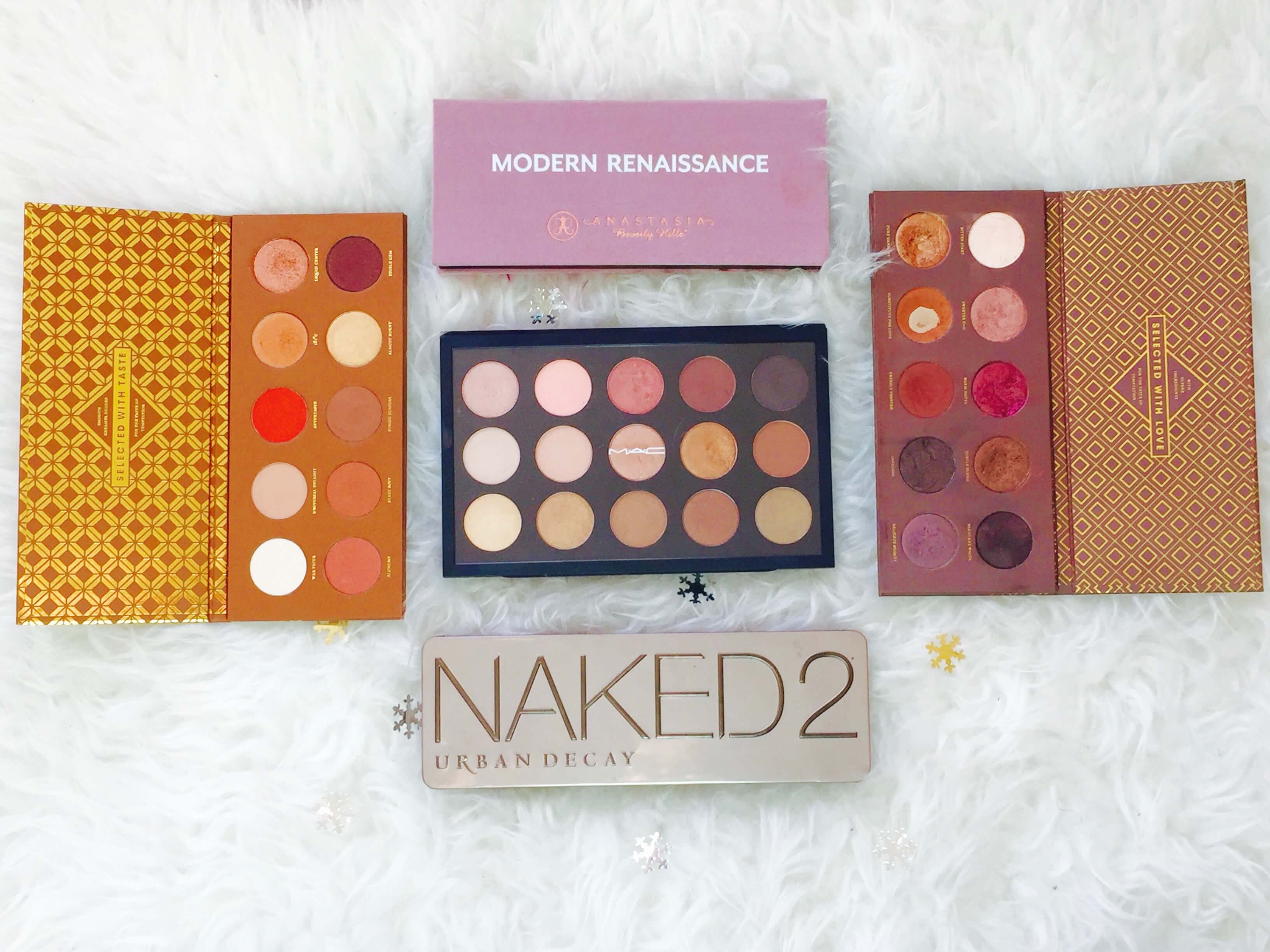 Let me know what your palette collections consist of? Whats your favourite palette?