What a hectic few weeks. As you guys can see I have been MIA from my blog for a hot minute now. I have been so busy with work and most importantly moving house that blogging unfortunately had to take a back seat, not to mention that we also had to wait a verrrrrryyyy long time to get internet connection, which also delayed me being able to post onto my blog… BUT anyway! I am back again and can not wait to get straight into this review of the one and only Zoeva Cocoa Blend Eyeshadow Palette.
Listen if you don't know about Zoeva I cant even say 'oh you must be living under a rock', I am literally just gonna give you the eye roll emoji because honestly…. Reallly!? Zoeva known mostly for the brushes ( Still waiting for my bank balance to be on a high so I purchase me the rose gold set and be the happiest woman alive) is also killing it when it comes to their eyeshadows too. Growing up I experimented with so many colours I damn well looked like a flaming peacock who had dived in head first into a rainbow pool (not a pretty sight) but as I've gotten older I am now so about that neutral earth tone life.
This is where the Zoeva Cocoa Blend come in. This chocolate delight can be anyone's cup of tea. The eyeshawdows have been inspired by warm truffle colours and also delicate nougat and shimmery marzipan shades. When I opened the palette for the first time, my sweet tooth was aching for some luxurious chocolates. The outer packaging of the palette actual resembles the most fancy of some luxury chocolate boxes out there with its brown and gold design.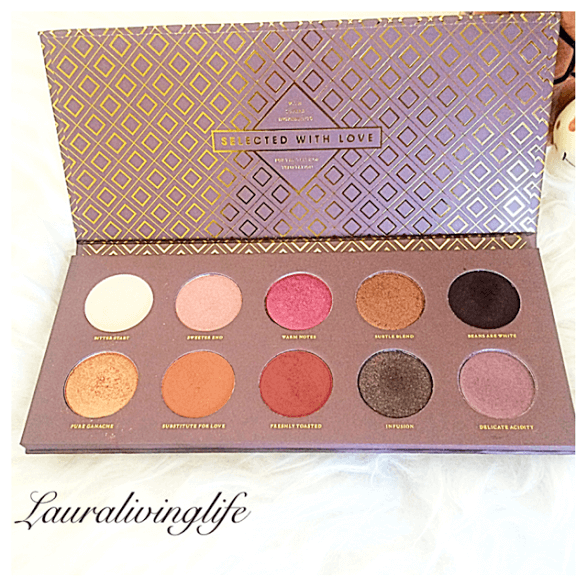 The palette comes with ten eyeshadows and although it is powder based, when I tell you that the texture is mad soft and creamy its unbelievable. Ladies the Pigmentation!!!!! You guys already know I'm always twerking when I find a dream product, and twerking away I was. The pigmentation is unreal and you really don't need use a primer as a canvas before you apply the eyeshadows because they are true to the colour you are seeing in the pan and it does not crease or fade after many, many hours. Going to work or even on nights out I have had to send my Naked 2 palette on numerous holidays because the Zoeva cocoa blend is my new fave. I have so many eyeshadows that I use that are not in palette forms and it can be such a pain in the bum having to rummage through my makeup drawer looking for the shades I desire, so I am so happy to have found a palette that has colours that I can practically use everyday; day or night. I found all the shades easy and smooth to use, although with the dark shades you will have buffer and spend quite some time blending it out properly, especially if you are going for a smokey eye. The warm tones of the eyeshadow would be perfect for any skintone and so many looks can be created with this palette. My favourite colours by far are definitely Subtle Blend, Pure Ganache and Substitute for Love.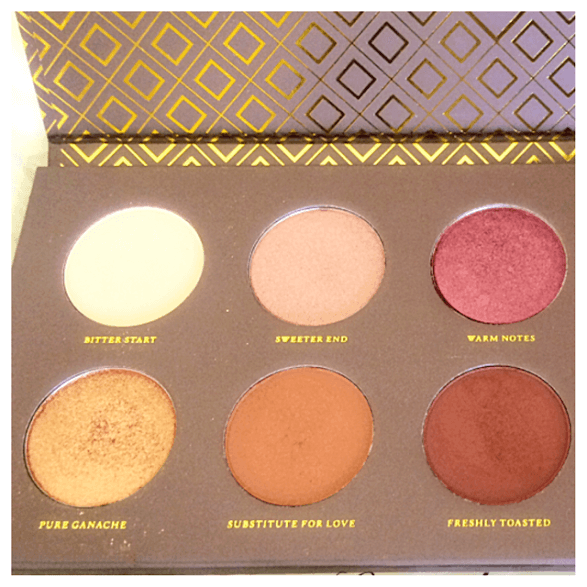 Bitter Start- A warm ivory matte eyeshadow which can be used as a highlighter under the brown bone or as a base on the lids for a more intense colour of the other palettes.
Sweeter End– A soft dusky mauve shade with a metallic finish. Very nice as a base colour and also a transitioning colour.
Warm Notes– A warm rich red brown, almost cranberry like, with hints of golden that reflects in certain lights. Perfect for creating a sultry, sexy smoky eye.
Subtle Blend- A golden brown with a shimmery finish. Great on the lids, and in the corner areas too, to bring out your eyes.
Beans Are White- A matte charcoal brown. To create a smoky eye or even a dark grunge look.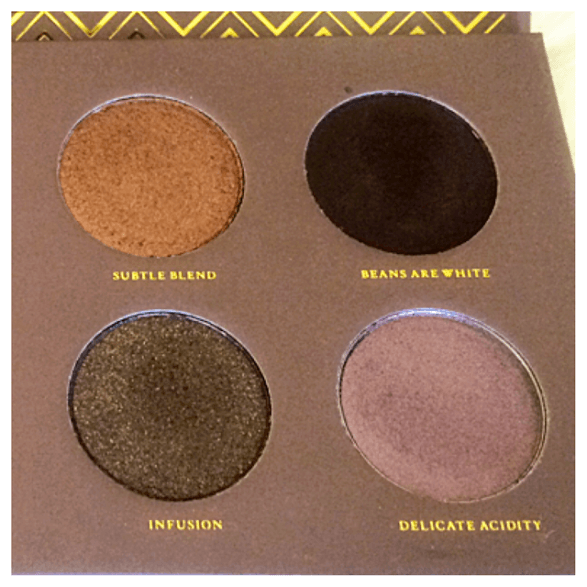 Pure Ganache– A warm bright golden bronze with a metallic finish. Its a perfect dupe to Mac's Hoodwinked.
Substitute for Love– A light warm chocolate brown with a matte finish. Another good transitioning colour, or even worn on its own for a very neutral look.
Freshly Toasted– Another matte finish that is a rich deep brown with an undertone of red.
Infusion– A matte dark brown eyeshadow which reminds me of MAC's embark which has been infused with specks of golden glitter.
Delicate Acidity– A duo chrome mauve which has a lilac look in certain lights. It is a darker version of MAC's Satin Taupe.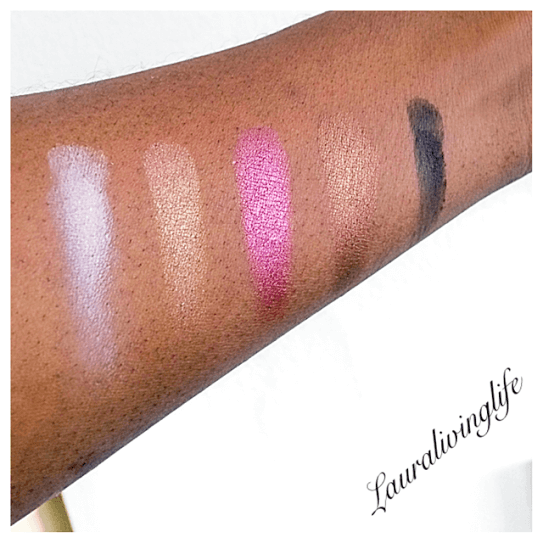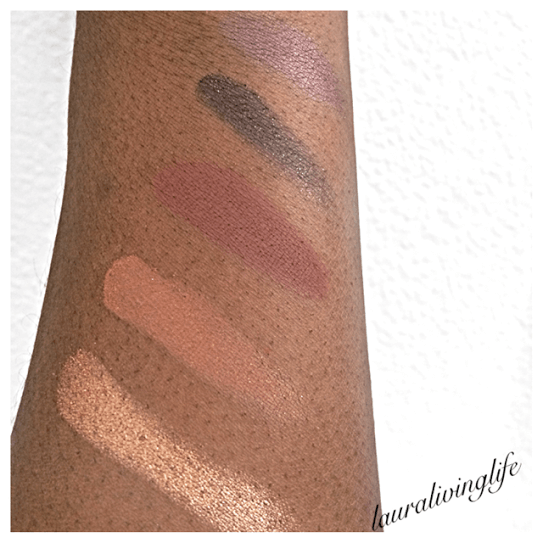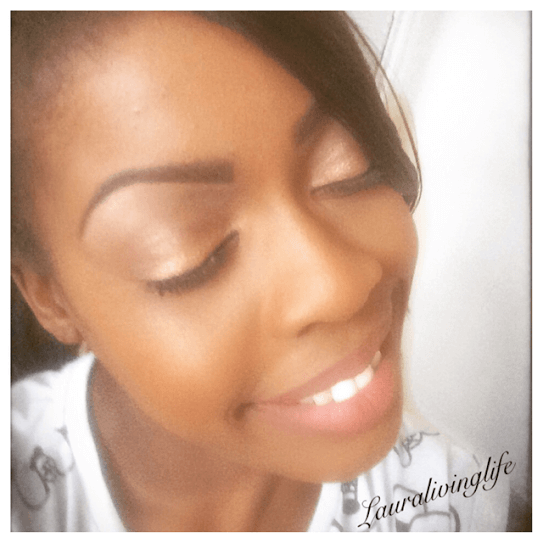 All in all these really are some spectacular eyeshadows that I highly advise you to try out. I purchased mine for £15.50 on Beauty Bay, which is a great stockist website for a lot of products that you cant get in British stores. I plan to delve more into their makeup line, to see what else i can get my hands on as well as getting me some of their makeup brushes.
Have any of you tried this palette and what did you think of it, What looks have you created. Also who has Zoeva brushes and which one would you recommend me to get? Thank you so much for reading and I'll see you in my next post.