You don't know how much I've been loving these colder months. Being in my knee high boots and turtle necks have been total bliss. It really is my favourite season. Just less than 27 days before the big C-DAY! I cant wait to help, prepare and stuff my face with my mums christmas cooking. Aside from food and pressies I'm just looking forward to spending quality time with loved ones, and following in the tradition of watching all the drama on the soaps while cosied up on the sofa with our onesies and diving into christmas pudding.
On to my November favourites which have literally been my everyday go to.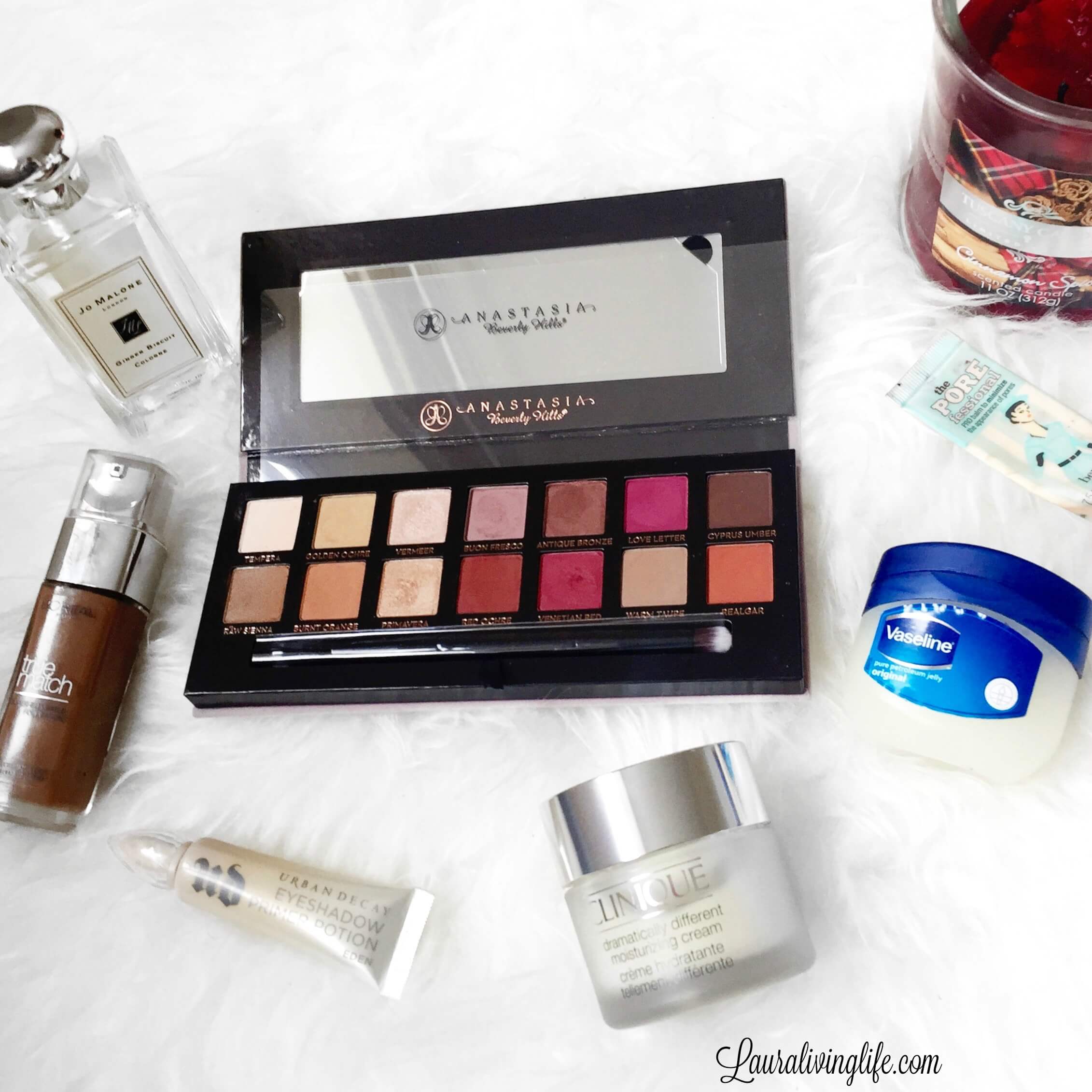 Tuscany Candle- Cinnamon Spice £10
As much as I love lighting up a candle around the home, theres something more cosy and special about it around the autumnal winter months. I have to admit that I usually don't branch out with other candles, as my trusted Yankee Candles have done me very well so far, but when I gave this a sniff in Clintons, I was hooked. Cinnamon Spice is a combination of creamy vanilla and cinnamon sticks entwined with spicy nutmeg and rich brown sugar. *Drooling* It burns up to 50 hours, and without being lit, it still leaves a nice subtle aroma in the room.
Urban Decay primer potion in Eden £16
Its funny because if anyone asked me my thoughts on Urban Decay eye primers I would frantically tell them to run for the hills. I hated it. Well more specifically I hate the Urban Decay original primer. It makes my eyes water and leaves horrible leaky streaks on my lids. I swore never to use them again, but when I was given a sample of their other primers I generated towards Eden and have been obsessed ever since. Its a nude matte finish with full coverage that can be worn alone, but paired with your favourite eyeshadow has your eyes looking like freaking HD. My eyeshadows have never budge with this primer.
Benefit Porefessional Primer £22.05
No matter how many face primers I introduce in my life, Benefit Porefessional will always be my number one! Although I only have pores on my nose, I love using this sparingly all over my face for such a flawless finish with my foundation. Anyone who hates their laugh lines, this will be great as it really helps to cover it up without you looking cakey. The primer is more geared for oily skin as its oil free, but with my dry-combination skin its just as good too. Its suitable for all skintone and lasts a very long time!
Anastasia Beverly Hills Modern Renaissance Palette £41
You only need to go and check out my full review here to see my infatuation with this palette. super creamy, great consistency and such wonderful warm rainbow colours, its all I've been wearing in November. I don't want to toot my own horn but damn *BEEP BEEP* I look mighty fine when I'm wearing this palette if I don't say so myself 😉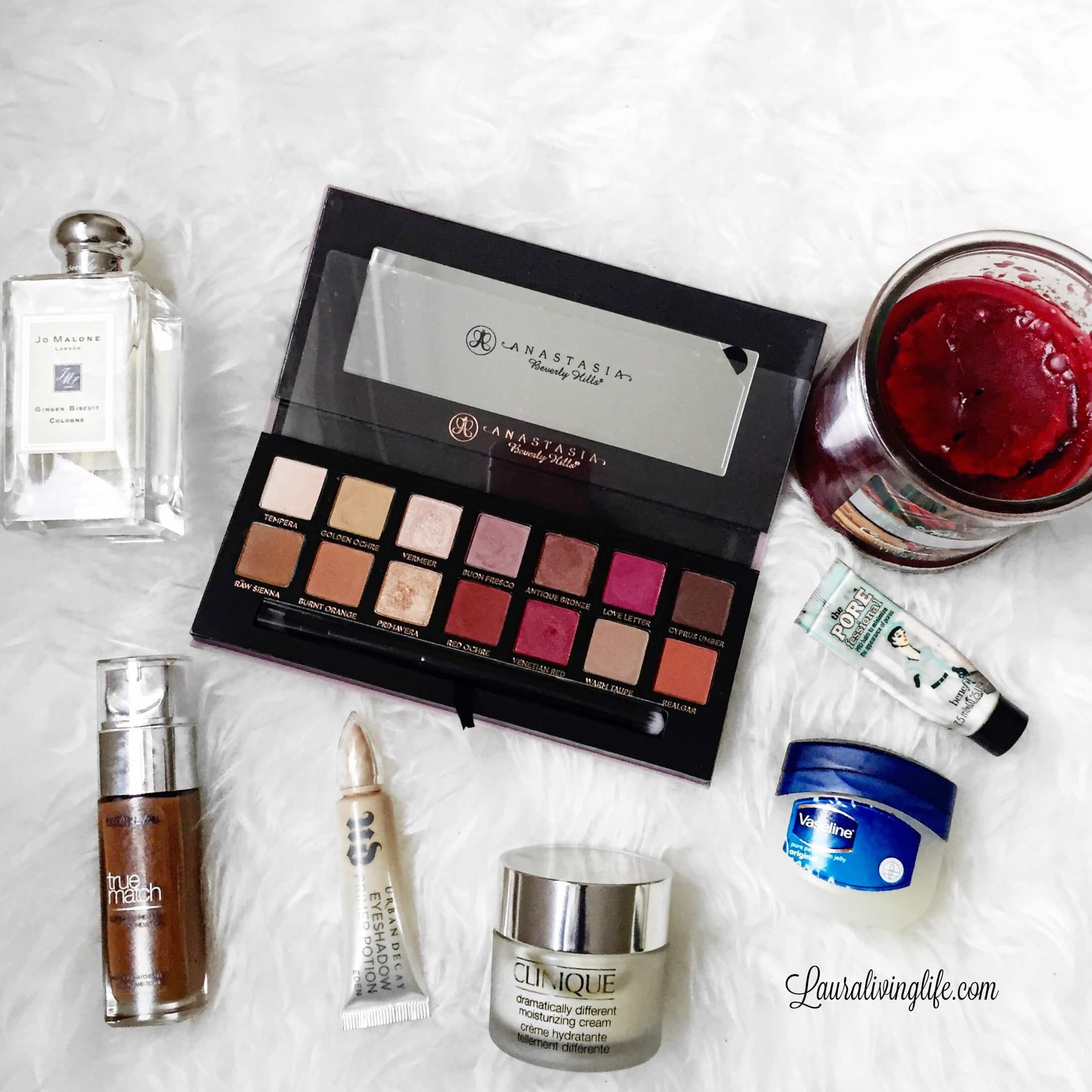 Vaseline £1.38
Listen all the lip balms in the world can claim to have their staple uses but as far as I'm concerned vaseline will always be the next best thing since slice bread. You just cant go wrong with a bit of vaseline and its such a multi-purpose product. Ive been using this on my lips, my eyelids, and even mixing it with my hand creams for added moisture and protection.
LOreal Paris True Match Foundation £9.99
I've already shown my appreciation for LOreal catering more colours for WOC with their true match range, but what I am impressed even more with is just how great this foundation is full stop. The velvety formula blends into my skintone so well and gives me such an amazing skin finish flawless look. The foundation comes in 23 shades and each complexion has their own undertone; Pink (cool) Neutral or Golden (Warm) so you should hopefully be able to find a shade most suitable for you.
Clinique Dramatically Different Moisturising Cream £25
With the weather starting to become harsher, skincare should be really important to you right now. As much as I love wearing makeup than the next person, my natural face still needs to get taken off. This cream has been doing wonders for my skin and complexion, leaving me with a clearer, brighter radiant look when I'm makeup free. My face is no where as tight and dry as it used to be before I started using this cream. Its such a heaven scent. Click here to read my full skincare routine, featuring the Clinique Dramatically Different Moisturising Cream.
Jo Malone Ginger Biscuit Cologne £90
I know I just did my review on this beauty the other day, but its called November favourites and believe you me it has been one hell of a favourite! I cant stress how much that if you are a lover for sweet bakery scents then you need to forget about the price tag and go and get you some Ginger Biscuit. I will be wearing this non stop till it finishes!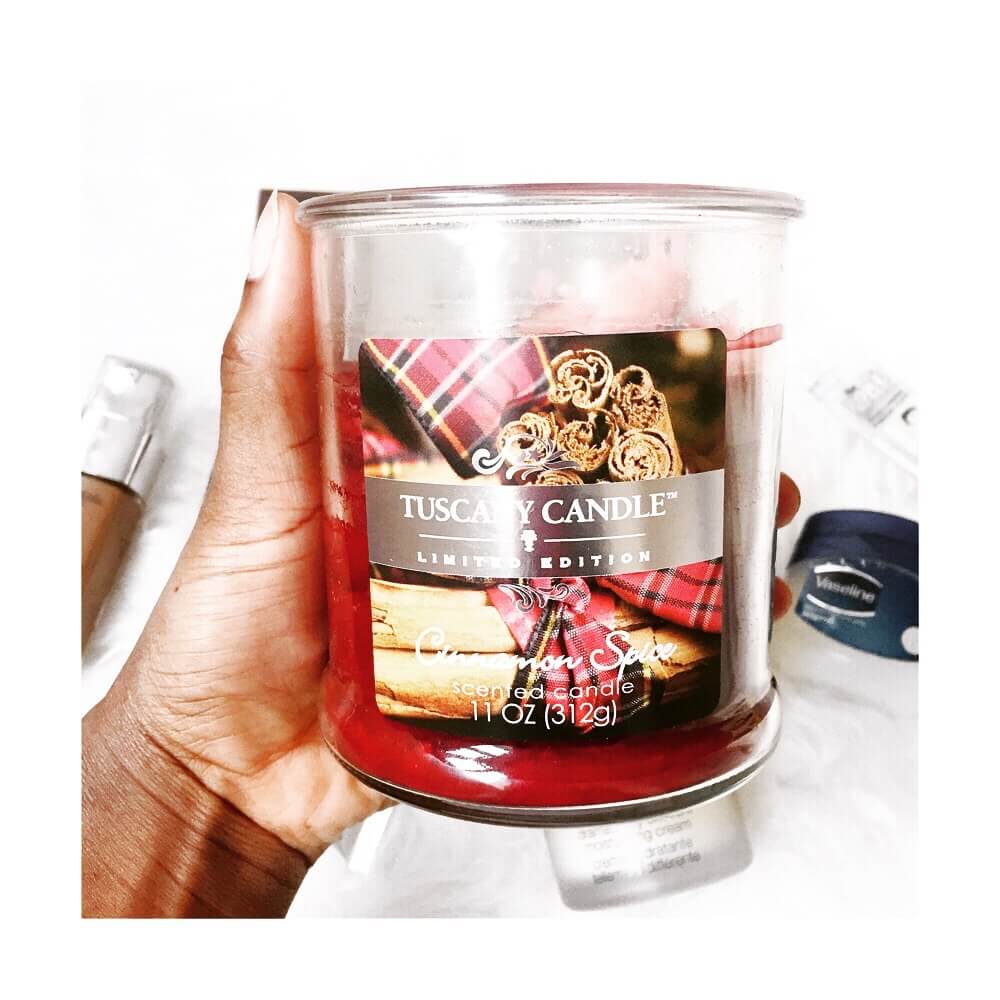 What have you been loving in November? Do you have the same favourites as me? let me know down below. Also to mention that I am running a Christmas Giveaway on my Twitter so follow me for the chance to win 6 NYX Cosmetics Lipsticks!