Any avid reader of mine will know that I love me a bit of Clinique. Their foundation is my all time holy grail and after having so much positives with their foundation (review here) I decided to branch out to their skincare products. If you check out my last skincare care post, you will see that I used quite a lot of product. Although each of them served their purposes, I think it's good to experiment and explore other options which can add additional benefits to our skin. I still have hyper pigmentation on both sides of my face, around my mouth and my eyes, but I can honestly say I am seeing some improvements in fading and I mostly think that it's down to me making sure I wash my makeup off my face EVERYDAY (or at least try too) as well as the products I use.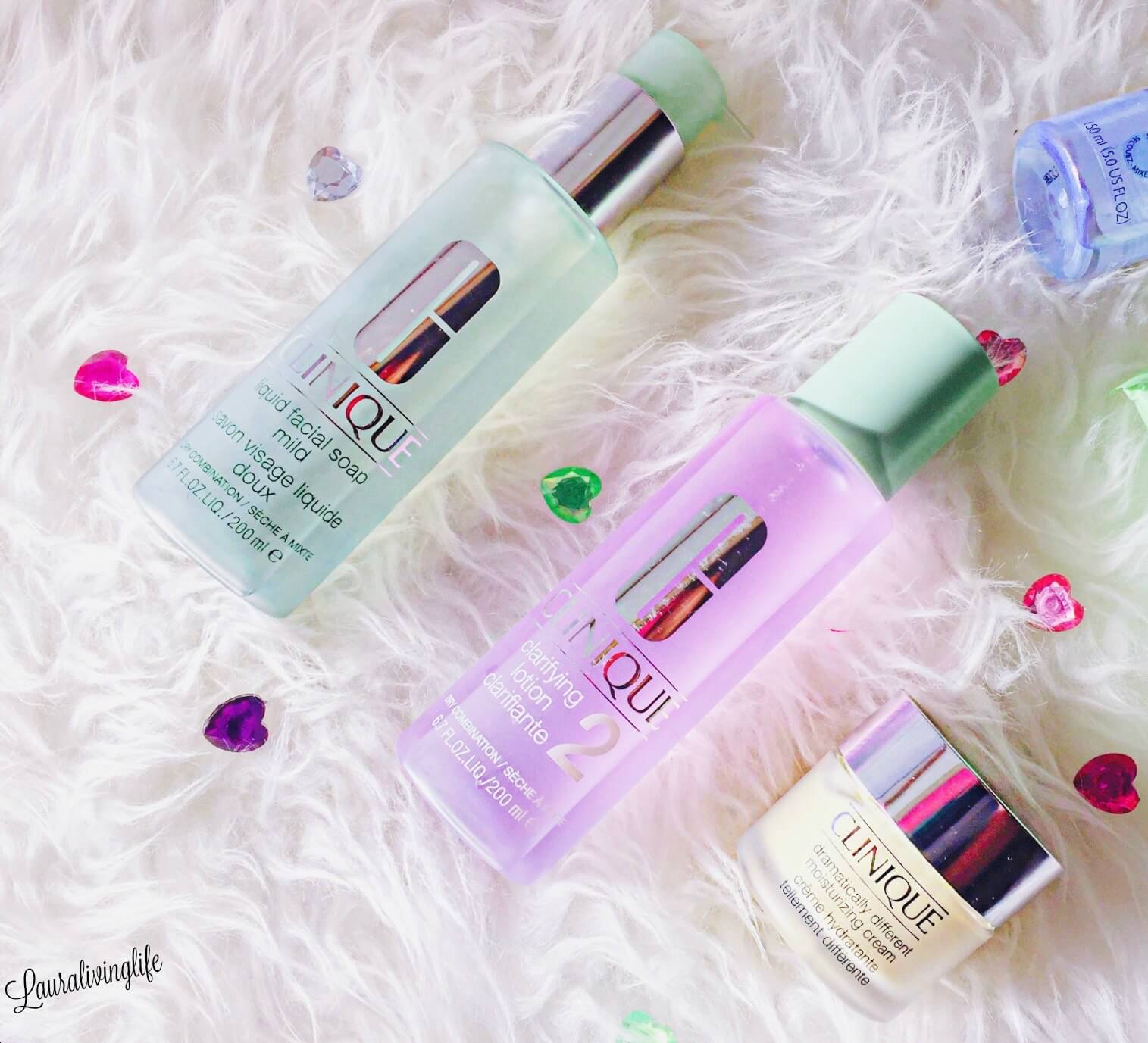 Ok so I am lazy AF , but another reason I can't be bothered to take off my makeup is the extensive routine I unnecessarily put myself through to give myself the ultimate fresh face. Going to the Clinique counter in Boots (which is a UK drugstore), I told the consultant working there that I was trying to find a simple skincare routine with products that would actually help cleanse my face properly and show some results too. We went through a skin diagnostic to evaluate my skin type and the best products which would benefit me. I was surprised to see that although I believed I had dry skin, its actually dry/combination skin that I have. My face does feel very tight and dry without moisturiser, but with moisturiser applied my T-zones do tend to get oily.
Let's not kid ourselves Clinique products can be expensive and I really didn't want to empty my pockets to products that might not even work. The consultant understood and didn't try to push me to buy every Tom, Dick and Harry products with the promise of better skin than a Disney Princess character, and instead suggested 3 products that I should start of with and if they helped (or not) I could come back and she would help me further by advising other products.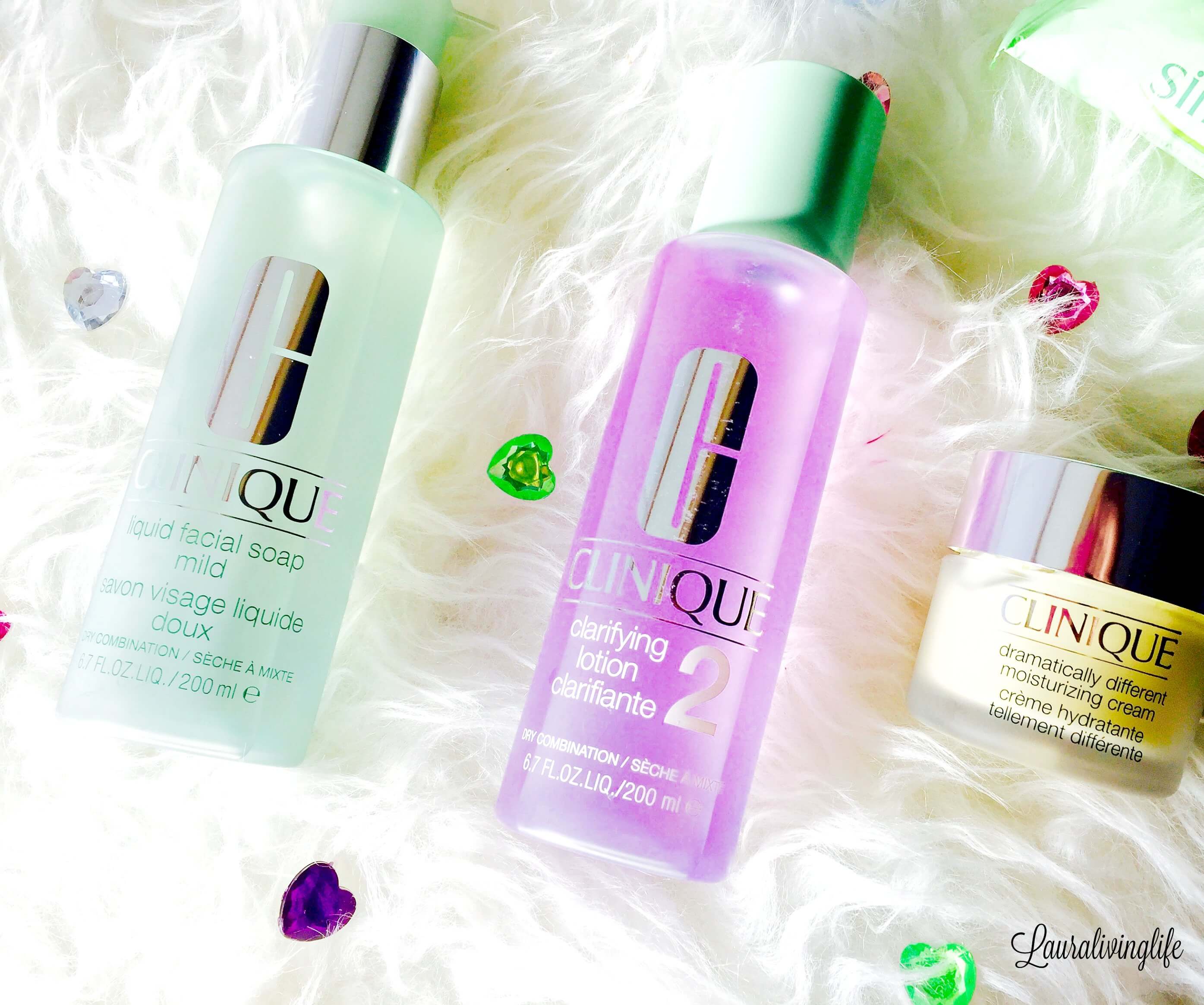 So the three products I purchased and have implemented into my skincare routine are:
Clinique Liquid Facial Soap £16.50
Now this facial soap is actually a top seller and I can totally see why. The soap is super mild but highly effective. It cleanses my face beautifully without me feeling like stripping all of the any oils that I have on my face. After using my hands to gently wash off the remainder of my makeup with this silky soap my face is practically glistening afterwards. My face doesn't feel dry at all and more so very hydrated. I also love that it's packaged into a dispenser so it keeps it fresh rather than having a messy soap bar in your bathroom.
Clinique Clarifying Lotion 2 £16.50
After I've finished with the facial soap it's next on to the clarifying lotion. This lotion is designed to gently exfoliate the skin and de flake to reveal clearer skin. You are meant to use this twice a day (morning and night), on weekdays I will use it only at night, but on weekends I will use it twice a day. I just apply it to my cotton wool and evenly distribute it all over my face and neck. It does contain alcohol and witch hazel which might feel drying on certain skin types, but I apply my moisturising cream straight after, so i've had no issues with irritation or dryness. The best way I can describe how my face feels like, is imagine the sensation you feel in your mouth after you pop an Airwaves gum in. My face is mega cool, tingly and refreshing. It's such a great toner that doesn't tightening my face AT ALL!
Clinique Dramatically Different Moisturising Cream £25.00
Then to finish it off is the Dramatically moisturising cream. This cream is so rich in moisture that even in the morning when I wake up my face is still moisturised and soft. Dermatologist have developed this formula to offer all day protection and be able to soothe even the most of driest skins. They have definitely hit the nail on the head with this formula because I hundred percent agree! I literally take a fingertip size amount and rub it all over my face and neck. I also use it underneath my makeup with a good primer and it doesn't affect my makeup at all.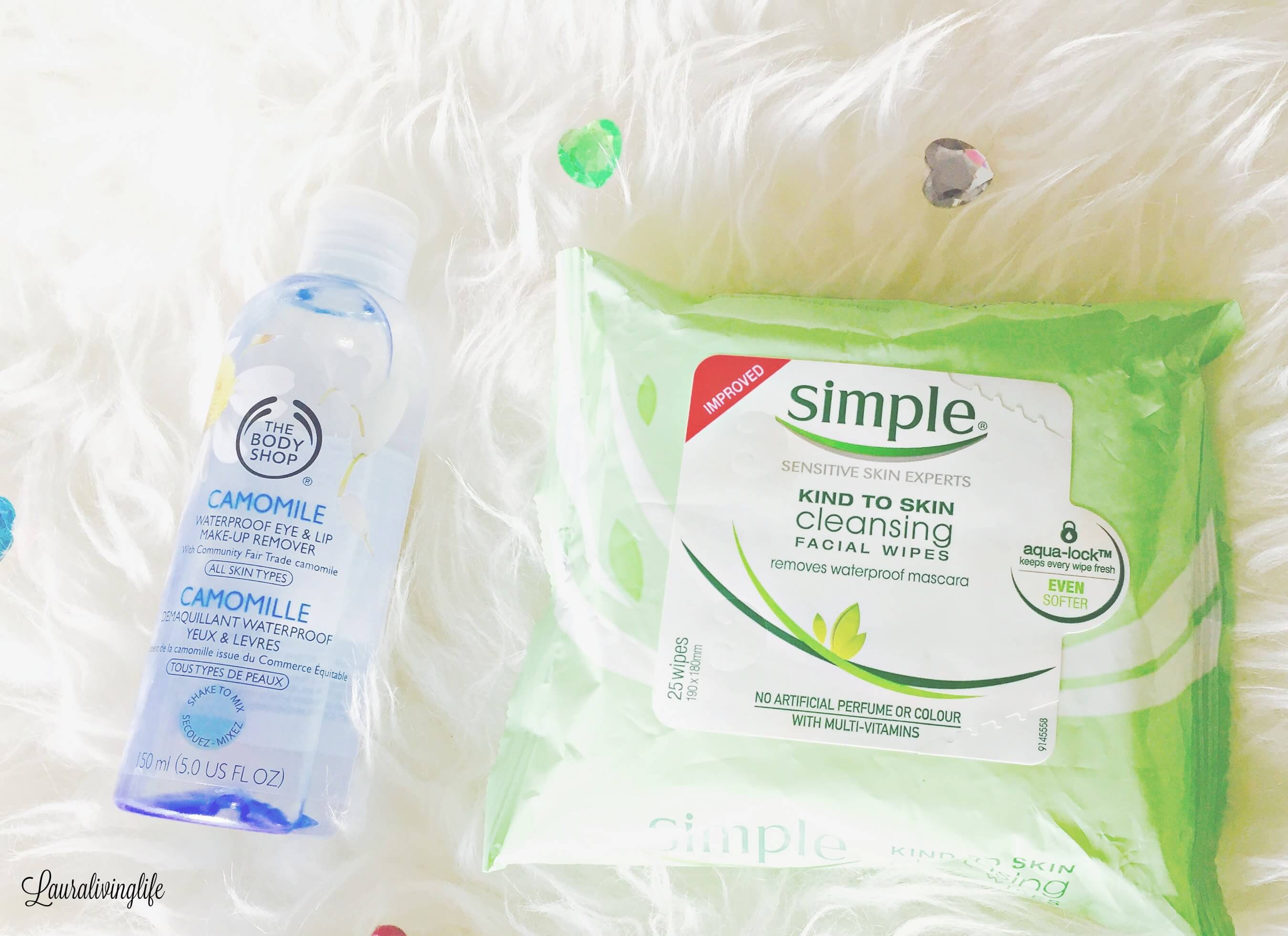 And that is pretty much it guys. Other than using simple face wipes to remove my makeup and the Body shop camomile eye remover to properly wipe off my mascara and eyeliner, the 3 Clinique products hold me down. I am done with my skincare routine in about 10 mins, which is perfect for me.
Have I seen any difference in my skin? Absolutely. Weirdly I can always tell my face is most improving when I notice I'm not applying as much foundation as usual. When my makeup is glowing and not from my Laura Geller highlight, but actual SKIN DEEP GLOW then I know I'm on the right track with the routine I've got going on. I am always curious to try new products and see what's the new rage on the market, however I will be sticking with this routine in the long run and only introduce new skincare if it's highly necessary and effective.
PROS
Mild soaps but extremely effective
Quick results
Smooth, clearer and radiant skin
Skin diagnostics with specialised consultants
Great product sizes
CONS
Moderately pricey
Clarifying lotion labelled as exfoliant but more of a toner
Whats your skincare routine? what skincare products do you swear by? Don't forget you can follow me on all my social media sites, so we can catch up outside of blogging and please share this post to spread the skincare word 😉 As usual thank you so much for reading and I'll see you TOMORROW!