Youtube sensation Jaclyn Hill came up with the cool Ride or Die Makeup Tag. I remember watching her video and halfway through I drifted off because I was too busy think "SH** this tag is kinda hard for me". I have far too many makeup, but whatever I end up throwing in my makeup bag ends up becoming a staple product of mine, till I come to my senses to try my other many, and I mean MANY Makeups!
There are some that I literally couldn't decide between, so I was cheeky and picked two. Cut me some slack eh! 😉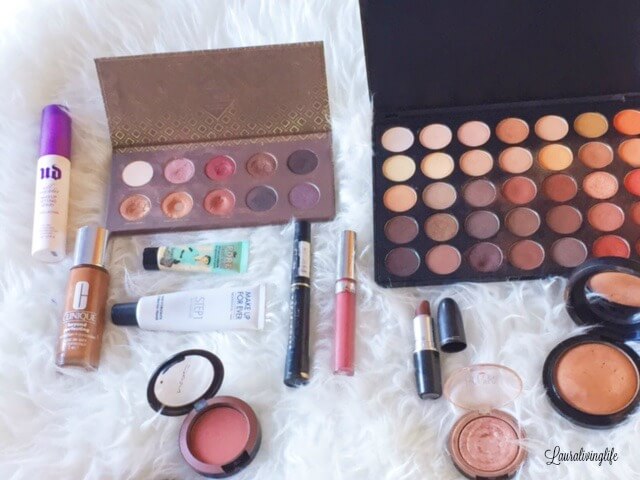 PRIMER
Winner – BENEFIT POREFESSIONAL + MAKEUP FOREVER STEP 1 EQUALIZER
OK I'm not taking the P here, I genuinely do use two primers for my face. One being the Benefit POREFESSIONAL primer that I apply on my nose, under my eyes, centre of my forehead and my chin (my oily parts) and then I use the Makeup Forever Step 1 Equalizer primer for the rest of my face. The combination is amazing for giving me such a matte flawless base.
FOUNDATION
Winner – CLINIQUE BEYOND PERFECTING FOUNDATION AND CONCEALER
I had to shed a tear for my Makeup Forever HD Foundation, that would have once been without a doubt my holy grail foundation, but unfortunately all good things do come to an end and I have a new ride or die chick in the amazing Clinique beyond and perfecting foundation and concealer. A foundation that offers me full coverage with none of that cakey-ness business, and being that it's also a concealer, so you are getting two for the price of one! Need I say more? Well if you do want to hear more check out my review of the foundation here.
CONCEALER
Winner – URBAN DECAY NAKED SKIN WEIGHTLESS COMPLETE COVERAGE CONCEALER
Damn another toughie. If I'm going for full coverage with a natural look its got to be Urban Decays Naked Skin Weightless Complete coverage Concealer hands down. If I want full coverage for a more dramatic highlight under my eyes, centre forehead and my cupids bow then Nars creamy concealer always comes through. Urgh but as I have no choice but to pick one, I will go with the former! Sorry Nars boo.
FACE POWDER
Winner –MAC MINERALIZE SKINFINISH
WOW, this tag is just getting harder and harder for me. Hmmm I have to give special thanks to Black Opal finishing powder, L'oreal true match powder and MAC Studio Fix powder for always having my back in keeping my makeup in place at the best of times. However when it comes to the ultimate ride or die… MAC Mineralize Skinfinish to the moon and back.
UNDER EYE SETTING POWDER
Winner – SACHA BUTTERCUP SETTING POWDER
Finally one I can answer with a second guessing! Sacha Buttercup setting powder.
BLUSH
Winner – MAC RAIZIN
Here we go again, just when I thought the pressure was easing off. OK I go back and forth with two. One being Sleeks blush in Sahara. A stunning warm orange-brown toned blush which highlight my cheeks and is super pigmented as well as ridiculously affordable. Two MAC's blush in Raizin is a fabulous reddish brown which serves me two purposes of not only being a great blush but doubly works as a sharp contour too. MAC Raizin it is.
BRONZER
Phew an easy pass for me as I don't use any bronzers.
HIGHLIGHT
Winner – LAURA GELLER BAKED GELATO SWIRL ILLUMINATOR in BALLERINA
Most definitely Laura Geller's Baked Gelato Swirl Illuminator in Ballerina! I'm talking straight Heaven on your cheeks. Although the shimmer highlighter in Sleeks contour kit in dark is a very close second.
MASCARA
Winner – L'OREAL PARIS TELESCOPIC CARBON BLACK
HA! No one will ever come close to L'oreal Paris Telescopic Mascara in Carbon Black. Length, volume and great separation of the lashes what else could I ask for.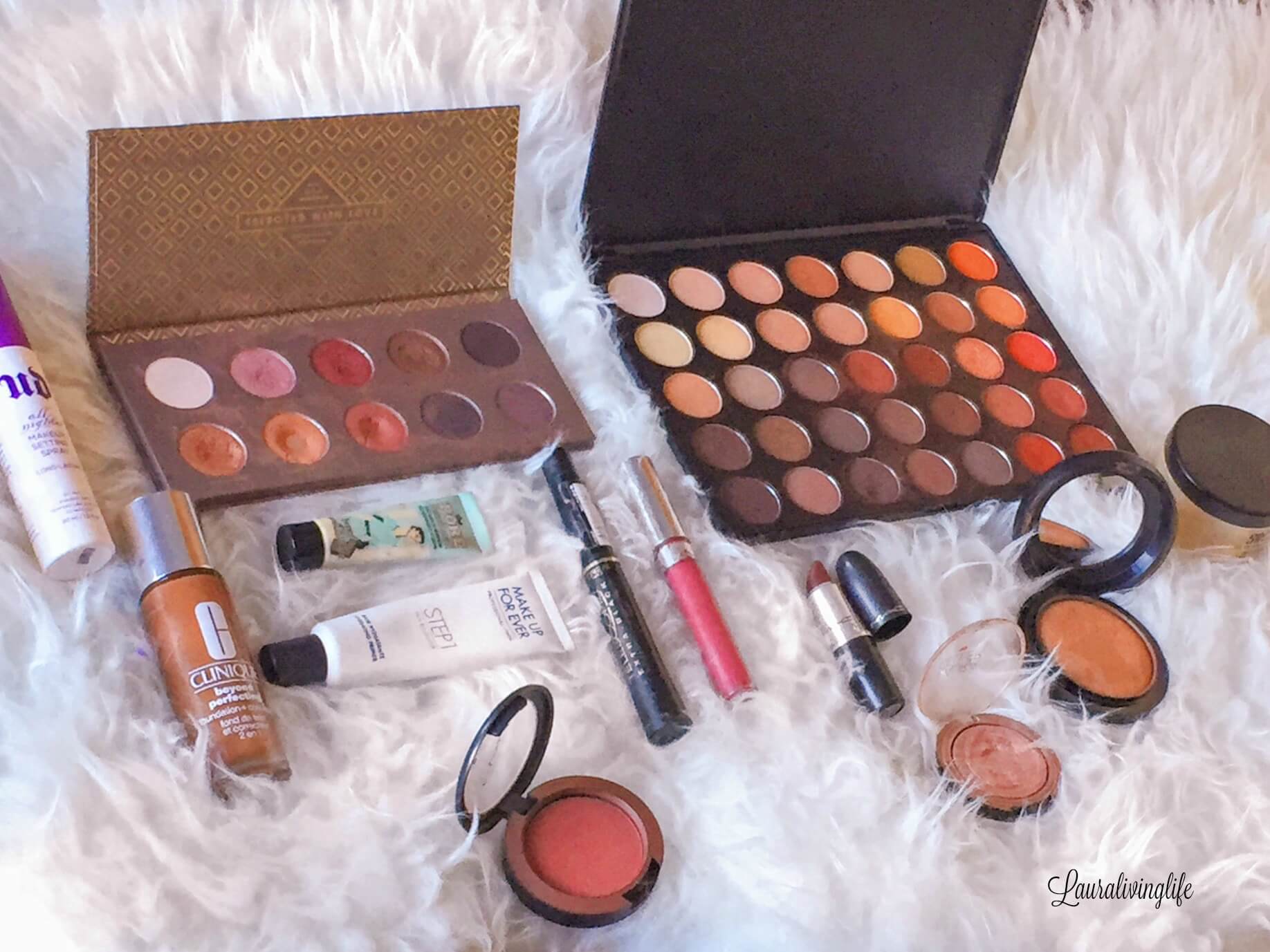 LIPSTICK
Winner – MAC VERVE
No, No and No! How can I possibly choose ONE!…. *Walks away from computer in a hump*… *comes back* FINE! MAC's lipstick in Verve.
LIQUID LIPSTICK
Winner – COLOURPOP TULLE
Why did I bloody decide to do this tag!? If the makeup police is pointing a gun to my head, I'll have no option but to choose Colourpop Liquid Lipstick in Tulle
LIPGLOSS
Winner – MAC SPICE
Not really a lipgloss person usually, being I'm a matte girl at heart. I do though always turn to MAC's lipglass in Spice.
LASHES
Winner – VELOUR LASHES
This is a toss between Ardell Lashes for their thin bands, various volumes and style or Velour Lashes for their thicker bands, longevity, lightweight and looking like the ultimate babe. High 5 me Velour!
EYESHADOW PALETTE
Winner – ZOEVA COCOA BLEND PALETTE + MORPHE 35O PALETTE
Sorry not backing down with this one, I'm going to cheat and pick TWO! Zoeva Cocoa Blend Palette and the Morphe 35O palette. Sorry not sorry! Warm toned lovers, thank me later!
SETTING SPRAY
Winner – URBAN DECAY ALL NIGHTER
Urban Decay All Nighter. Enough said.
PERFUME
Winner – GIVENCHY LIVE IRRESISTIBLE
Whyyyyyyyyyy! I have 3! I'll go with Givenchy Live Irresistible because I can use all year round and frankly its such a bomb perfume, see my review here. I will then follow it up with Dior Hypnotic Poison and if this was made a permanent perfume and not a limited edition then Jo Malone's Ginger Biscuit would of been number 1.
I hate to swear (not really), but THANK FUCK this tag is over… Well done Jaclyn you def got my beauty brain doing the rounds with this tag. I tag everyone who reads this, to take upon this near impossible challenge! Do tag me if you do, so I can read your answers and see if you struggled just as much as me. Do we have the same Ride or Die Products? Thank you so much for reading and I'll see you tomorrow!