If I cant have summer, I'll bring summer to me! Well on my nails at least! Can you believe… (hold on to your knickers) that I have never tried Essie nail polishes, like EVER!
So I've decided to introduce a new series on my blog called " First Time With… " It's basically a series of me using products from brands I have never ever tried before. i am very much so 'if it aint broken why fix it' kind of gal, but also a serial beauty addict. So I will be branching out on brands I have never tried before and giving them a good testing too. This month I have popped my cherry with Essie Nail polishes and I can also give you a spoiler that next months "First time with…" will be with Too Faced Cosmetics!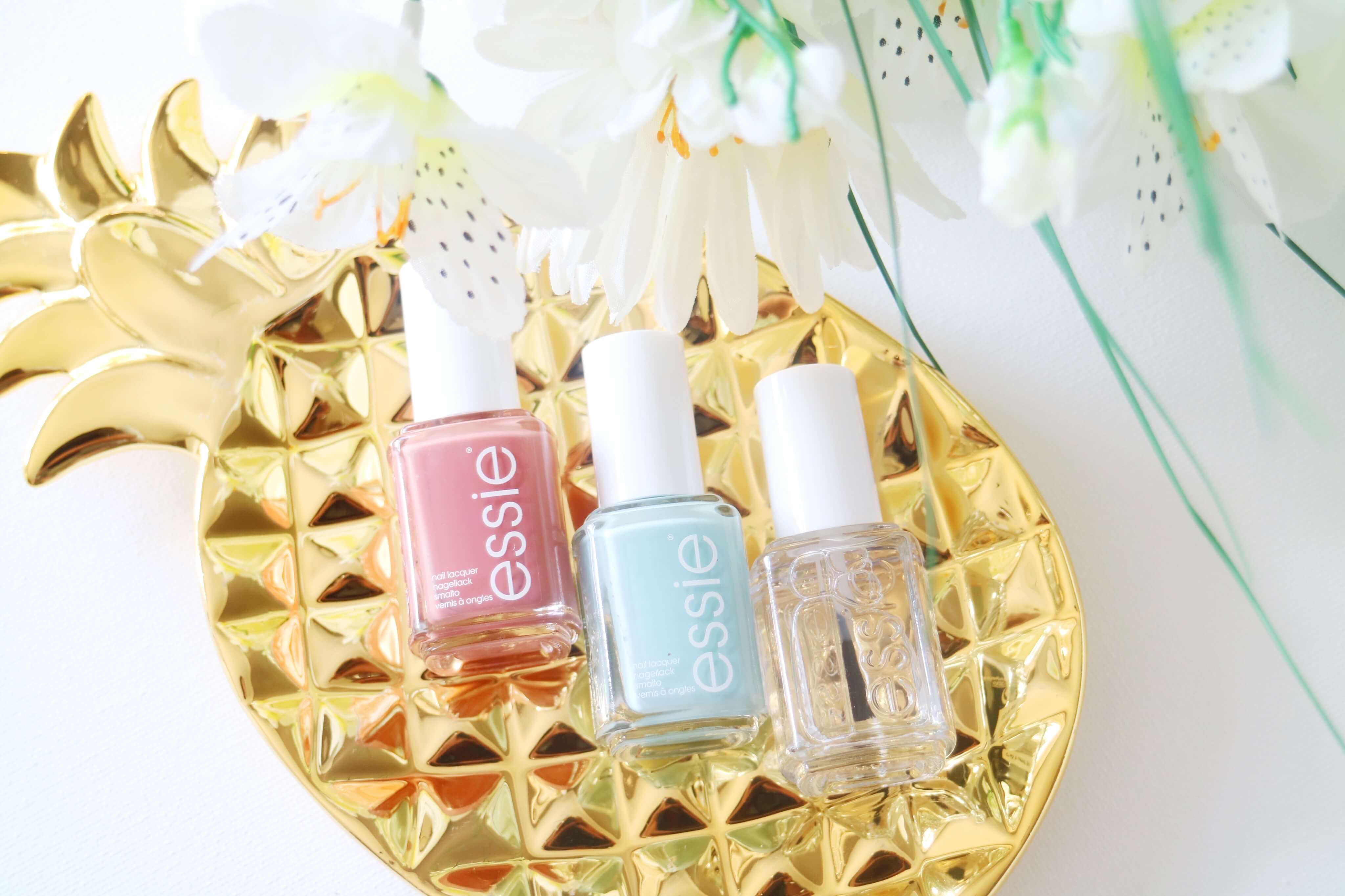 When Essie was first introduced and was all the rage (still is) I was too busy in the nail shop trying to get my point across to the nail technician that I didn't want my acrylics that long! Now many years down the line, I am so over seeing my acrylics practically crawling its way off my nails, because I just don"t have the time to get down the nail shop to get a refill and have decided to give my natural nails some good TLC and break up with acrylics.
So it only made sense that the first nail polish brand I should try out is ESSIE! Essie is a professional nail expert brand from the US and have been around since 1981. They are pretty much the brand to go to from your everyday girl to beauty professionals to celebrities! I asked on my IG story which nail polish brand I should try for the first time and honestly 98% of peoples response back was- that's right- Essie.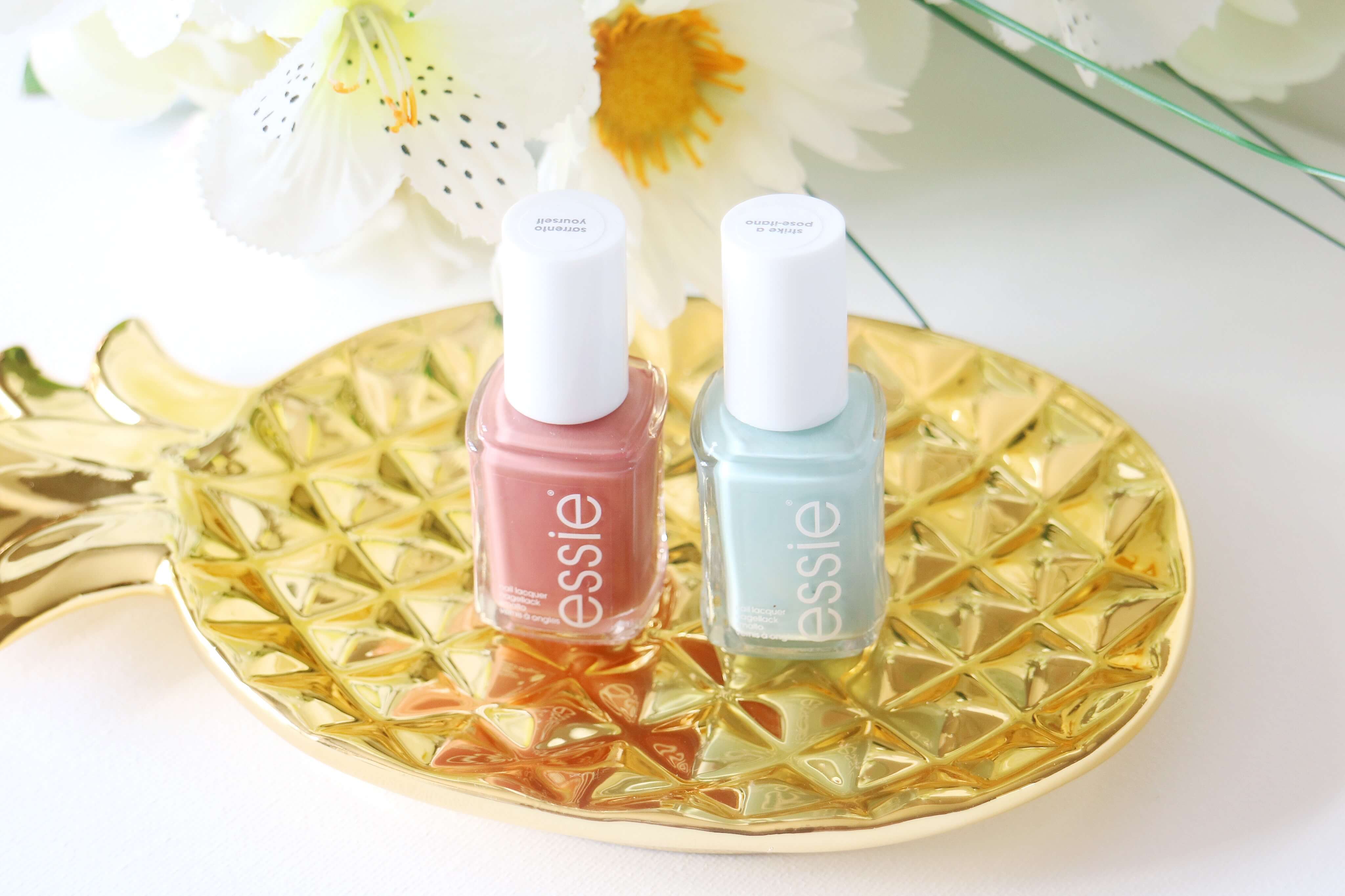 I of course had to still do my own research and was blown away by their over 1000 shades of beautiful colours that literally have you covered for all seasons. So I bopped off to my local Boots and was buzzing to see what shades I would get my nails hands on.
Being that it is (supposedly) Summer, I was on the hunt for bright colours and one nude at least. I was instantly drawn to their Essie Resort 2017 Collection .
The Essie Resort 2017 collection is inspired by the famous Italian Amalfi Coast. The four shades in their collection (Strike-A-Pose, Sorrento Yourself, Resort Romanza and Ciao Effect) are designed to set the mood for a sun soaked getaway season while splashed in colour.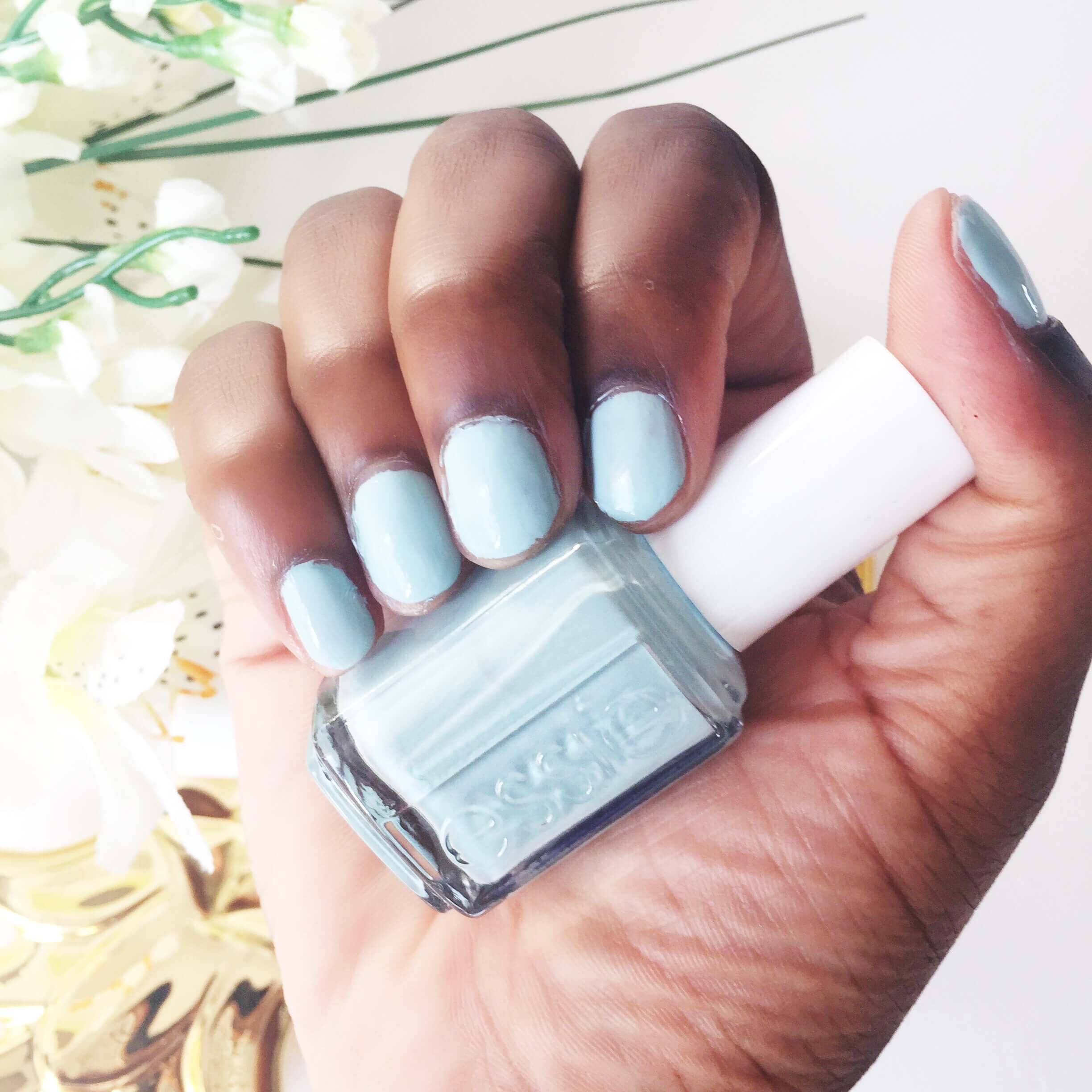 Strike- A- Pose-itano
This is a shade you just cant miss. It is a gorgeous mint colour swaying more to a aqua blue kind of mint as oppose to green. On my dark skin, you cant miss this colour and its so striking. With Strike a Pose-itano it took me a good two coats before it became fully opaque and then using the Essie top coat on top gave it more of a glossier look. I'm no pro at applying nail vanishes as you can clearly see (lol) but I do think the applicator is amazing and I just need to master the techniques of applying nail varnish properly.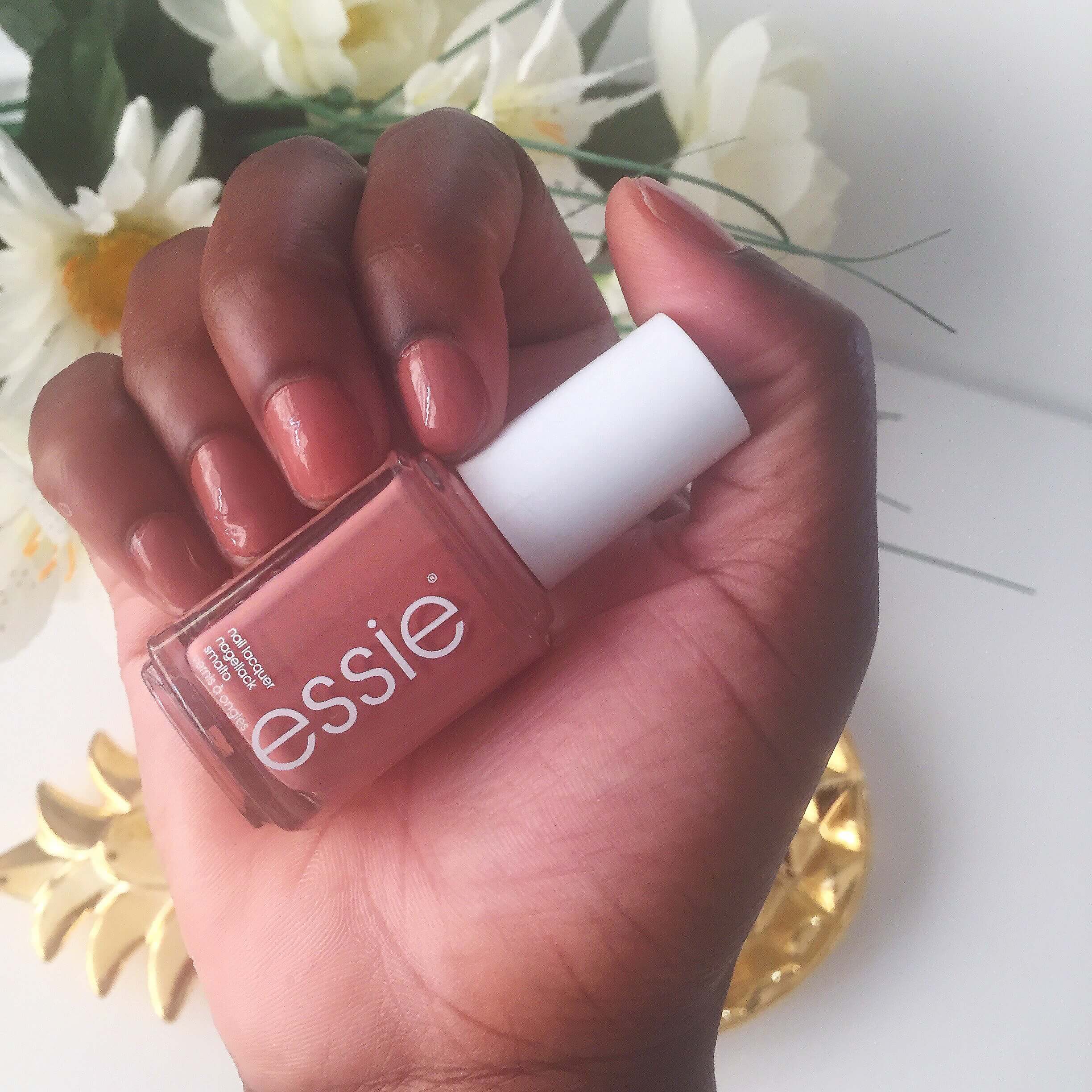 Sorrento Yourself
Eeeek! I lurrrve Sorrento yourself! Sorrento Yourself is a gorgeous rose terracotta shade, but looks more on the brown side against my skin tone. The formula is so creamy and was so easily to apply on my nails. Honestly one coat evenly covered my nails but you can add another coat if you like the fuller look. I then coated it with the top coat which then made it look more brighter. What I love about Sorrento yourself is as its quite nude on my nails, I can definitely wear it all year round as its a very neutral universal colour.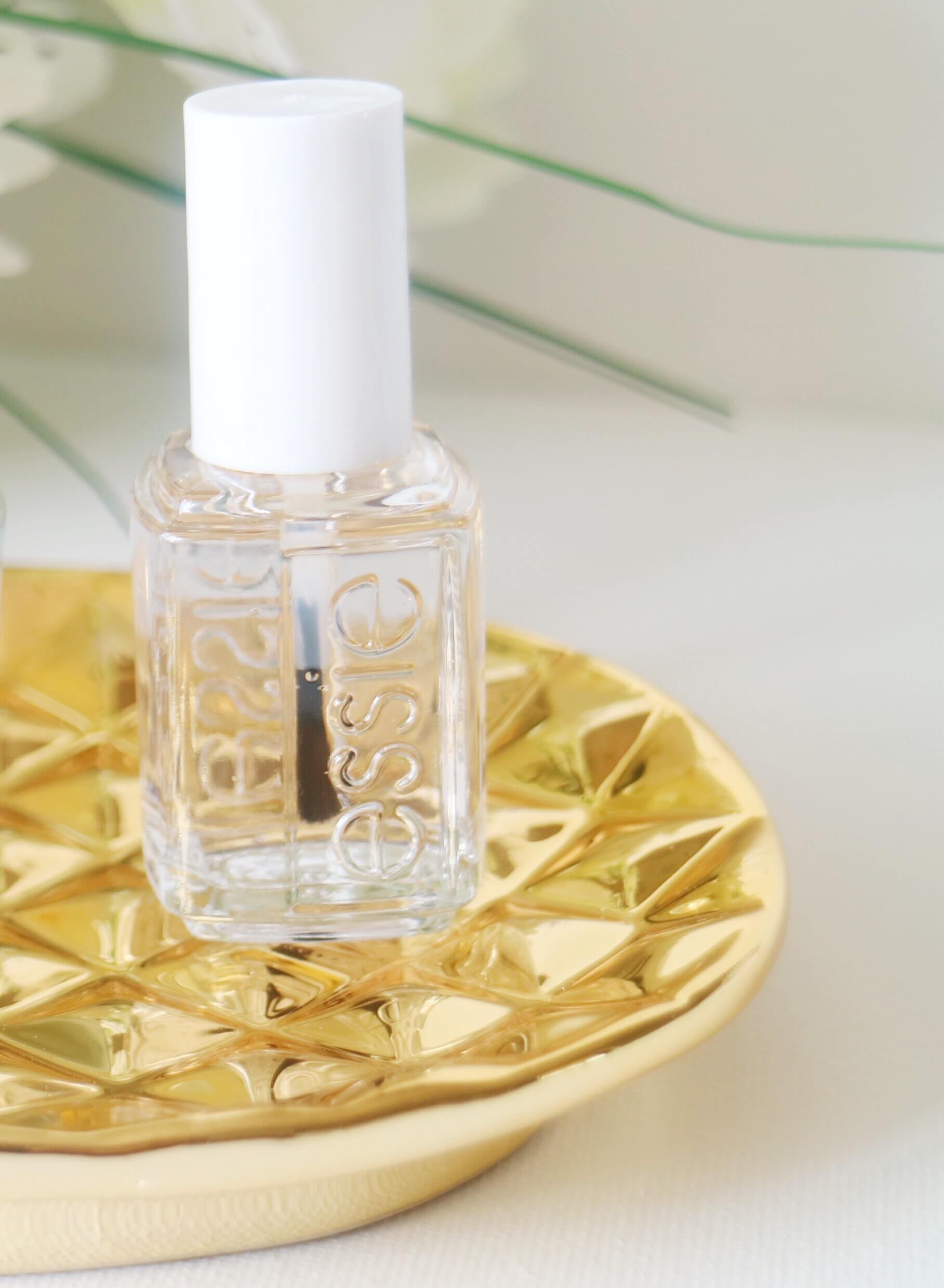 Essie Nail Good to Go Top Coat
As I purchased Essie Top Coat varnish too, I thought I would review it, because I'm sure not all top coat varnishes are the same. Now like I said I'm no nail varnish pro, but I do know that applying a top coat after you applied your nail vanish is a sure must. Essie's top coat claims to be a rapid dry top coat, set nail colour in seconds, create a perfect polished manicure, and have a brilliant shine. OK, so to me the term rapid means quick, instant, fast… I wouldn't say it is rapid as my nails took around 5 mins before it was fully dry. I didn't have an issue with the wait, but if you do ever find yourself doing your nails last minute and you wanted an instant top coat, then I would avoid this one. With that being said I do feel that it made the colours on my nails pop and gave it a beautiful glossy shine.
So after breaking my Essie virginity, I can truly say I'm highly impressed. Although I've only tried two shades, I love their formula and I like how the applicator makes it easy for me to glide the polishes onto my nails, I am actually surprised by how much I like Strike- A- Pose because mint is not really a colour I gear towards to in general, but it just shows how true the saying is to go out of your comfort zone because you never know what you might like and discover. Will I purchase Essie polishes again? Hell yes. I am truly done with acrylics and I'm excited to pick up the other two shades from the Resort 2017 Collection and many more shades from Essie.
Have you tried Essie? What colours would you recommend?