One year and six months in, and I am now only finally posting my first fashion post. Whats my excuse? Honestly? Insecurities. Before I had my son, you would always find me with my phone attempting to take an A class selfie. After the pregnancy, I really went into my shell and just didn't feel so confident anymore. Gone are the days of me resembling a Pepperami with a big booty and entered a woman with curves with some lumps and bumps. I have gone back and forth with what my "personal style" is and I have settled with 'Comfortable casual'. Comfortable casual to me is outfits that I can feel sexy in while being comfortable at the same time. If I could, I would spend the rest of my life in tracksuits and stretchy jeans. I hate feel constricted in an outfit just for the sake of looking 'good'. Of course for special events like birthdays, weddings etc I will dress up to the nines, but 90% of the time you will see me in jeans or tracksuits.
So today, I am going to be showing three tops that you will usually find me teaming up with my Topshop Ripped Jeans. I only wear Topshop jeans as they compliment and assist my bottom half OH.SO.WELL. I use to swear by their JONI jeans range, but decided to try their other jeans and the Jamie jeans are amazing. Jamie Jeans have a stretch-skinny fit and are crafted with an authentic cotton blend which gives the denim a soft feel. The trousers are high rise (which is perfect for my mum tum), and have a cropped at the ankle style finish. Being that it is summer, I have gone for a summery attire, but as the Autumnal/Winter periods start to approach. I will do another post showing what I would pair with jeans during those times.
FIRST LOOK
Now come on we all know this a generic look for so many people. You just cant go wrong with white tee and a pair of jeans. Lately I have been all about 'Quotes to live by'. There is something about reading or seeing an inspirational quote to just lift your spirits or give you something to live by. When I saw this top in Zara it was a no brainier that I wanted it. Every quote on that top is what i am trying to head for and achieve in this lifetime. I also have a thing for graphic tees which I feel can add that extra Pzazz to your outfit.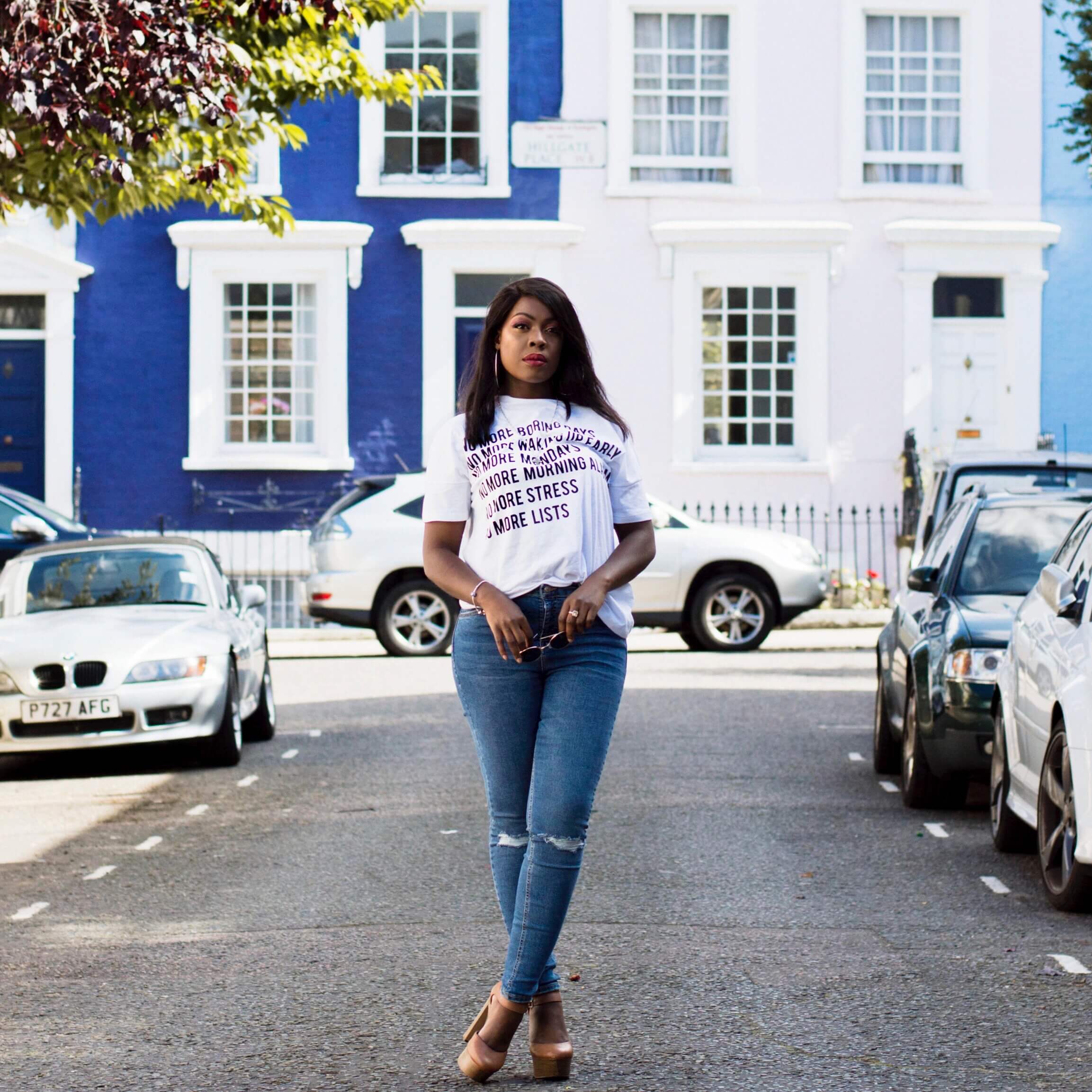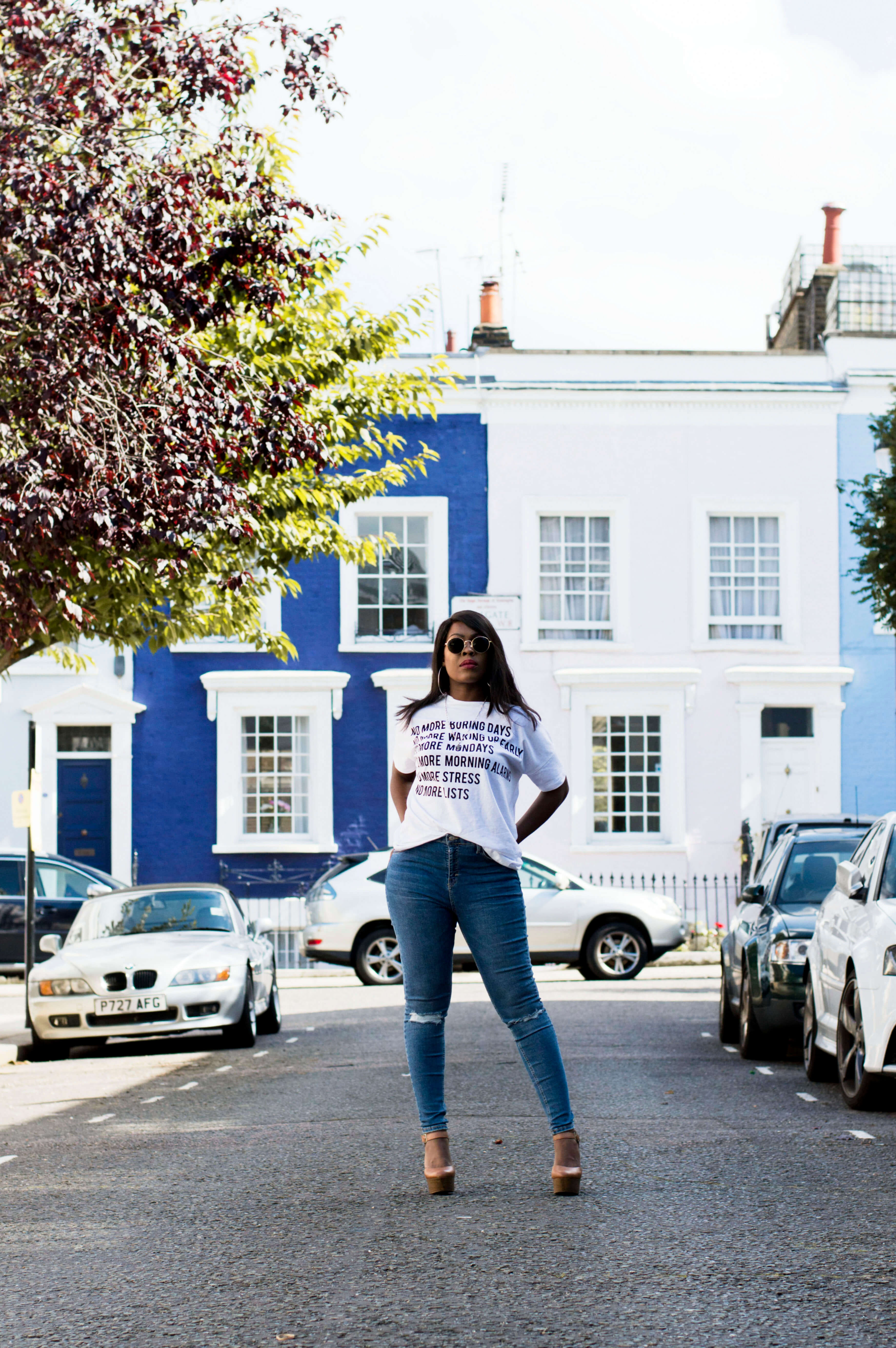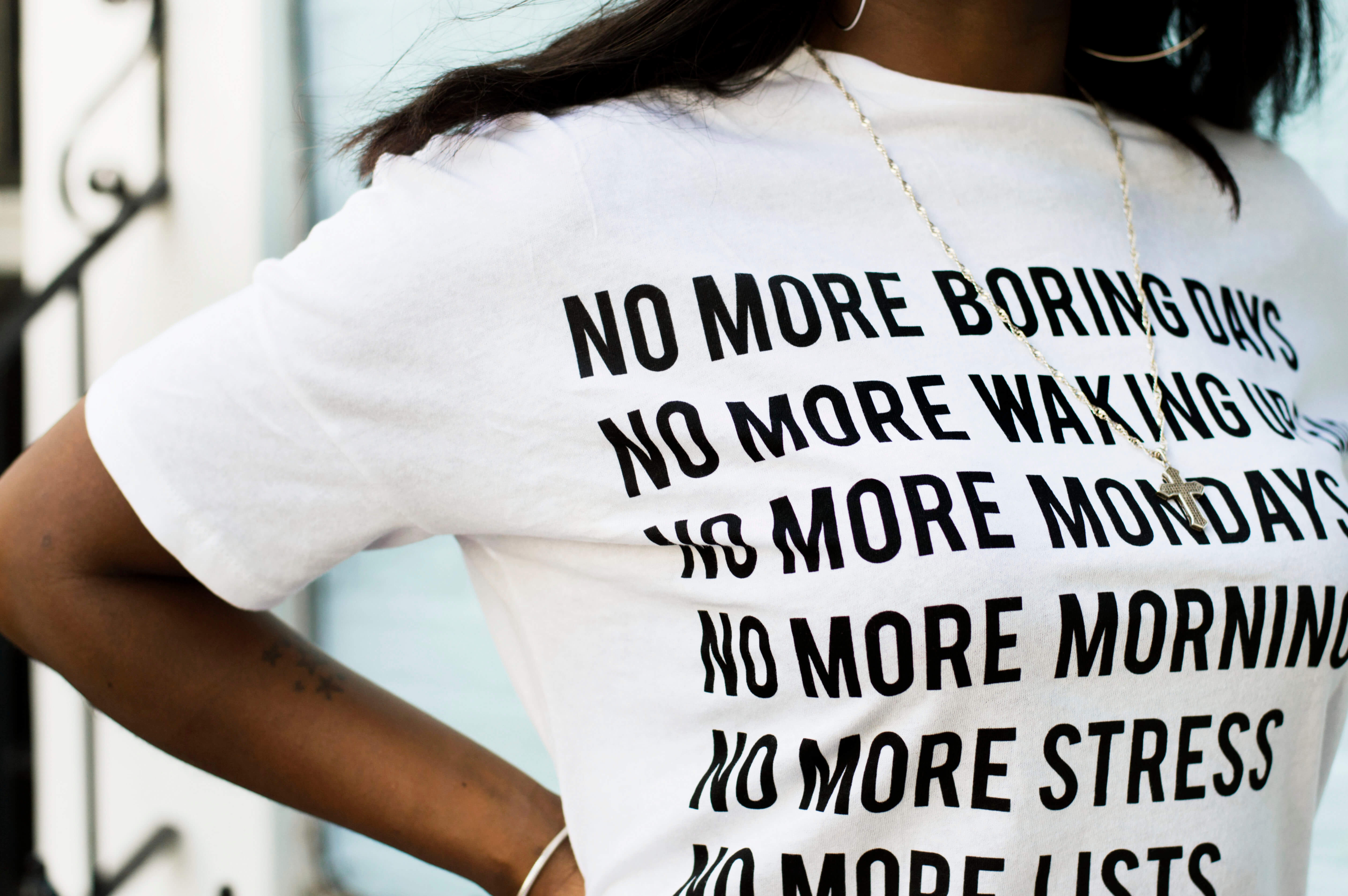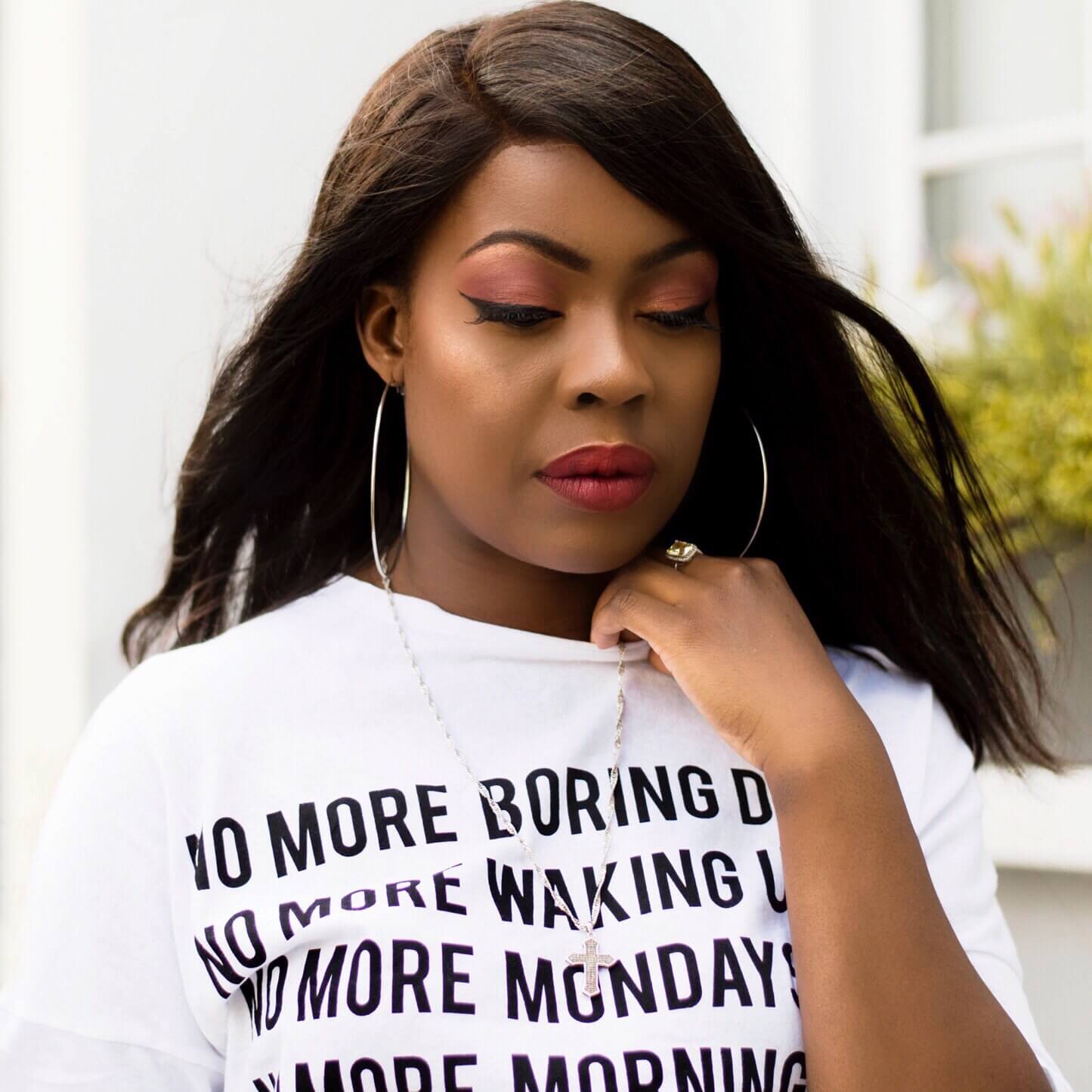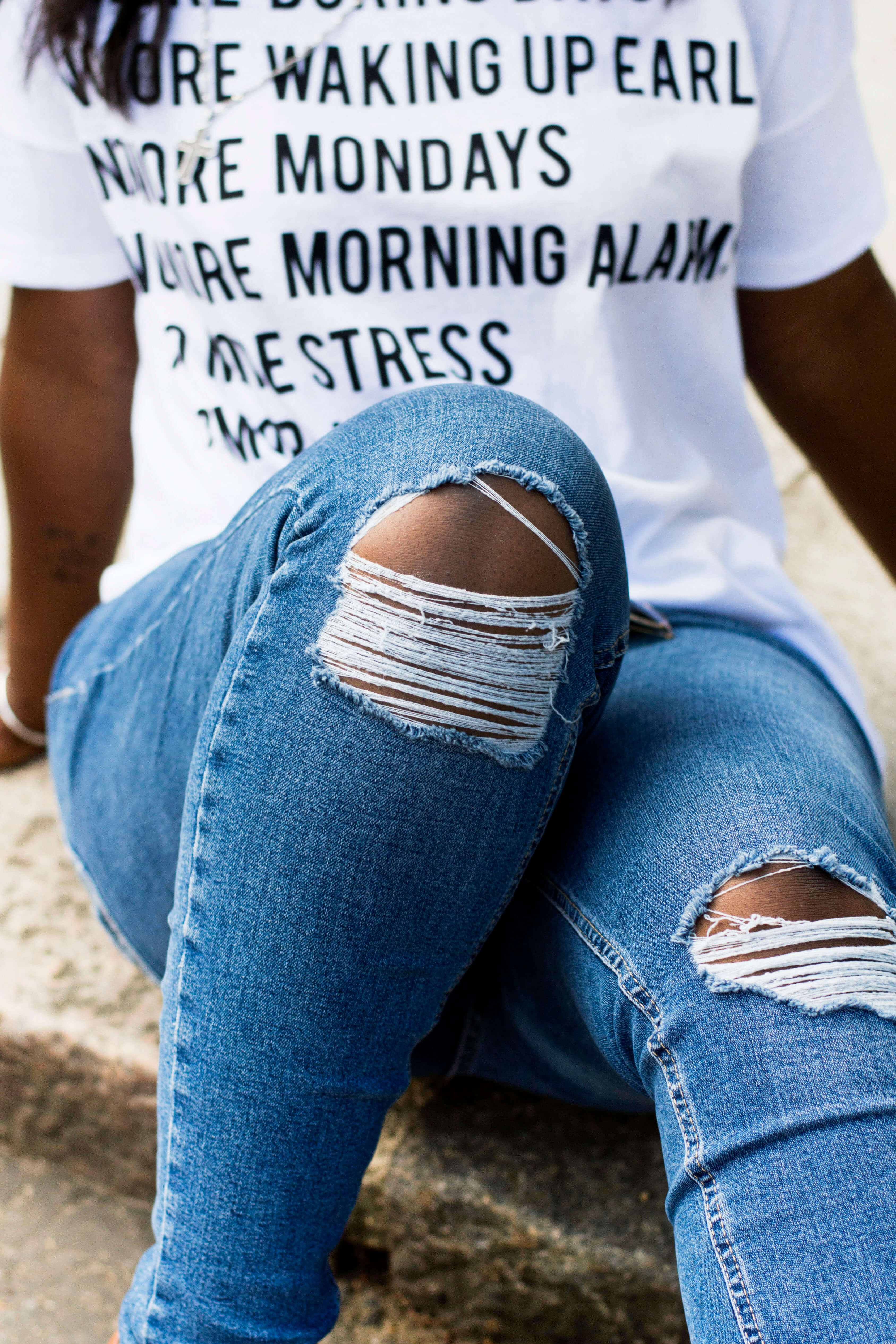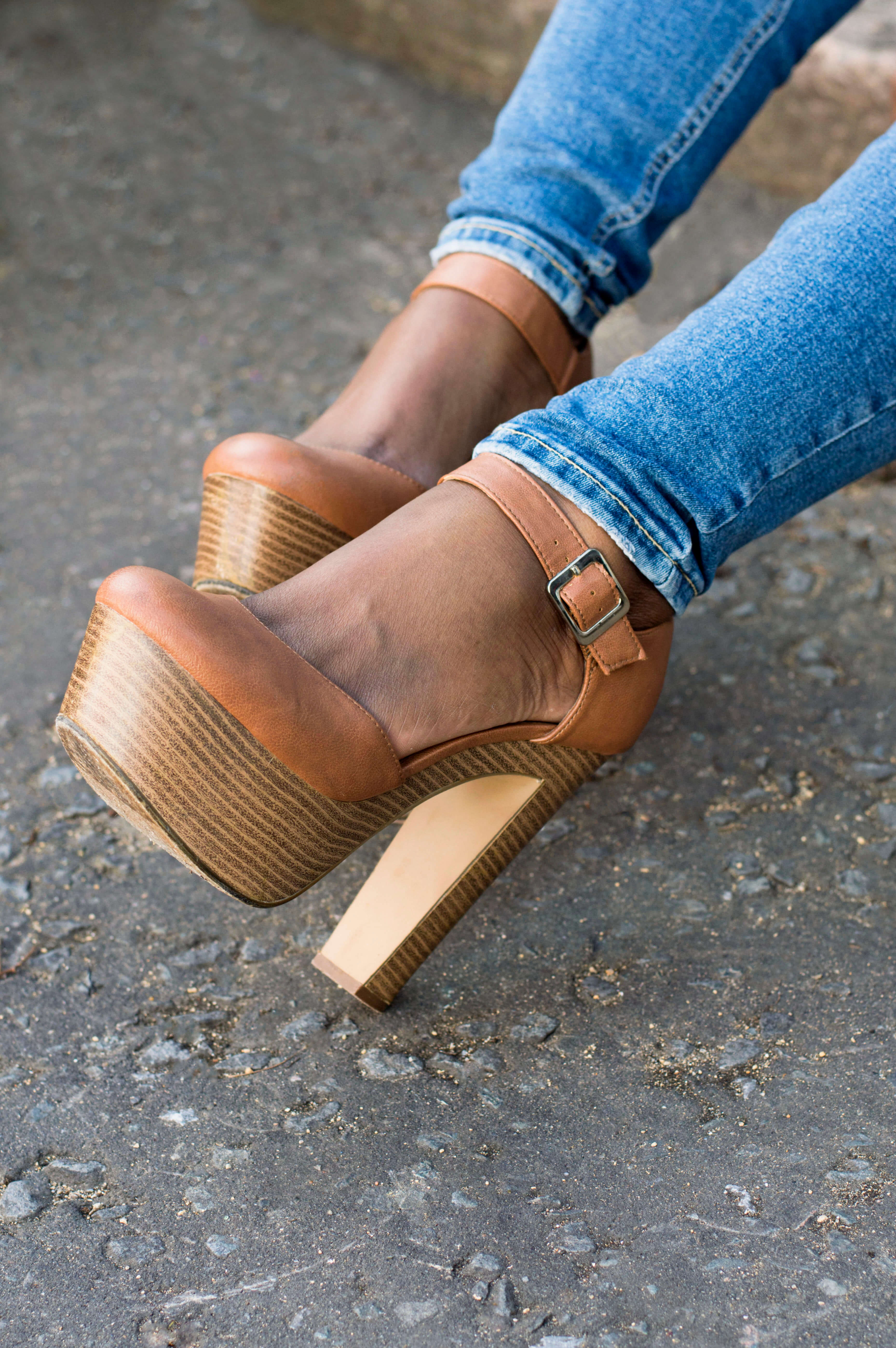 Zara- Oversized Text T-Shirt
Tophop- MOTO Authentic Blue Rip Jamie Jeans
New Look- Camel Heels (similar)
SECOND LOOK
This off the shoulder blouse from Stradivarius is so stunning. The material is so lightweight and looks good both tucked in and out of jeans. Do be aware that on a particular breezy day the frilly bits will flap up in your face (which I experienced too many times when shooting this look). I love the stripes and the blue just accentuates my melanin even more so. The top does come in 5 other colours.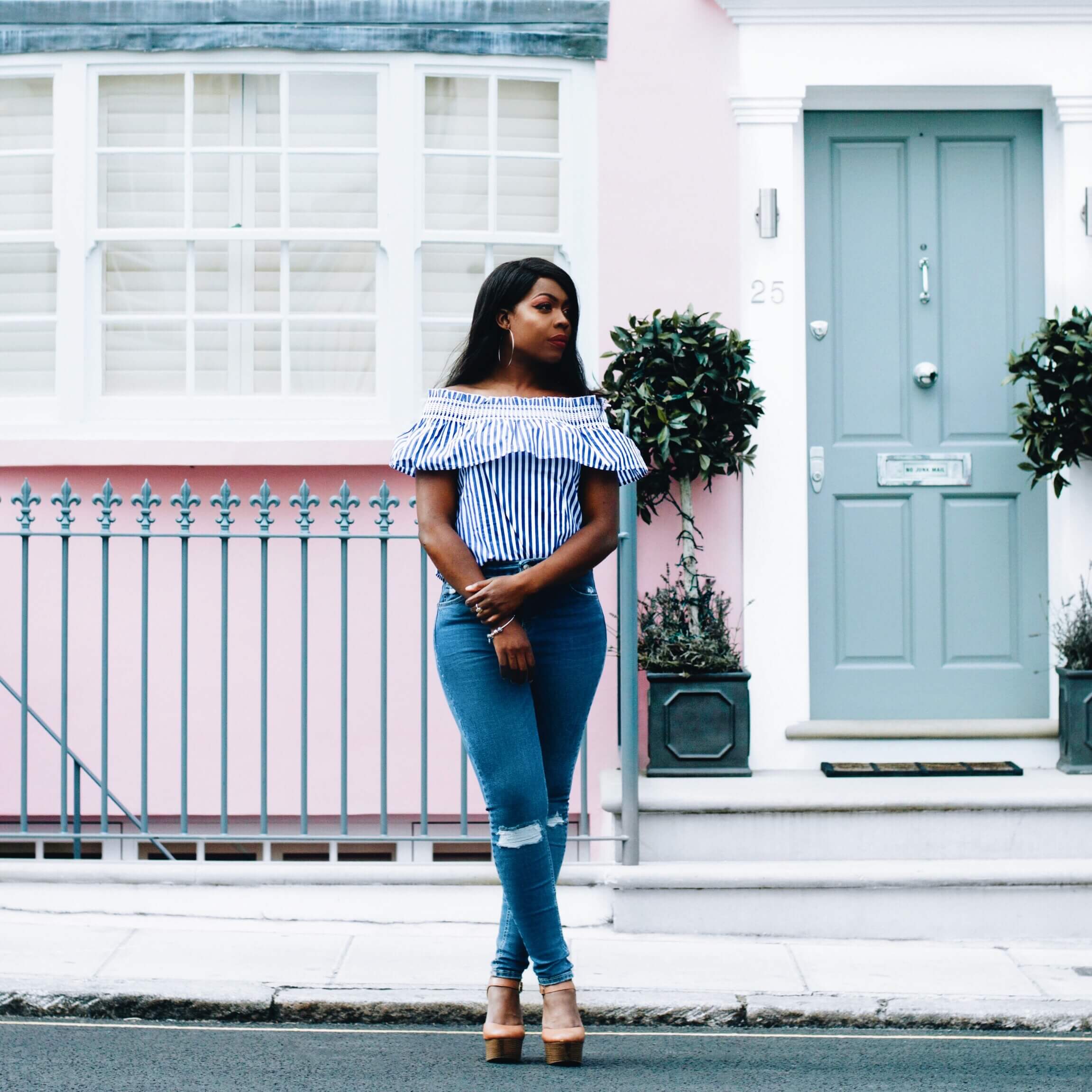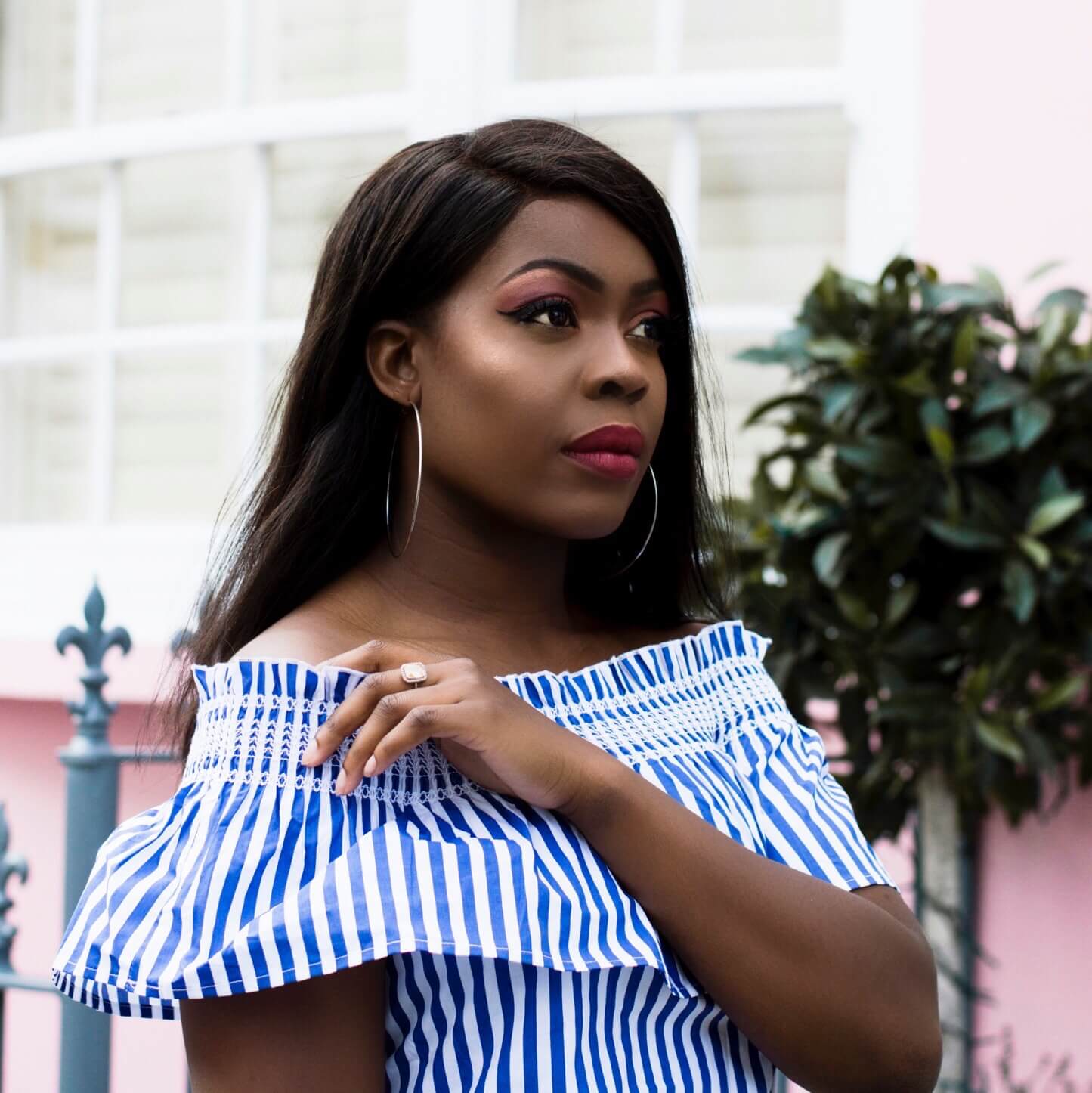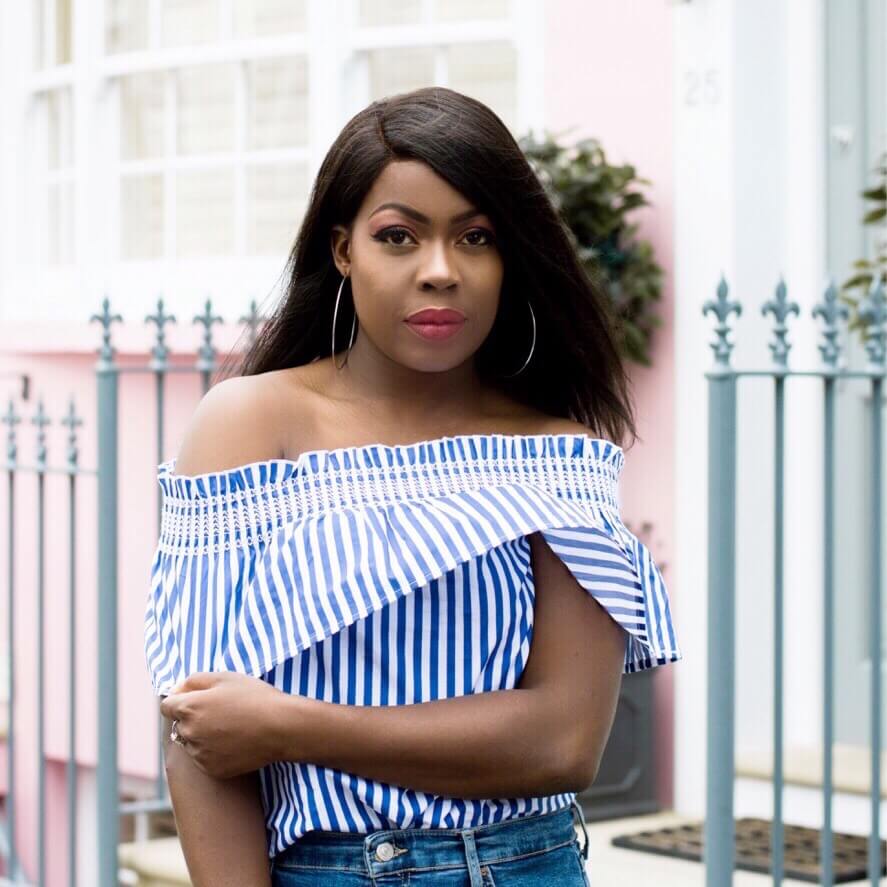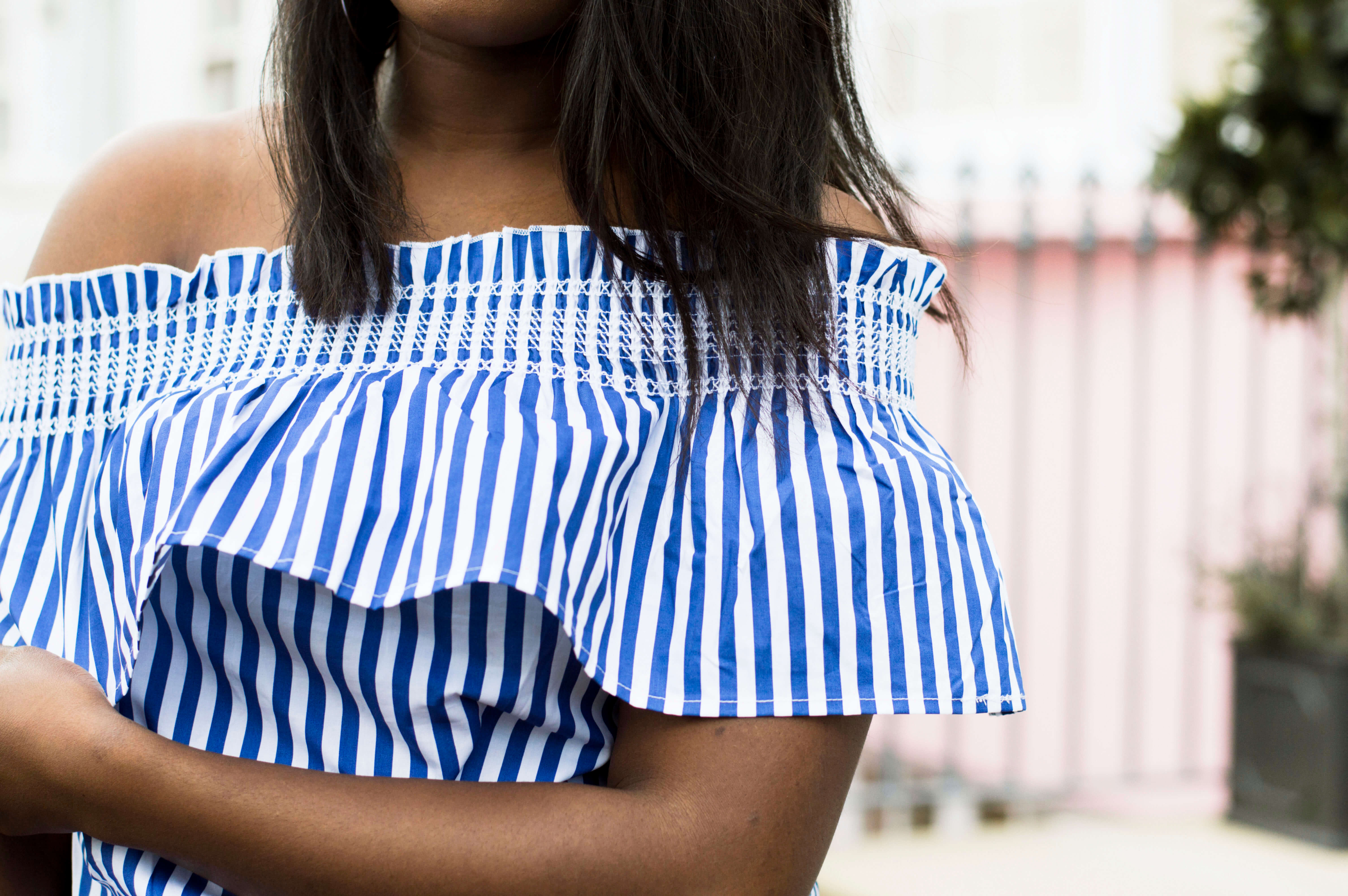 Stradivarius- Off the Shoulder
Topshop- As Above
New Look- As Above
THIRD LOOK
Now finally but certainly not least is this beautiful baby blue, off the shoulder bardot from Missguided. We all know the sun can be a bit deceiving and it might not be as sunny and humid as it looks. For more breezy sunny days this top is perfect. I love the shirred sass style and the flared sleeves. It can be worn during day and also at night.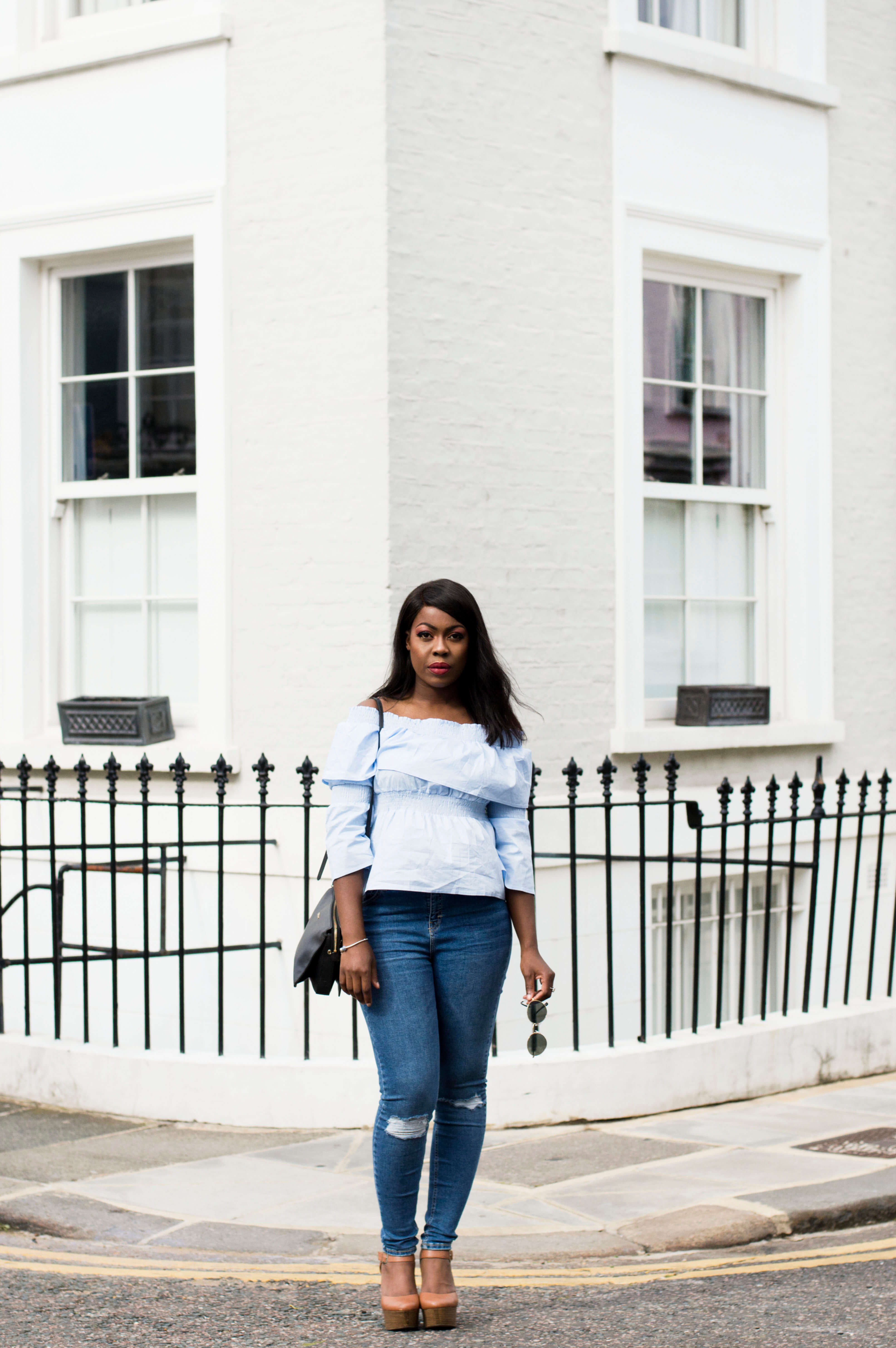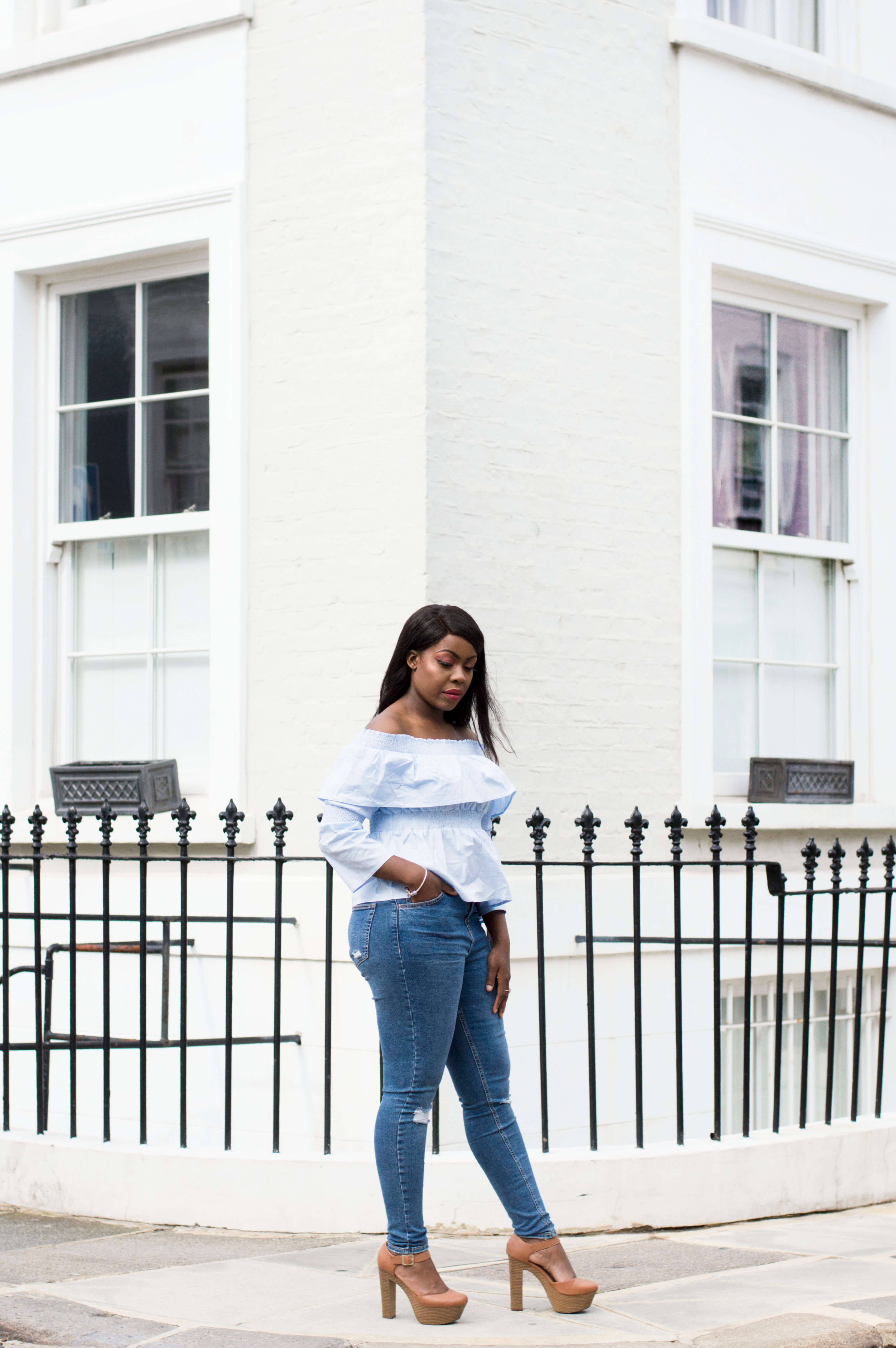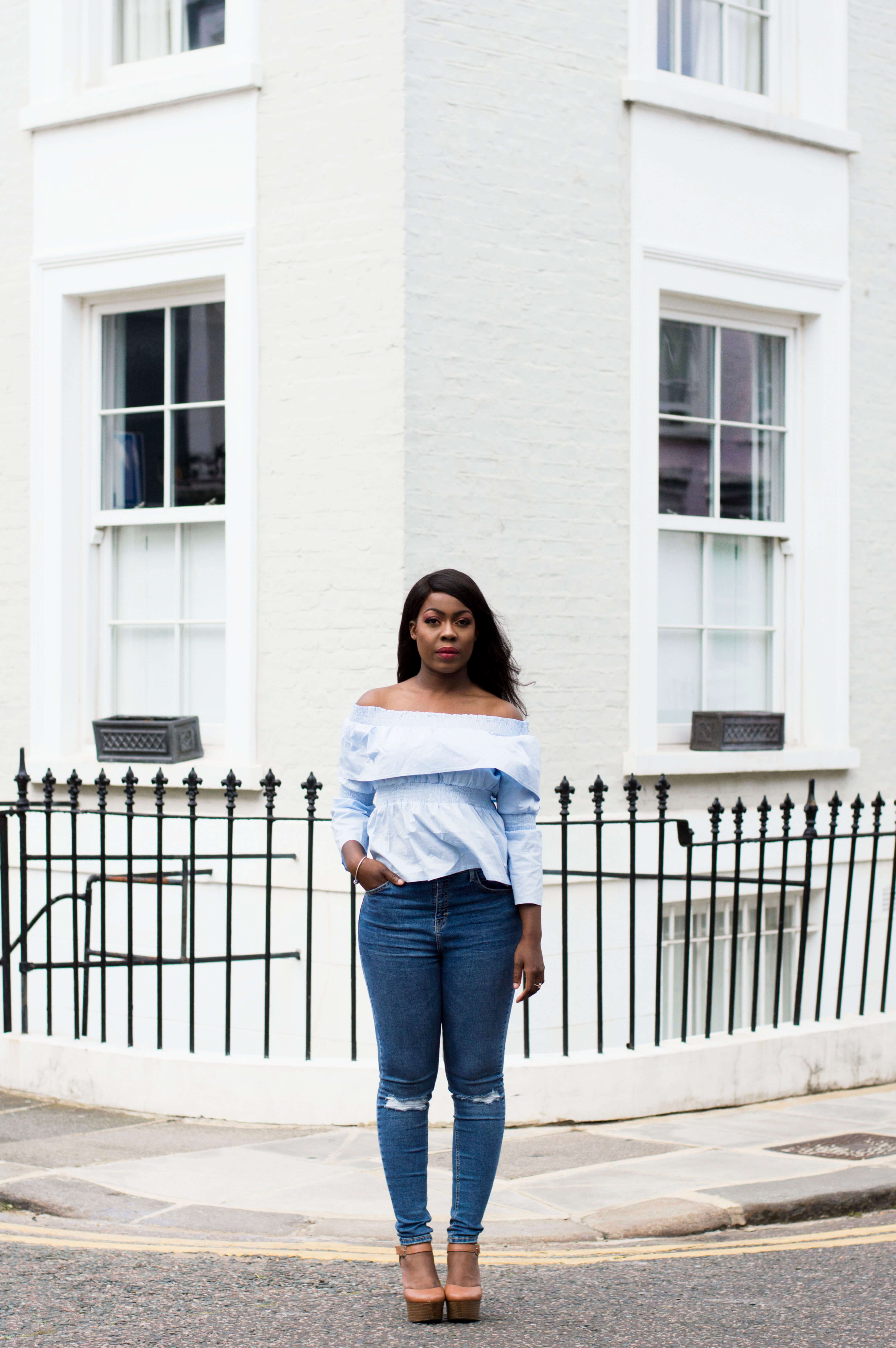 MissGuided- Ruffle Bardot Blouse
DKNY- Bryant Park Flat Zip Cross Body Bag
H&M- Sunglasses
Topshop- As Above
New Look- As Above
I hope you guys enjoyed my first fashion post. I am so glad I finally conquered my fear and just got on with it. Plus I just want to say a massive thank you to Katherine who was the mastermind behind the camera and made me feel so beautiful and confident that day. Please check out her work, which you can find here.
Come and chat with me on Twitter and Instagram
Which is your favourite outfit 1, 2 or 3? What's your summer go to outfit?