OK, it might be safe to say that spring has finally come upon us (cue-snow), and I am just about ready for longer brighter hours, cute frilly tops and glowing makeup looks. Although there is no rule about what kind of lipsticks you should wear during the seasons, wearing a dark berry lipstick just doesn't do it for me during the sunny months. I have listed below my 5 spring time lipsticks that you can expect to see me wearing these upcoming months.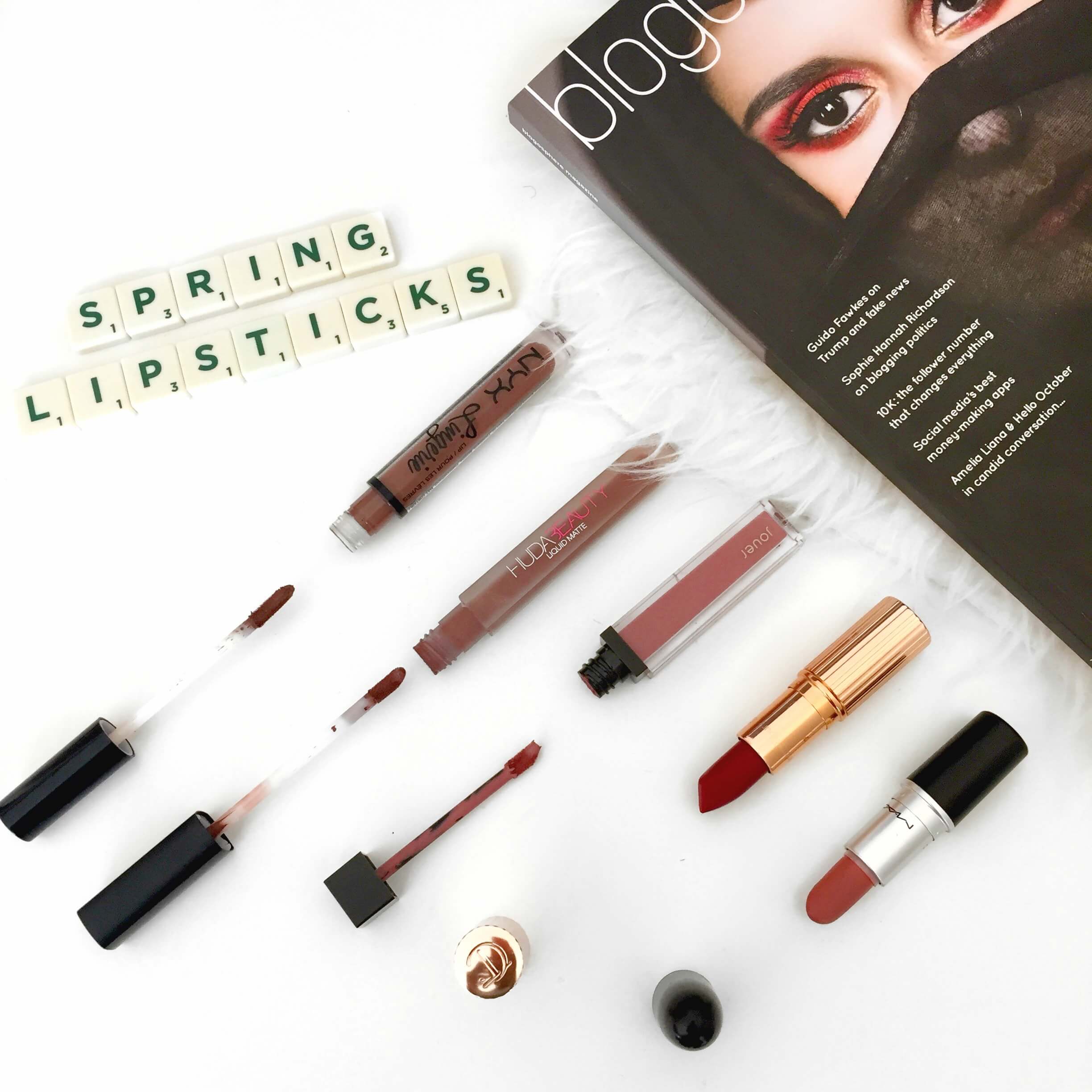 1. Huda Beauty Liquid Lipstick in Spice Girl
Its no shock that this lipstick would be my first choice. Not only am I obsessed with Huda beauty liquid lipstick, but Spice Girl has to be the best Nude colour I have found for women of colour. Spice is described as a beige brown, but on my lips it looks more brown with a grey undertone. It look so flesh tone like on my lips and is a gorgeous matte with no drying and creasing, It wears on my lips for 7+ hours and when I reapply it doesn't cling onto any patches! IN LOVE!
2. Jouer lip creme lipstick in Tawny Rose (full review here)
When it comes to spring time you cant go wrong with Jouer Lip cremes. Jouer has a range of colours which would be a perfect match for Spring. One colour I will be using is Tawny Rose. Tawny Rose is a cool toned dusty mauve. Worn alone on my lips, it looks too bold and bright, but I like to line my lips with a brown liner to tone it down a little. Jouer is really long lasting and has a moussey consistency and then dries down matte with a powdery kind of feel on the lips but that feeling doesn't last for long.
3. NYX Lip Lingerie in Beauty Mark (full review here)
Looking for inexpensive lipsticks that do just as good as a job than an expensive one? Then head over to the NYX counter and check out their Lip Lingerie range. A little drying for my liking but not enough to put me off, I've really gotten used to their formula and love it. Beauty Mark is very similar to Spice Girl but more of a stronger grey undertone. Darker skin tones will appreciate the more natural look, whereas for lighter skintone it will give off a very 90s vibe look.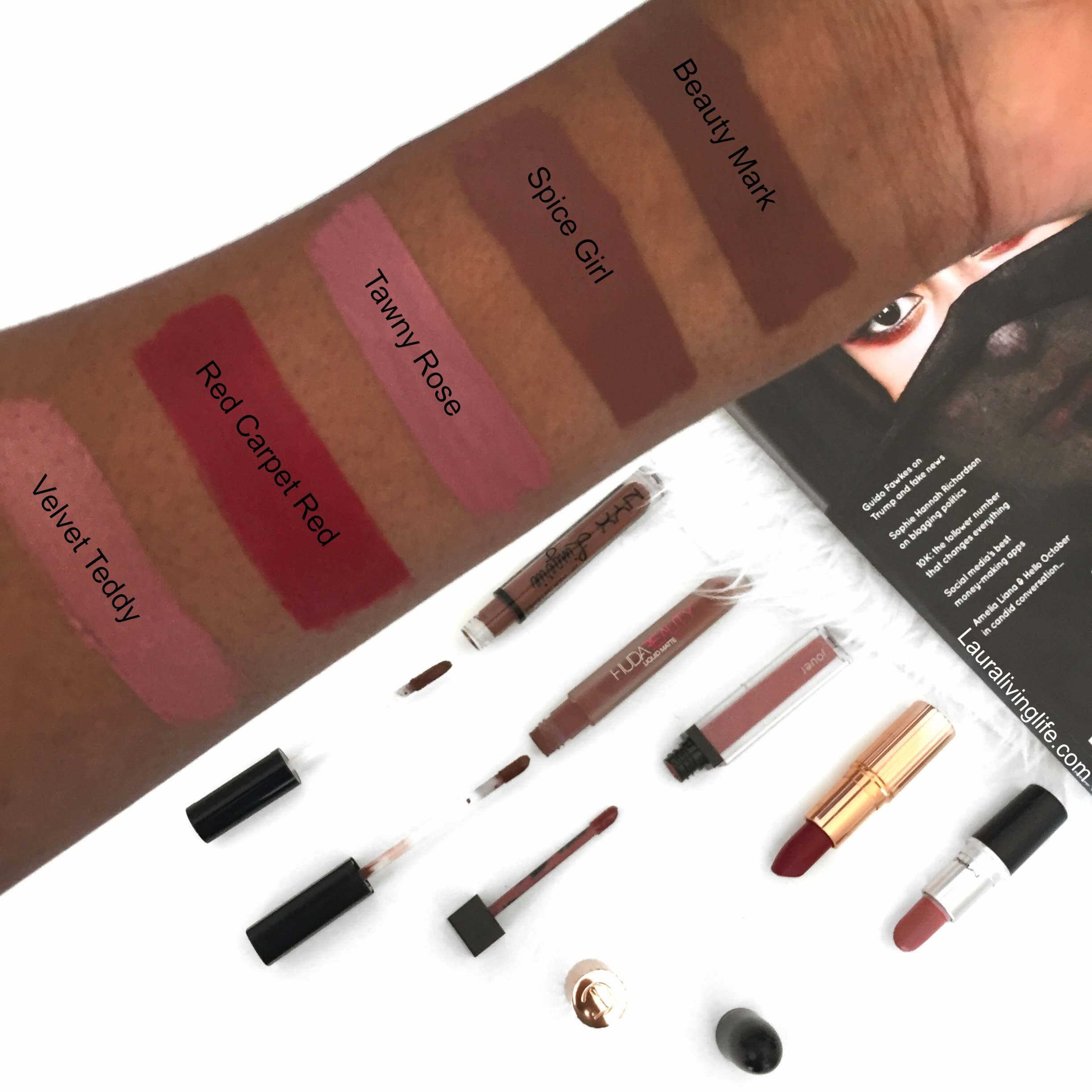 4. Charlotte Tilbury Red Carpet Red (full review here)
The great thing about Red is that its a colour that can be worn in all seasons, and Charlotte Tilbury's Red Carpet Red is a great red to wear this spring. It is a cool red that would look sultry and seductive in the warm nights out and then it can also be brightening up with a bit of gloss (if you choose) in the daytime.
5. MAC Matte lipstick in Velvet Teddy (full review here)
Lovers of liquid lipsticks know all to well that our lips need a bit of a break, So for days when we remember we use to be all about normal lipsticks before the hype of liquids lipsticks came into our existence, MAC is the Oldie but Goodie I always fall back onto. Velvet teddy was and is very much still the popular lipstick from MAC. Its a muted brown with a matte finish. Its such a natural colour on the lips it can be teamed with any eye shadow looks.
What lipsticks will be using this spring?