It goes without saying that I own way too much lipsticks, but out of all the things I use when doing my makeup, putting lipsticks on my lips is my favourite part. We use our mouth everyday (don't be vulgar NOW) and its most probably the first thing we look at when interacting with others. So any so so colour, formula, finish just wont cut it. My lips need to be on FLEEK!
I was introduced to Jouer Cosmetics by the bombshell YouTube star Jackie Aina. She was wearing Dahlia ( a metallic cool electric plum) and it looked so vibrant and gorgeous on her, I had to just check out the brand itself.
Going on to cult beauty, I saw that Christina Zilber (owner of Jouer) has produced quite a gorgeous range of makeup from lipstick to primer to highlighters. All the colours from the lipstick look colourful and appealing and most importantly wearable. I initially picked up Cabernet, and after my pleasant experience with it, I bought two more in Noisette and Tawny Rose (Fall Collection).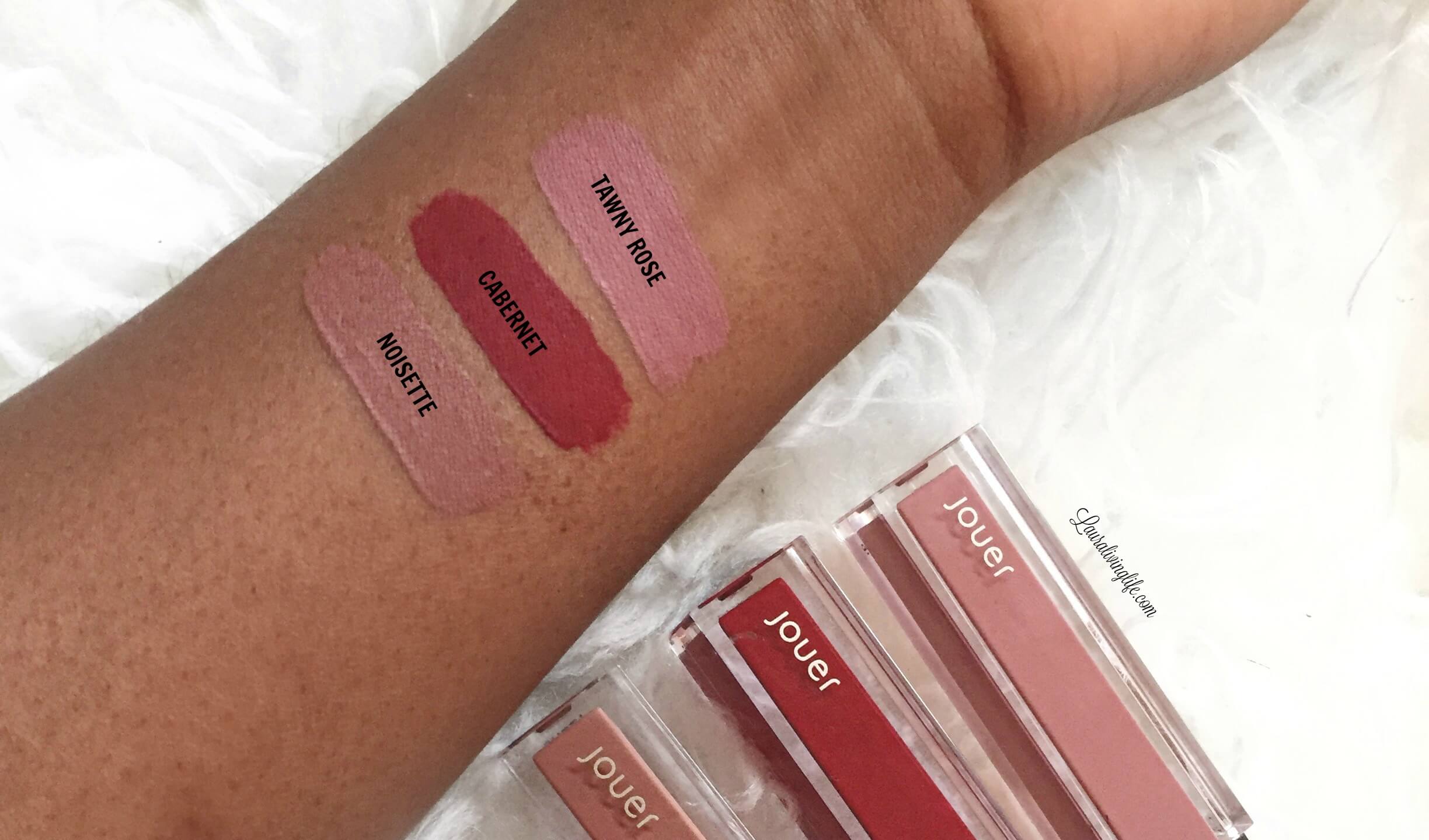 Cabernet : A matte cool deep red. True to its name, its a dark deep red that exactly coveys the same colour you see in the bottle on your lips.
Noisette : A matte warm chocolate brown. On my lips it is a nice a warm chocolate brown that is the ideal colour for a nude lip. On fairer skin tones, I think it would be more darker and give off a 90s vibe to it.
Tawny Rose : A matte cool dusty mauve. On darker skin tones it will look more pinky with a light brown undertone. Fairer skin tones I believe it will be true to colour.
PACKAGING
One thing I have to applaud is jouer packaging. It comes in a simple white box with gold metallic writing which highlights Jouer logo. The lipsticks itself come in a clear glass bottle so you can see the colour in all its glory and the bottle is also designed to interlock with other jouer products. So you can essentially keep all your favourites compacted with one another. The applicator is a mini doe foot with the top bit designed in a square shape which doesn't interfere with applying to the lips nor here or there.
FORMULA
It is definitely a lip creme as the formula is very mousse like and creamy. I would compare it to a more high end version of NYX soft matte lip creams. Although creamy its not thick and has a lightweight feeling. It glides on to the lips easily, but I would advise to wait 4-5 before you see its true colour and completeness. It does take a few minutes to dry down, so try not to rub or purse your lips in that time frame. Now with Cabernet I found it to be quite drying initially but after an hour so I honestly forget I have lipstick on. With Noisette and Tawny Rose there is no drying sensation and they sit comfortably on the lips.
LONGEVITY
Ok so this is when my negatives come in. Like I said above Cabernet after an hour on the lips is not even noticeable. It literally doesn't budge and lasted on my lips all day till I was ready to wipe off, which by the way was not an easy job. I highly recommend to use an oil based remover when taking Cabernet off. Noisette was fine till about 4 hours in it started to crumble and separate. It wasn't as difficult to remove, but I wouldn't suggest applying another layer on top as it will only accentuate the crumbles and look clumpy. My gripe with Tawny Rose was that I had to apply about two or three coats before it looked fully pigmented on my lips and after 5 hours it did begin to fade. What I can say with the three shades I have is that the lighter ones have some inconsistencies with the formula and lasting, but the darker shade is just right in terms of longevity and pigmentation.
SCENT
Ugh! I cant get enough of the scent. It smells of Vanilla frosting and cupcakes and its not overbearing. If your not a fan of scented lipsticks, the smell does disappear after the lipstick has dried down.
VALUE
I purchased the lipsticks from Cult Beauty at the price of £15 for 6ml of product, which in my opinion is very reasonable and good value for money, considering most lipsticks that cost £15 have about 4ml of product or less.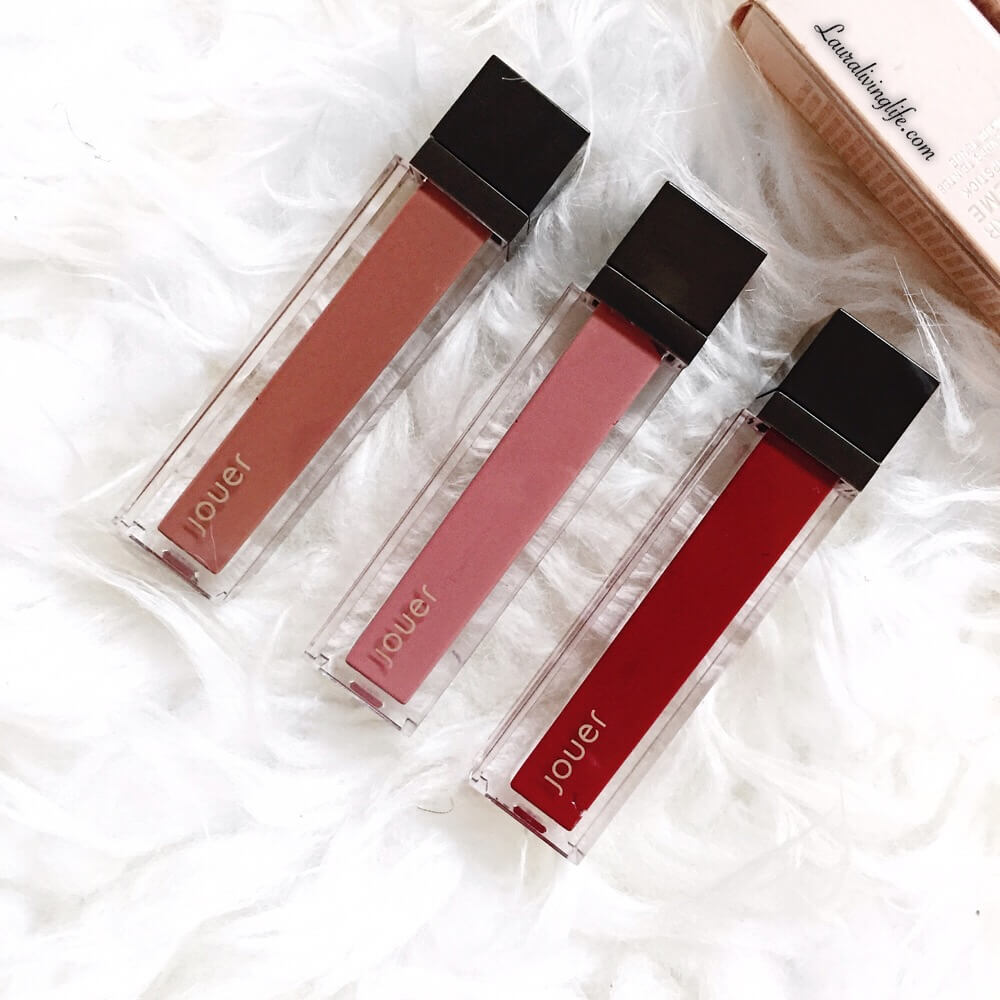 OVERALL
Would I purchase more Jouer Lipsticks? Yes. I would love to try more darker shades, metallic colours and their lip toppers. I have personally found in my liquid lipsticks experience that lighter colours tend to have different formulas to the darker colours which could explain the imbalance. I'm obsessed with Cabernet and although noisette does crumble, it just such a gorgeous brown that I can pretty much forgive its flaws. I'm impressed with Christina's aesthetics and can not wait to try her other products.
Have you tried any Jouer Cosmetics products and what are your thoughts?