I have been eyeing up the Zoeva Rose Golden Volume II brushes for a hot minute now. So when the hubs gifted it to me for Christmas, I was ecstatic. Opening it up as if it was something ever so fragile, I was instantly in love when I saw and felt them in the flesh! I cant lie, because of the brushes, I am slowly getting a slight obsession with the colour Rose Gold.
So to give you a more of an info on the brushes, they contain 12 eye makeup brushes in a gorgeous pinky nude and rose gold handles design, and also come with an impressive lush rose gold pouch.
Within the set encloses eye shadow, brow and liner brushes.This set just oozes girlishness at its finest if I do say so myself.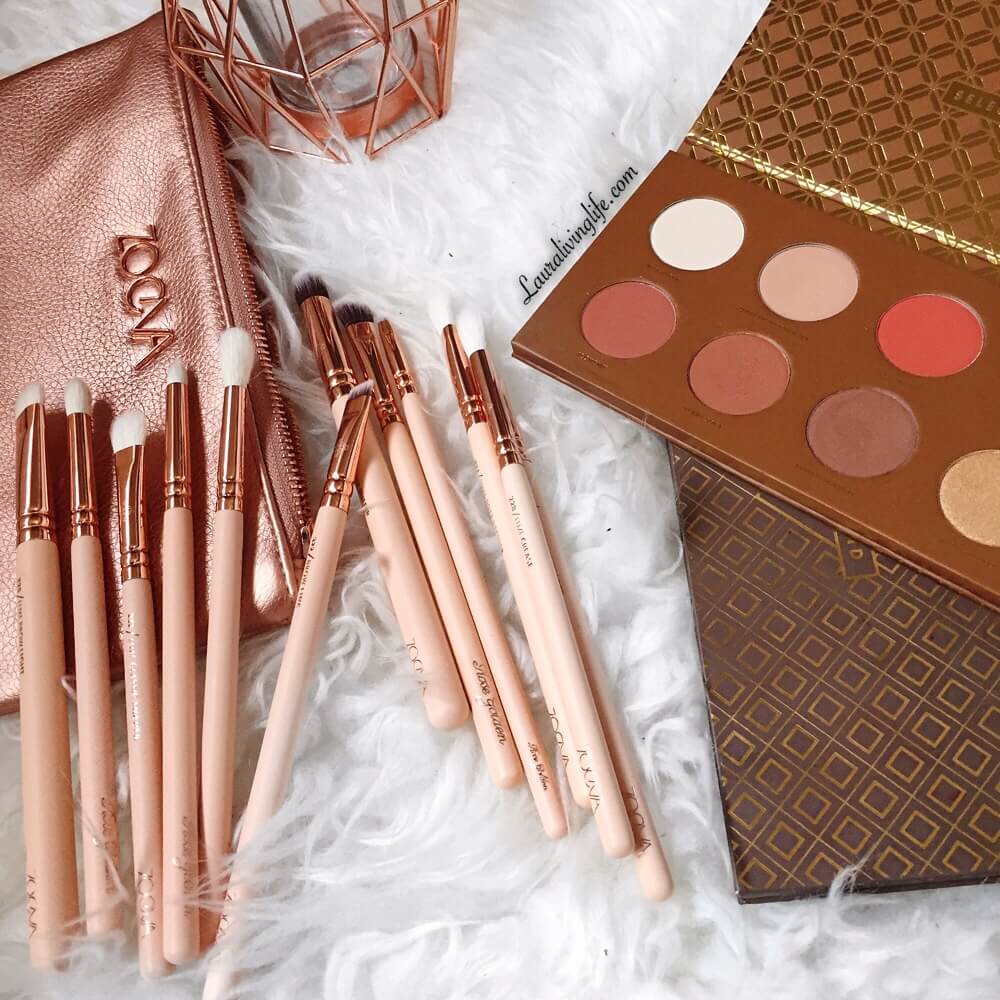 Collection Contains:
142 Concealer and Buffer Brush
This soft brush is designed for the delicate eye area. It provides fantastic coverage and helps conceals discolouration, pigmentation and dark circles around the eyes. I have only tried it with a cream concealer and it covers my pigmentation so well. Its also suitable with liquid and powder concealers too.
221 Luxe Soft Crease Brush
The Luxe soft crease brush is a blending brush to create detailed eye shadow application. Giving high quality blending with a curved head it enables you to create stunning smokey eye looks and be able to create easy transition colours from light to dark.
227 Luxe Soft Definer Brush
This brush is perfect for pressed powders and loose pigmented eye shadows to create a smooth transition between eye shadows. Its very similar to the 221, but the oval head shape of the 227 gives it more of packed on application to the lids.
228 Crease Brush
The 228 crease brush is tasked to blend and shade your eye makeup in the crease of your eye. Who else can agree that creating a nice crease definition is one of the hardest things to do! (makeup wise) Well the crease brush, which has a fluffy design helps to make it easier and give your eye such a nice contour.
230 Luxe Pencil Brush
For all my smoky eye lovers out there, the luxe pencil brush is for you. It offers great application in the crease of your eye and also along your lash line. Given its name, it is shaped like a pencil and helps give precise shading and smoothing application to the corner of the eyes. The brush is shaped triangular.
231 Luxe Petit Crease Brush
The Luxe Petite Crease Brush is a tapered eye shadow brush which gives definitions to the crease of the eyes.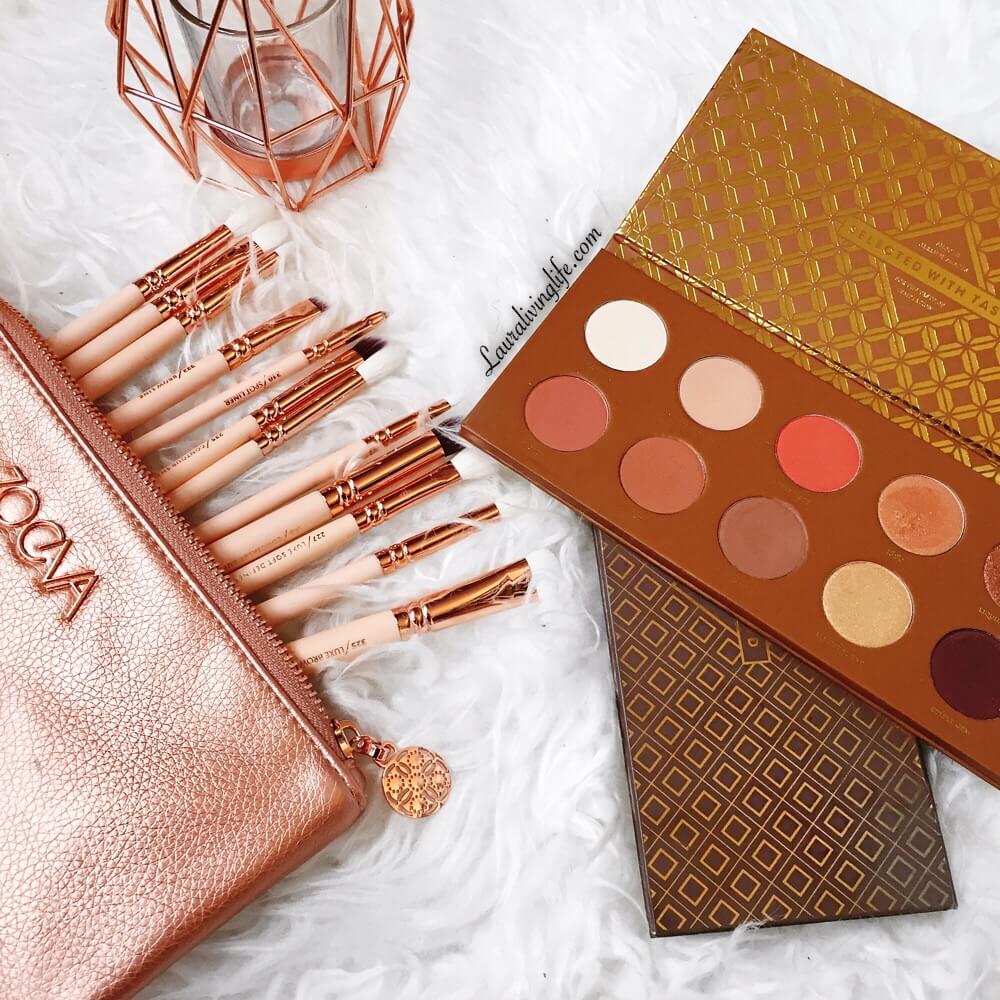 232 Luxe Classic Shader Brush
This medium size brush builds application and gives easy shading of your applying your eyeshadows to the lids.
235 Contour Shader Brush
The contour shader brush is an angled eye shadow brush to create effortless contouring looks. Best used in the natural contour areas of your eye, it can be used with any eye shadow to help apply and blend effortlessly.
238 Luxe Precise Shader Brush
This brush is perfect for hooded eye chicks like myself or if you have very small eyes. It gives detailed application and helps accentuate the eyes. Best used for applying light shimmering eye shadows, to give eyes the pop and highlight in areas like the inner corners of your eyes.
310 Spot Liner Brush
The smallest brush in the set, the spot liner brush is a detailed eyeliner brush that gives instant volume to your lash lines.
322 Brow Line Brush
No eye set is complete without a brow brush, and this short angled brush gives your brows that oh desired fleeky brow look. The brush can be used with both powder and cream brow products.
325 Luxe Brow Light Brush
Now this rounded brow light brush is used for powder or highlighter shadows to add more enhancements to your brows, or to give under your brows that spotlight highlight.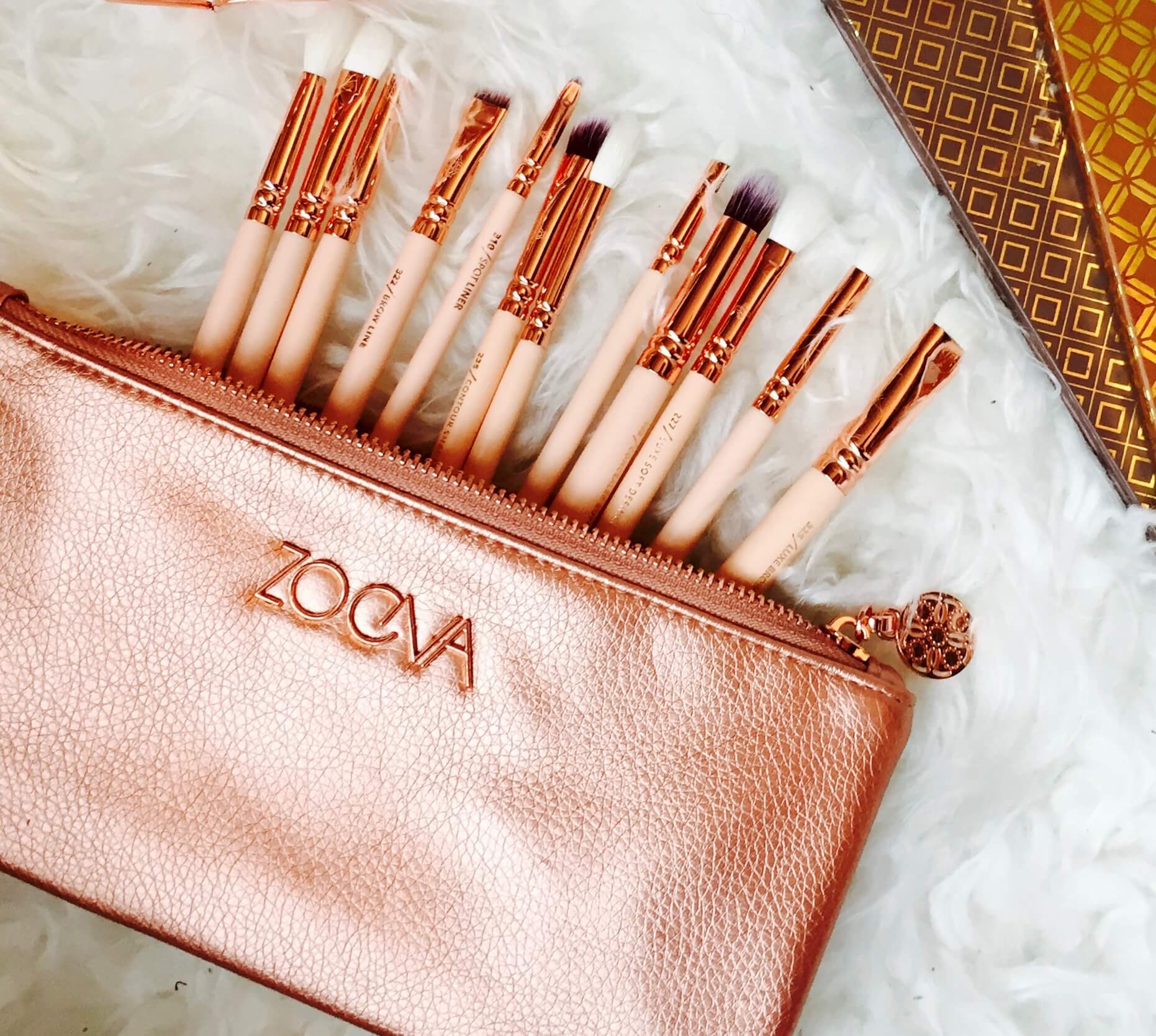 All in all I am very impressed with the Zoeva brush sets. I plan on getting more of their eye brushes (simply for the design colour factor) and more of their makeup brushes, because I have been glued to my original beauty blender ever since I bought it last year and haven't touched a foundation brush since. I have seen a lot of reviews complaining that the Zoeva brush is not all that compared to the real underrated professional brush sets that MUA and Professional Designers use. But in my opinion, I am not a professional makeup artist and don't intend to be. I am simply your everyday girl, still trying to master the perfect winged eyeliner and not having to spend many hours trying to contour my face, to end up looking like a disfigured Zebra. So to me the Zoeva brushes complete and give me everything I am looking for.
Have you tried Zoeva Cosmetics Brushes? What are your favourite brushes?
Come talk to me on TWITTER and INSTAGRAM