Jeeeez, I honestly don't know whether this year is going really fast or maybe I am just more occupied with life and hobbies that the days are just zooming by! Either way it has not stopped me when it comes to all things beauty! I really went all out in July with my spending habits. So a lot of my favourites are new items I've purchased. Lets crack on!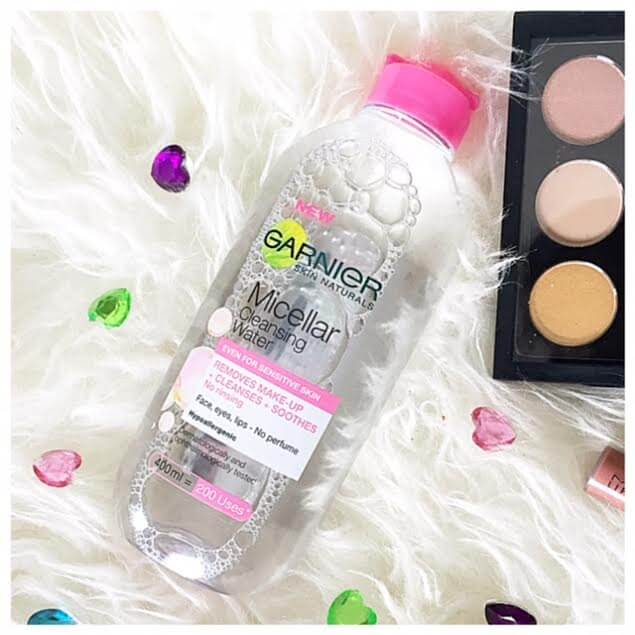 Garnier Micellar Water
There is no doubt in my mind that everyone in the Blog-sphere and YouTube world has this product. From seeing the constant and I mean constant attention on this cleanser, I just had to cave in and see what all the fuss is about. You guys know my skin is sensitive AF, so I am so apprehensive with any product I get, even when it claims to amazing for sensitive skin. On offer for £3 from boots, I wouldn't really be losing out on much and instantly bought it. Girls this cleanser is GORGEOUS! It is indeed kind to sensitive skin. I have been using it for over a week and I haven't broken out (Thank you Jesus). My skin is not irritated and I don't get that tight feeling afterwards. It does remove most of my makeup off, but in terms of feeling refreshed and hydrated after, I'm just not sold on that idea quite yet.
MAC Eye Shadow X15 Warm Neutral Palette
Yes, Yes and Yes! After my Zoeva Cocoa Blend Palette, I just couldn't see any other palette finding their way into my life. But low and behold MAC's warm neutral palette has not only found its way into my life but my sweet beauty heart. Arrrrrghhhh this palette was designed for me, I swear! Each shade is deliciously delicious for my eyes. Poor Zoeva has been gathering up a bit of dust and I've been using this palette everyday. I plan to do a more in detail review on this palette, so all I'll say is GET THIS PALETTE!
MAC Persistence
With the Uber obsession over liquid lipsticks that I've been going through of late, no other lipstick or gloss has even graze my lip. Sorting through my lipstick tray, Mac Persistence had somehow found its way in my liquid lipstick drawer. I tried it on and remembered just how much of a gorgeous pinky nude it is. Lining it with my MACS Bittersweet pro long wear liner its become my weekend staple lip colour. Its super pigmented and matte. To tone it down a good gloss gives it a slick finish.
MAC Spice Lip Glass
Entering MAC spice lip-glass. How have I forgotten just how sexy glosses can look. Oh yes I remember. You know when you have got your makeup on point, and your hair look oh so fleeky and then you step outside and the blooming UK wind swoops a bundle of your hair into your face and then it grabs onto your glossy lips!? Yes that's why I stopped wearing glosses! Does anyone else have this problem!? But when I paired it together with MAC persistence and saw just how stunning the combo looked. I swooped my hair back in a bun and started strutting my stuff! The lip glass is so shiny, pigmented and booms with intense colour. Its a mid tonal neutral nude that looks fantastic on its own but also very dramatic with a lip liner or lipstick underneath. I feel so bad-ass with this on. The longevity is about 2-4 hours but that could just be due to the fact that I have such dry lips! *Sad face*
Anastasia Clear Brow Gel
I never understood the whole point of a brow gel, that's only because I have fine hairs and only by watching girls on YouTube with bushy eyebrows I totally get why it is needed. That being said if it hadn't been for my mum picking this up for me when she went to New York I probably would never have purchased one myself. I am so glad she got this for me. The way it literally finishes off my brows after I have lined and filled them in is amazing. They look somewhat HD after I apply the gel. For girls with unruly brows that need taming, this gel is for you. Its not sticky and literally keeps your brow in place. Anastasia really hit the nail on the head with this gem.
BaByliss Wave Envy
BaByliss babe, I don't know how long you have had this product out for, but my god, am I glad I found you. I swear being left handed can be such a downfall when it comes to doing certain things, mostly my hair. I look so baffled and muzzled when I try to create curls and waves with my wand, it just comes out a hot mess 90% of the time. But its OK my left handed girls because the BaByliss wave envy is here to help. The ceramic barrels is shaped in a wavy format and all you have to do is press your hair between the barrels which creates a stunning beachy wavy hair look. I have had so many compliments and it only takes me twenty minutes max to get my 22 inches of weave locks all done. Check out my Instagram to see yourself.
Elnett Satin Hairspray
Last but surely not least is the Elnett Hairspray. This number one iconic long lasting hairspray has been keeping my wavy hair intact ALL DAMN DAY! The spray does not dry out my hair and still leaves me with a bouncy movement. It doesn't have that icky holding spray smell that most hairsprays have and its just genuinely so soft and light to the hair whilst still doing its job. High 5 Elnett!
So those are my July favourites! To be honest I have so much other stuff to share, but I want to use them for a good period of them before I can make a proper favourite judgement. What was you loving in July? Give me another reason to go shopping again! Thank you so much for reading and I'll see you in my next post!