I don't know about you but when it comes to foundations I tread very lightly in my choices. Just because a certain foundation has a lot of hype surrounded around it, I'm not going to dive in deep head first to grab it, too only be left disappointed when it doesn't give me all the quality looks and finishes it claimed.
So I'm not afraid to go up to a makeup counter of the makeup I have my eye on and ask the advisor for a sample. Although they do like to try the makeup on you, I won't be able to tell how good that product is in the small areas of my check and jawline.
When I walked past the Clinique concession in House of Fraser and saw that with the Beyond Perfecting foundation and concealer they were offering a 5 DAY sample of the product, I was more than happy to take them on, on their offer.
The lady at the counter sat me down and wiped some of my makeup off my cheek and jaw (which I really hate, especially on a good makeup day) and swiped 3 shades of the makeup to determine which colour would suit me most. There was quite an obvious difference in all 3, which mostly had to do with the undertones. I have quite an orangey-red tone so the shade number 28 in Clove was perfect for me.
The lady then proceeds to tell me that everyone she has tested on seems to be shade 28 and she has no more samples (good grief). So she told me to pop over to Boots and hopefully they would have my shade.
Usain bolt had nothing on me with the way I fast paced my ass over to Boots praying that any shade 28 girls on their way to get a sample would break a leg or something of that sort. (I WANT THAT FOUNDATION)
As I got too Boots I told the lovely girl behind the counter of my torment of them not having the sample at House of Fraser and when I saw her pull out that full bottle of shade 28 and a sample container my heart truly skipped a beat!
Will you freaking get on with the damn review!!!… Oops sorry.
This what Clinique say about this foundation.
A foundation-and-concealer in one for a natural, beyond perfected look that lasts all day. Lightweight, moisturizing makeup covers thoroughly without clogging pores. Skin breathes comfortably, colour stays true, even through sweat and humidity.Due to the rich pigment level that enhances this flawless coverage makeup, shades may appear deeper when first applied. Leave the foundation to settle just for a few minutes, this will allow the high pigment in the formula to adapt to your skin tone which is why you get such a flawless perfected finish.Suitable for ALL skin types.
Hell yeah!! Now when I saw foundation and concealer in one, I was expecting the product to be one of a thick gloopy consistency, but nope it is as they say very lightweight. When I did apply it, my first initial reaction was Woah this is really rich and in your face. It looked a shade darker than my skin tone but as promised after a few minutes it did settle and adapted to my skin tone leaving me with a dewy luxurious finish.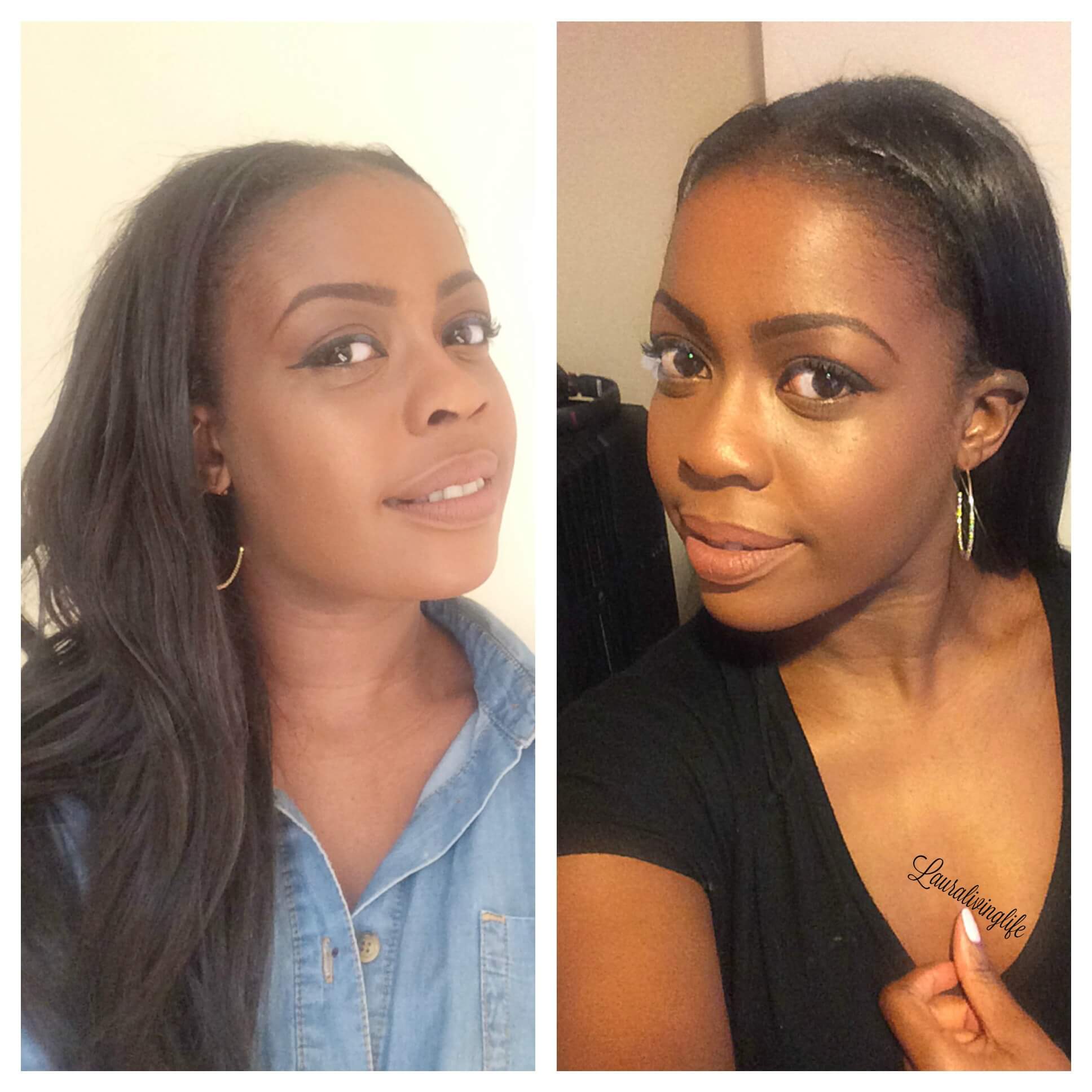 I love this foundation. It did not oxidise at all and blended very well with the other products I used on my face. I would consider this product quite high coverage and as it is a foundation and concealer, using a colour corrector beforehand is not totally necessary . The foundation managed to cover my pigmentation on the sides of my face and around my mouth. It does not feel heavy on my face whatsoever and has managed to last on all day.
As you may know I have very dry skin, so a primer is a must have. With a good primer this product will not cake up on those dry patches.
Clinique do advice you use your fingers to apply the makeup for a flawless look. The first time I applied it I did use my fingers and it did give me a skin like look. But the next day I used my beauty blender sponge and still got the same results, so it's completely up to you.
This foundation retails at £25.00 and can be bought at any store which sells Clinique.
I am not waiting till my sample finishes to go buy the full size. I am sold on this product and will be going out today to get it. This will now become my work office foundation. Even if you have not used a Clinique product before like myself, take advantage of the free 5 day sample and give it a go.
I highly recommend this product lovelies! Have any of you guys bought or sampled this gem? What did you think of it? A hit or miss? I can't wait to see your comments and I'll see you in my next post.
Take care
Laura x
Featured Image taken from google