It has been long time coming with me and Too Faced Cosmetics. I have yearned and yearned over their brand for the longest time but couldn't come up with what exactly I wanted without breaking the bank. So when my birthday came up all the money I was given I saved in my piggy bank and told myself I would go on a Too Faced binge.
So one weekend I skipped my way happily to Oxford Circus Debenhams and when I got to the Too Faced counter it was then I knew, I was in big trouble. I was in love.
Founded in 1998 Too Faced mission is to be a fun but serious makeup brand. They aim to create innovative, cruelty free, colour- free colour cosmetics using the finest ingredients for women and men to love to wear. Their iconic branding is pink, cute and very playful. Too faced Cosmetics want too:
"Show you how to create different looks, inspire confidence to experiment and encourage you to own your pretty."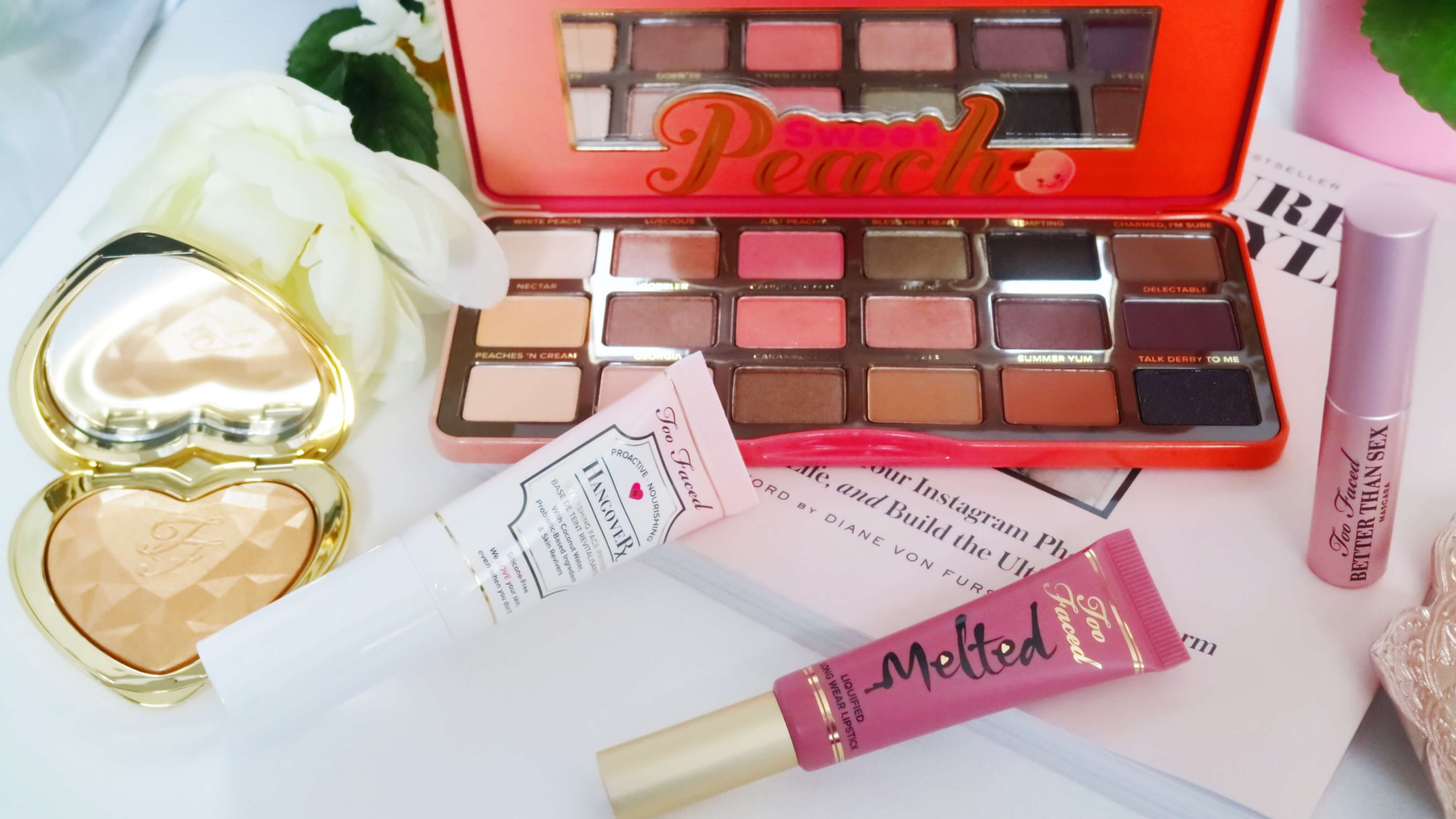 I was blessed to be greeted by a lovely makeup adviser, who was all to willing to help me spend some cash. I already knew I wanted to try a palette, their better than sex mascara and a primer. She happily showed me around the counter and gave me detailed explanations of each products and swatched the products on me, so I could get a better judgement of them. In the end I ended up purchasing the Sweet Peach Palette, Better Than Sex Mascara, Hangover Face Primer, Love lights Prismatic Highlighter and their Melted Liquefied Longwear Lipstick.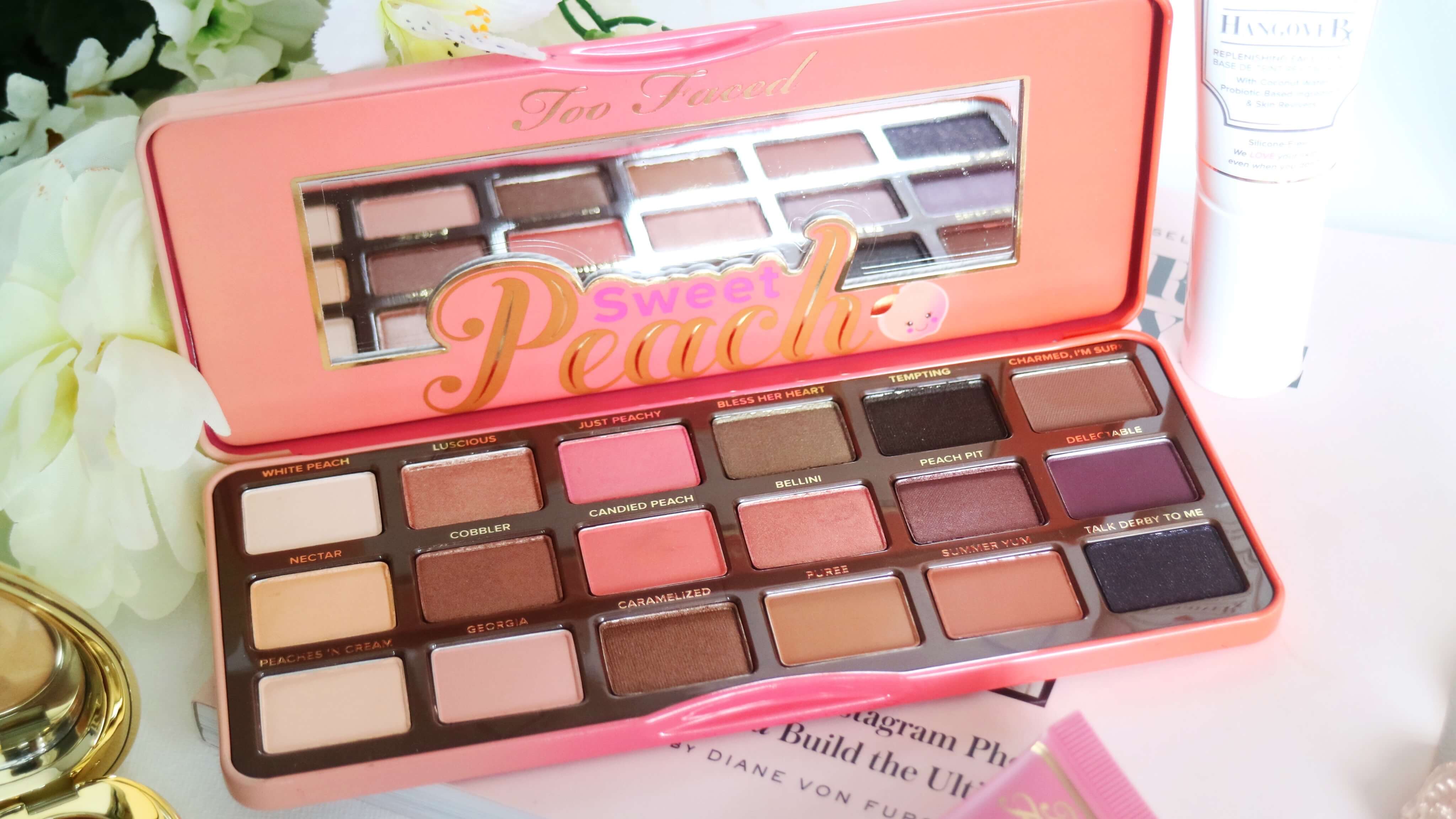 Too Faced Sweet Peach Palette
I could not decide between whether I wanted the Sweet Peach palette or the Chocolate Bar palette, but after swatching both palettes on my arm, sweet peach was a dead winner. The packaging is actually what it is: Sweet and Peachy, and I particularly like that at the back of the packaging it has all of the shades of the palette and their names. When a palette comes with a mirror, I'm instantly in love because it automatically becomes travel friendly for me. The palette comes in 18 freaking gorgeous shades and its not a myth the palette legit smells like flipping peaches (Lord save me now). It has a wide range of colours from mattes and metallics, to peachy pink, bronzes, corals and dark purple shades to create various looks. The colours are super creamy and smooth and incredibly pigmented. I have dark pigmentation on my eyes and would never apply shadows onto my lids without a base primer, but if I was too go without a base primer, the colours still show up clearly on my lids. I found no patchiness with applying the shadows and they were really easy to blend on my lids. The shades can be worn dry or wet for more of an intense look. The palette also comes with a guide of three different looks you can create, I particularly find that helpful for ideas and also for beginners who are starting to wear makeup. The palette retails for £39 which for me I find pretty decent for a high end makeup brand.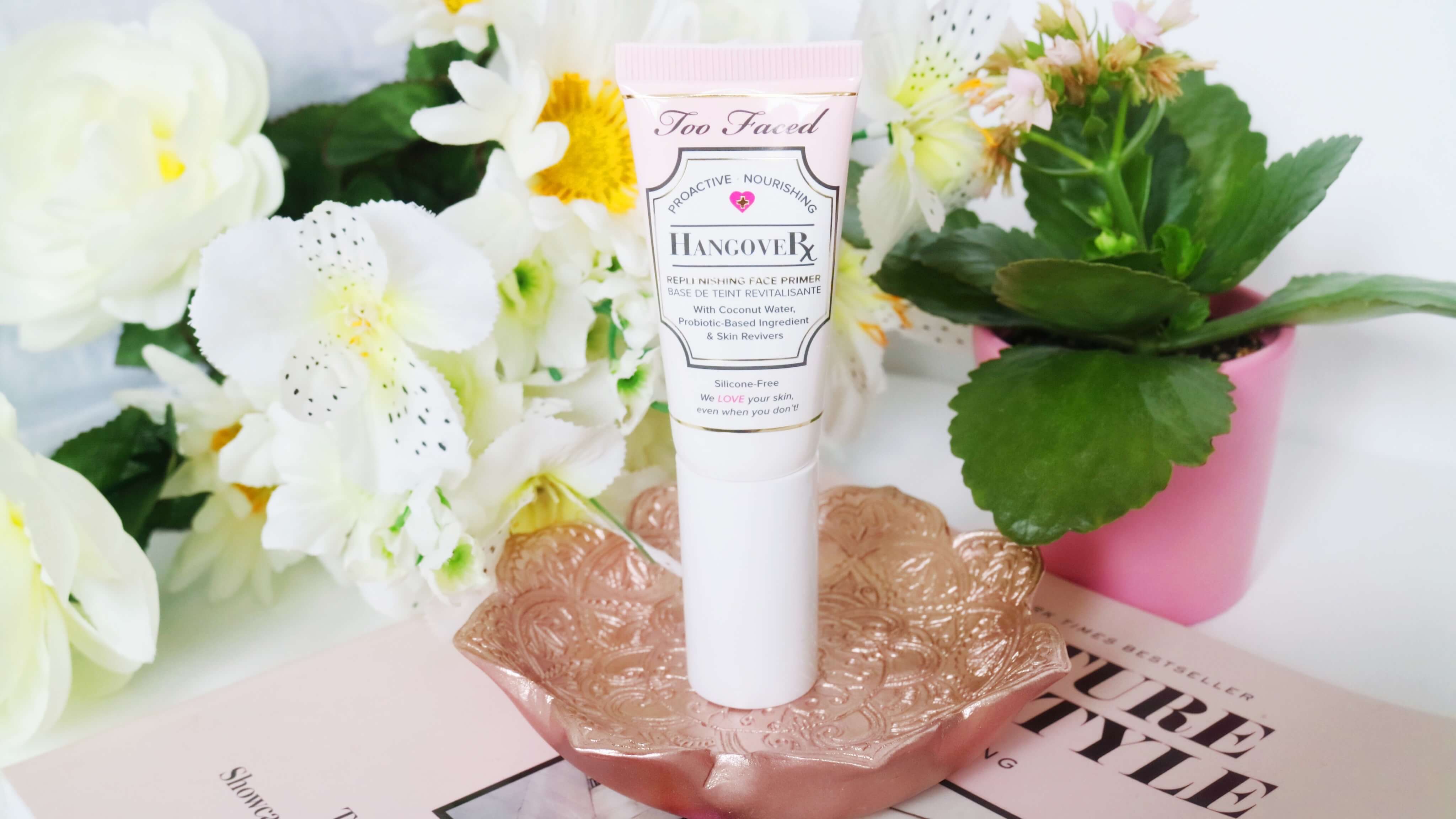 Too Faced Hangover Face Primer
The Hangover Face Primer is a silicone free primer, which replenishes the face. It is infused with coconut water and probiotic face ingredients which helps to revive and nourish the face. Once again I love the packaging. It comes in a tube form and you simply take of the cap. I absolutely love that it has a pump so that I can pump out just enough product that I need to cover my face. The primer does smell of coconut (which I'm obsessed with) but its not an overpowering scent and does fade after a while. The product is watery and I find that two pumps is more than enough. Being that it is silicone free it felt smooth and moisturised on my skin and it matched perfectly well with my foundations. I feel that people who have dry to normal skin would really benefit with this primer because it adds more moisture to the skin and does feel hydrating. If you have oily skin I think this primer would also work too as not only a primer but a moisturiser too. If you have foundations that tend to make you look dry then this primer will help to bring more life to your face. I love this primer and have given my Benefit Porefessional primer a well needed break. My makeup lasts all day and my face truly feels so soft even after a long 8 hour day at work. The primer retails for £27, but with the benefits and results I have had from this primer, an extra couple of quid compared to other primers I own is totally worth it.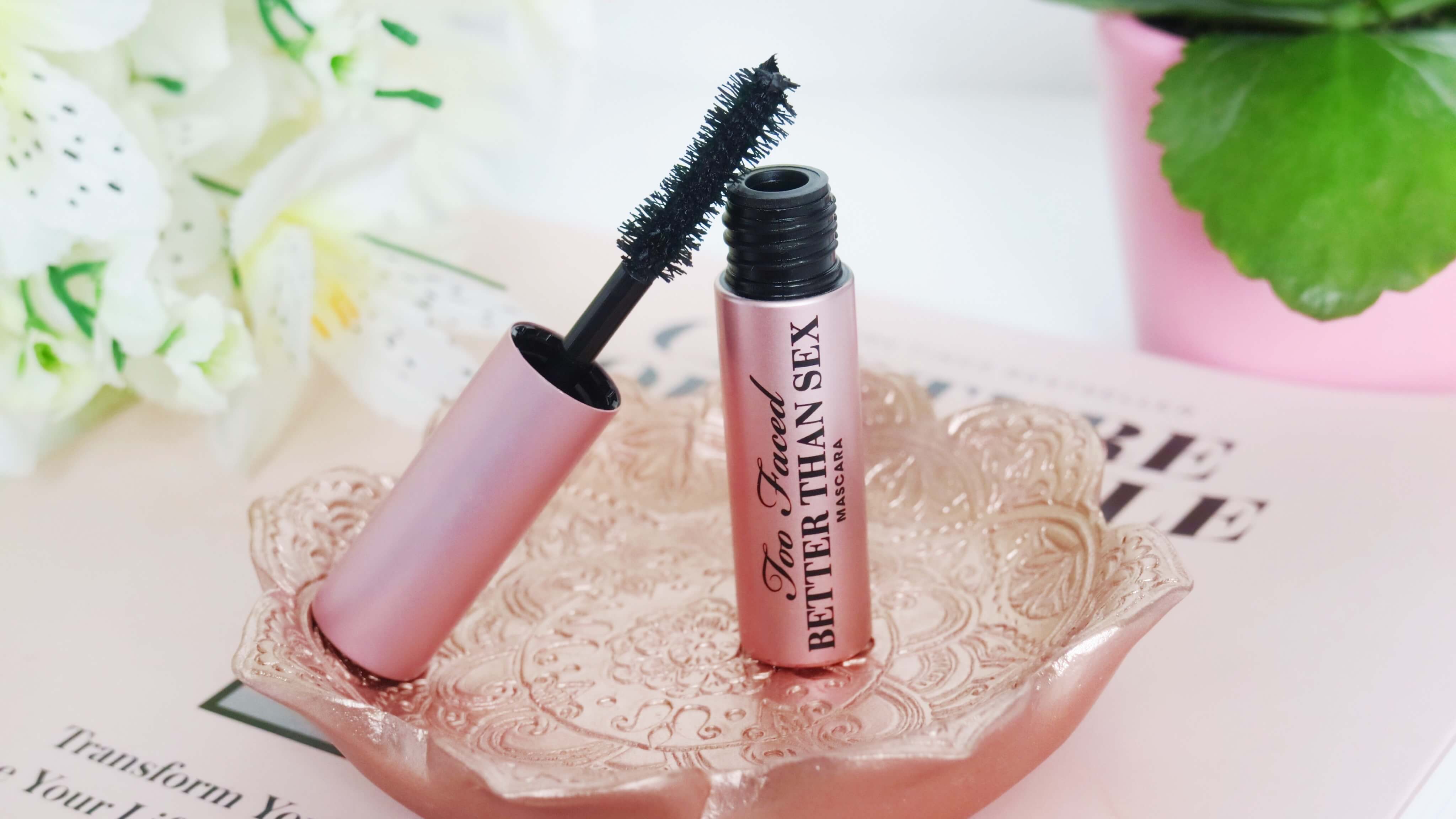 Too Faced Better Than Sex Mascara
I swear everyone around me has tried this mascara and even a few have said that their sex lives does not compare to this mascara (just joking) so I just had to pick it up and find out what all the fuss is about. Now I have so many mascara and they have a tendency to dry out, because once you open a mascara its use life starts working to expire from that point. So I didn't want to waste money on another mascara without knowing for damn sure it was worth the hassle. I was happy to see that they sell a travel sized version of the mascara and bought that instead. When I first opened the mascara, the wand was quite 'goopy' with the product and I'm not sure whether that is just with the smaller versions or its the same with the big one but it did make me a little apprehensive. After one stroke of the wand on my lashes… THE VOLUME… THE ACTUAL VOLUME was nuts. If you are lover of volume then you need this mascara hands down. My only issue is that it can clump up and I personally like my lashes to look full and separated. That can be achieved but I would have to apply another mascara with a separating wand and that is just too much effort for me. But saying that I really do like the mascara. It gives me plenty of intense volume and makes my lashes look so full. I paid £10 for the travel size which has 8ml of product and the full size cost £19 for 8g. Is it just me or does the travel size work out much better price wise than the full size?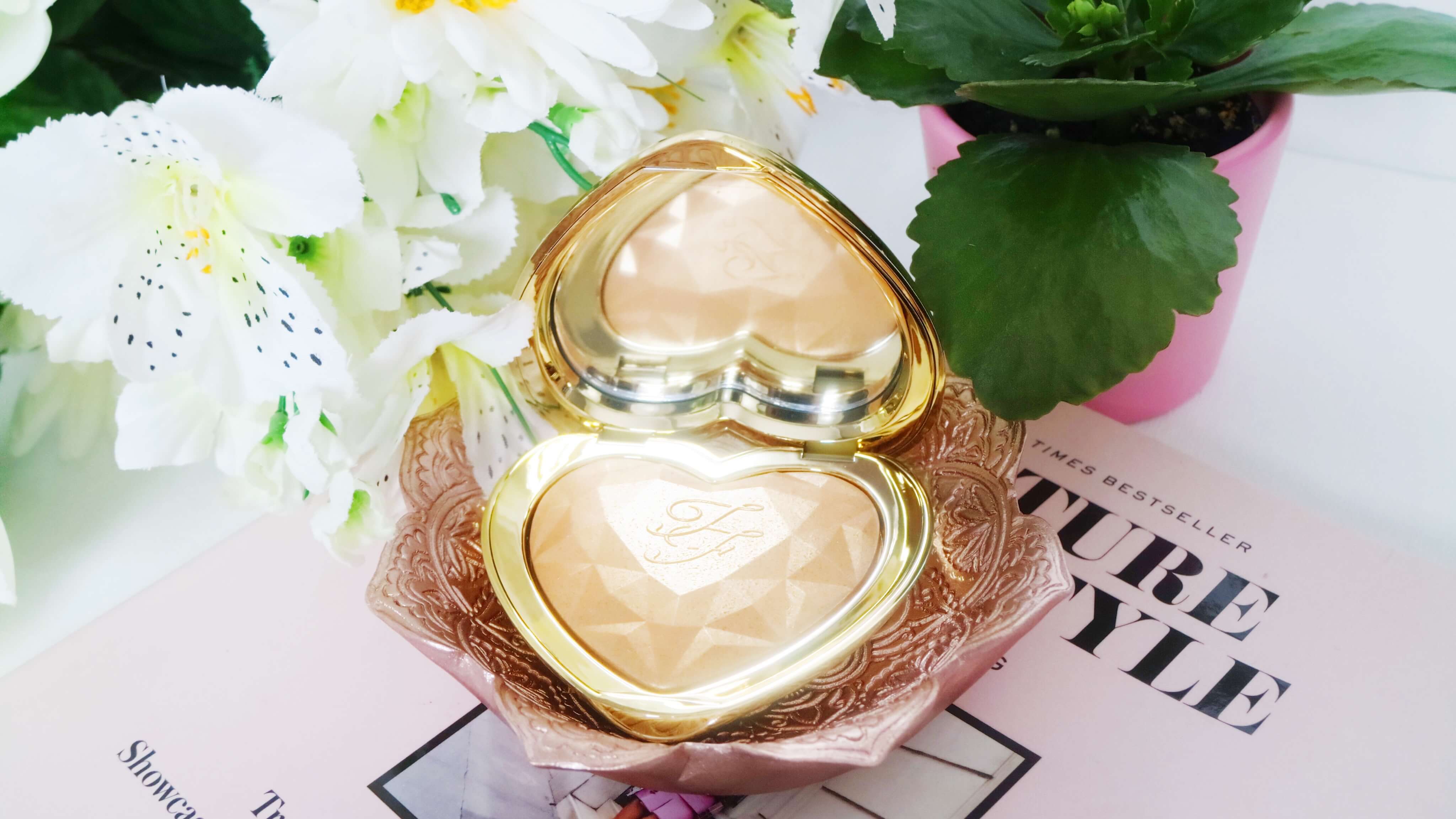 Too Faced Love Lights Prismatic Highlighter (You Light Up my Life)
I have too many highlighters, so I don't know why I fast myself to go and buy another. Oh wait I do… that heart shaped packaging is just far to cute to go home without. I am sucker for heart shaped packaging and guess what else it has? A damn mirror, which you know what that means… HANDBAG FRIENDLY. The Love Lights highlighters are combined with powder, liquid, baked and cream formulas to create an unparalleled radiance. I am not going to lie to you lovelies this isn't the type of blinding highlighter where I will be able to see you from space. Its a very subtle highlighter, for perfect use as a daytime wear. Its not everyday I want to look like a disco ball and a little flash on my cheeks will just do. It can be built up but its very much so designed to give an everyday glow. I really love that the powder is so fine so it blends into my skin effortlessly without adding any texture. For £25 its a bit *side eye*, but Too Faced just know how to sucker punch you in the throat with their packaging that you just cant help but resist. I wouldn't repurchase because of the price but I don't regret buying it either.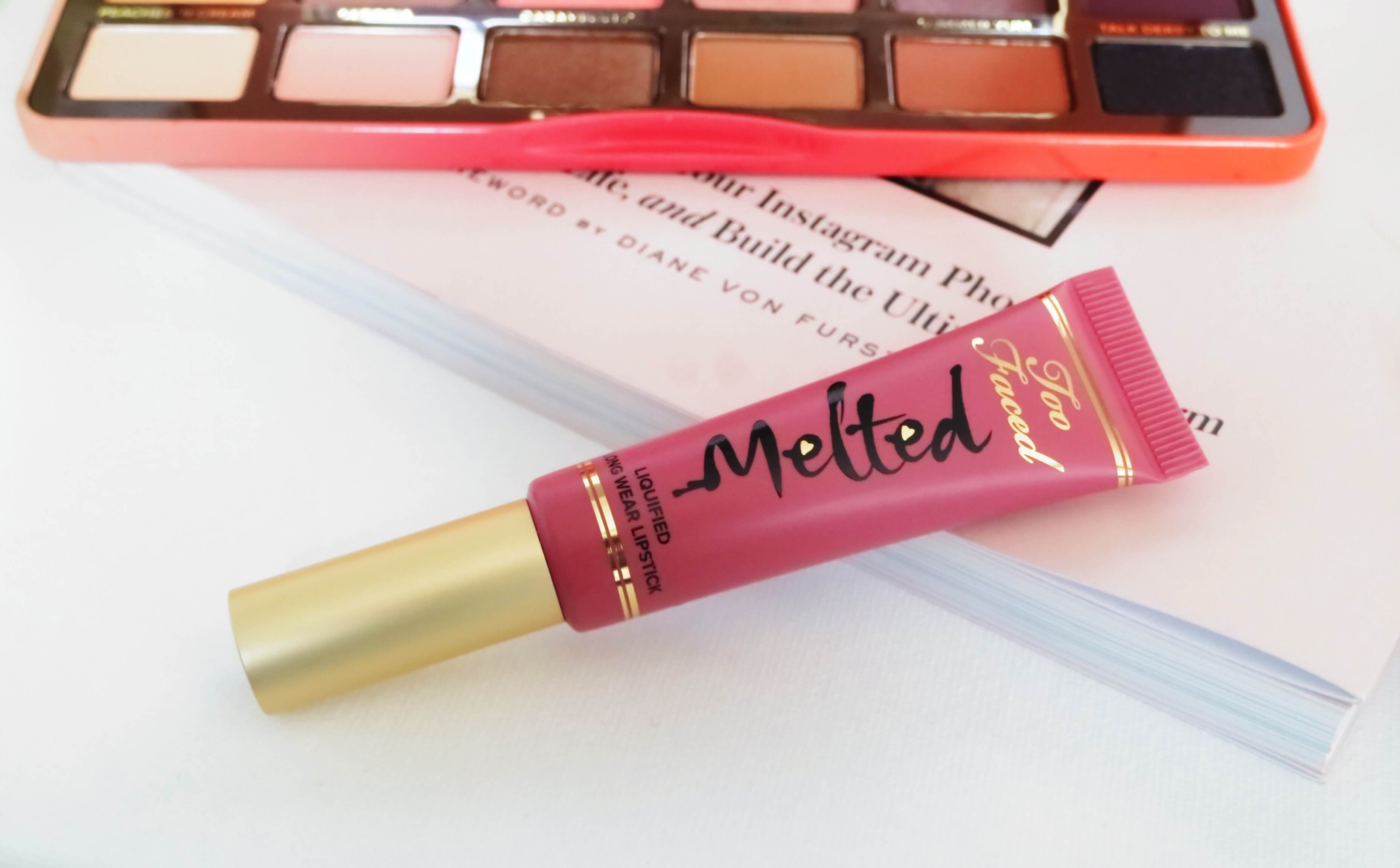 Too Faced Melted Liquefied Longwear Lipstick (Chihuahua)
Excuse me do you love liquid lipstick but have dry lips? Come here baby I have found the perfect lipstick for you. Too Faced melted liquefied longwear lipstick is insane! It has the staying power of a liquid lipstick but also gives your lips intense moisture and shine. I honestly cant put to you just how great this lipstick feels on my lips. It just feels so incredibly rich and soft and I joke to you not that it lasts on your lips for majority of the day. The lipstick come in a tube and you squeeze out the product onto your lips. Try not to be heavy handed as you can end up squirting it all over the damn place. It glides onto the lips fine and it feels so lightweight on the lips compared to other lipstick which can have a heavy feeling. At first it will look shiny but after a few hours the shine will go and it will look more like a rich, pigmented stain. Truthfully it does transfer but not a lot and I didn't have to reapply during the day, which is a bonus. It retails for £19 and for the amount of product you receive and how good the lasting power is, I am happy to pay that price over and over again!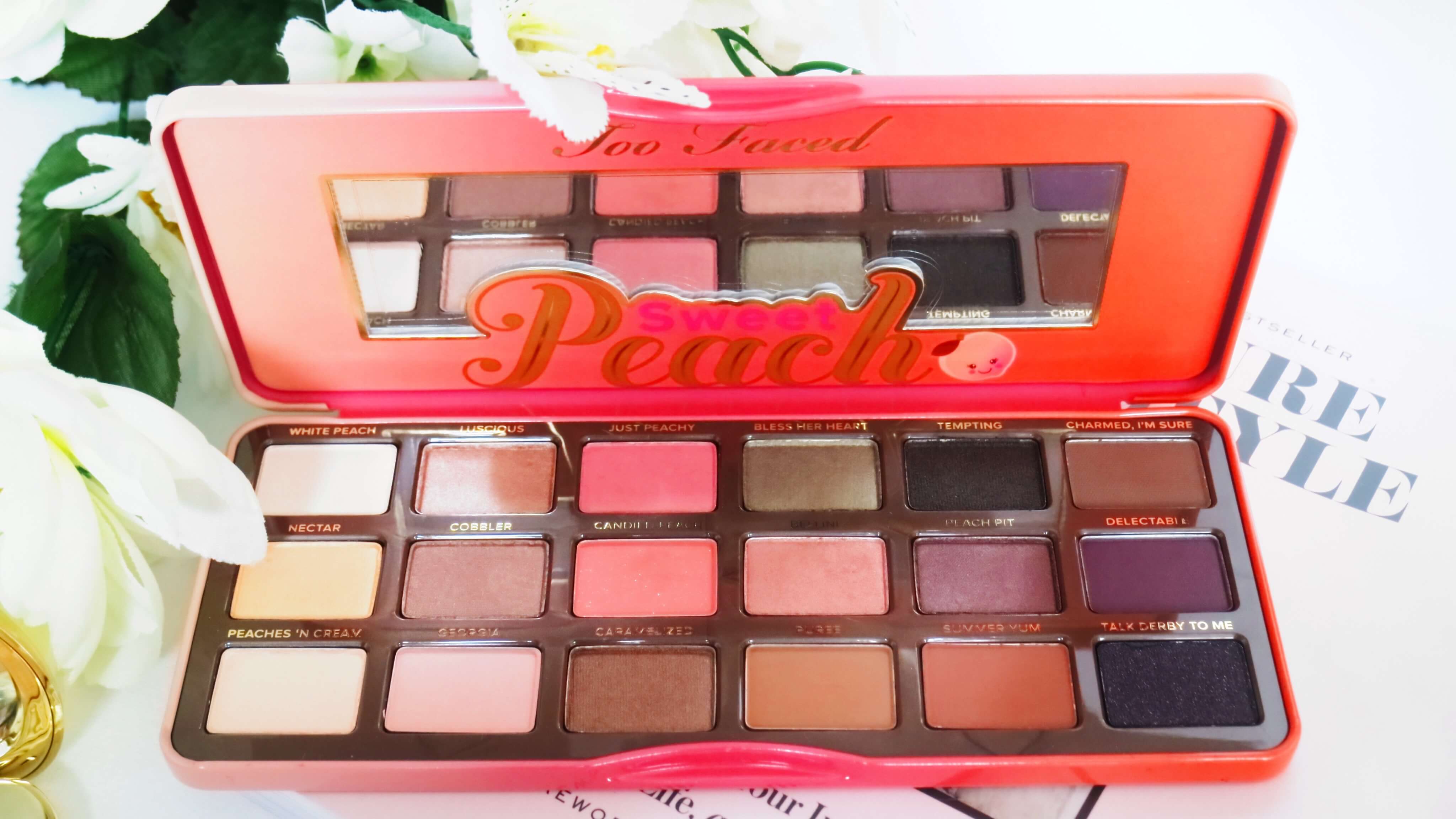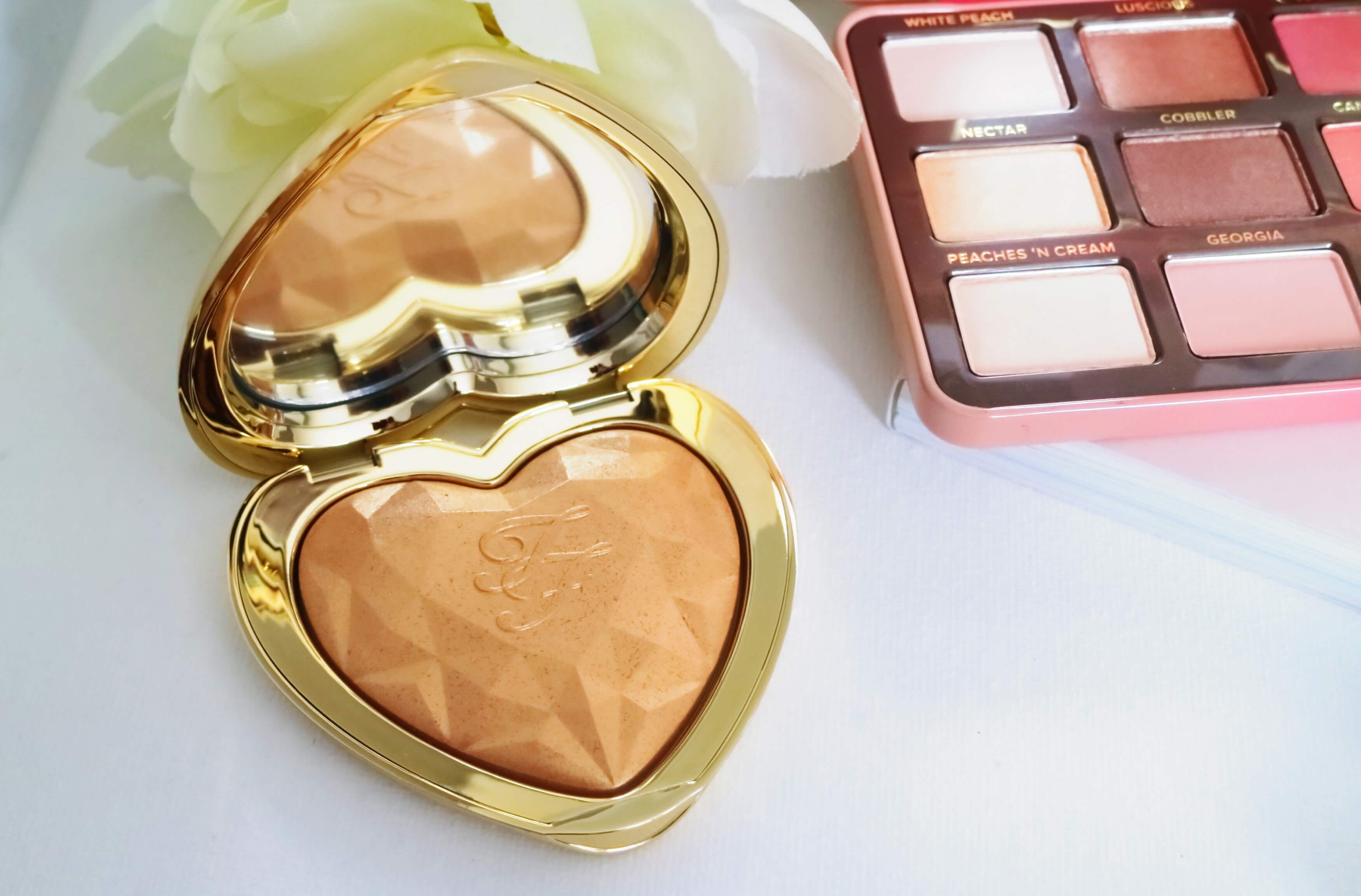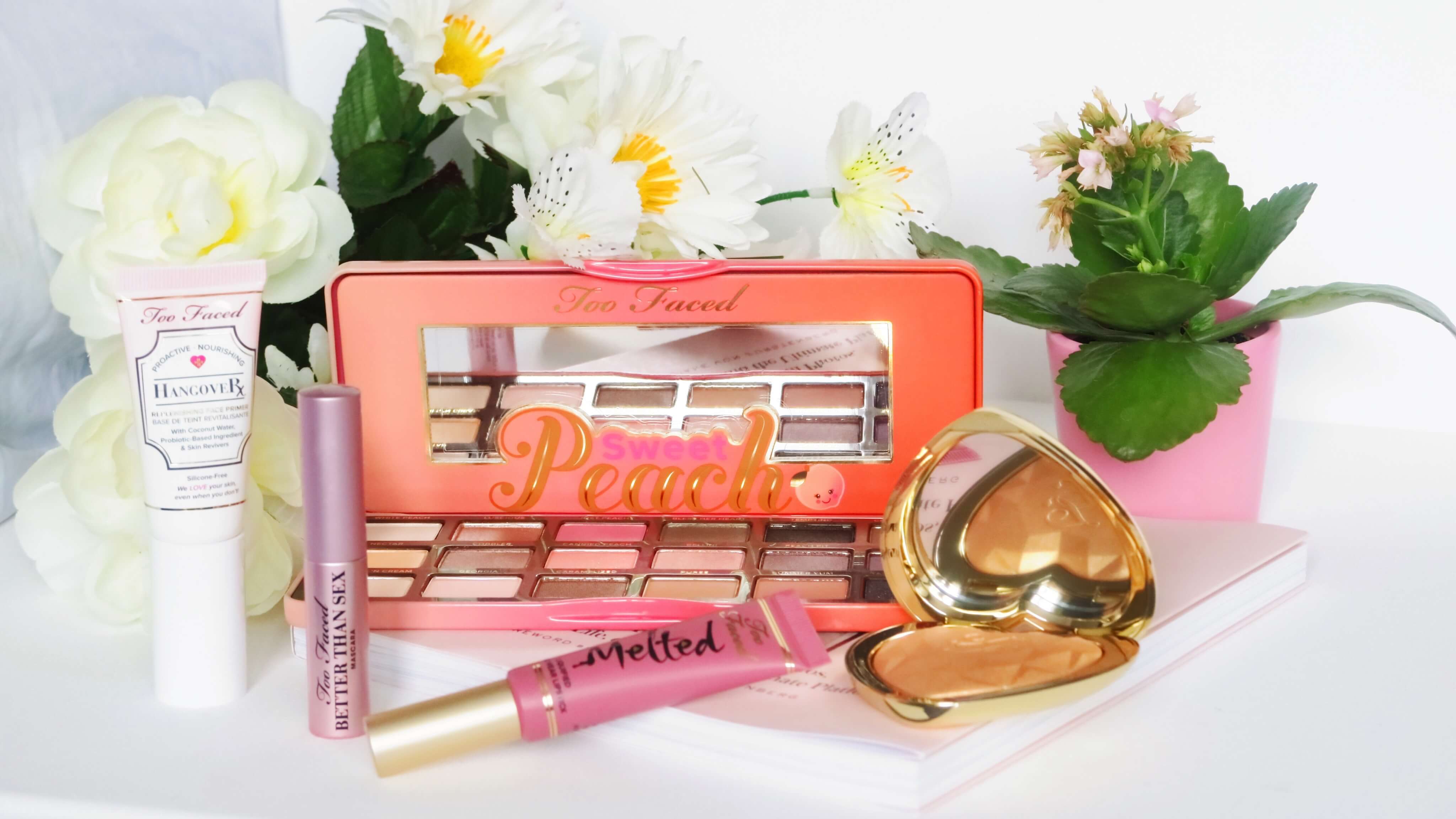 Overall my thoughts? Too Faced you have a new joiner. I think their products are amazing, their packaging is amazing and the way their market their products is simply genius. Whoever works in their marketing department are seriously talented and could probably sell me my own pink socks! I am very excited for new products they come out with and I already have my eye out for the Hangover 3 in 1 primer and setting spray. So keep your eyes peeled out for a future review on my thoughts on that one.
Follow me on Twitter and Instagram
Have you tried Too Faced Cosmetics? What is your favourite product?