To call a lipstick the best liquid lipstick ever, knowing full well there is a bunch plus more I haven't tried, then you have to believe that this lipstick is THE ONE. Ever since Huda Kattan the beauty herself came out with her Huda Beauty range I always wanted to pick up a few products but never got round to it. Being that it was my birthday month, it was the perfect excuse to go on a huge makeup spree and blame it on the fact that 'Its my birthday month'. When it comes to getting lipsticks I always head straight to YouTube to watch various girls testing and swatching the lipsticks so I can get a better idea and perspective on which colours to go for. Upon inspection I knew I wanted to try Spice Girl (Beige Brown) and the new metallic liquid lipstick Showgirl (Metallic Cranberry).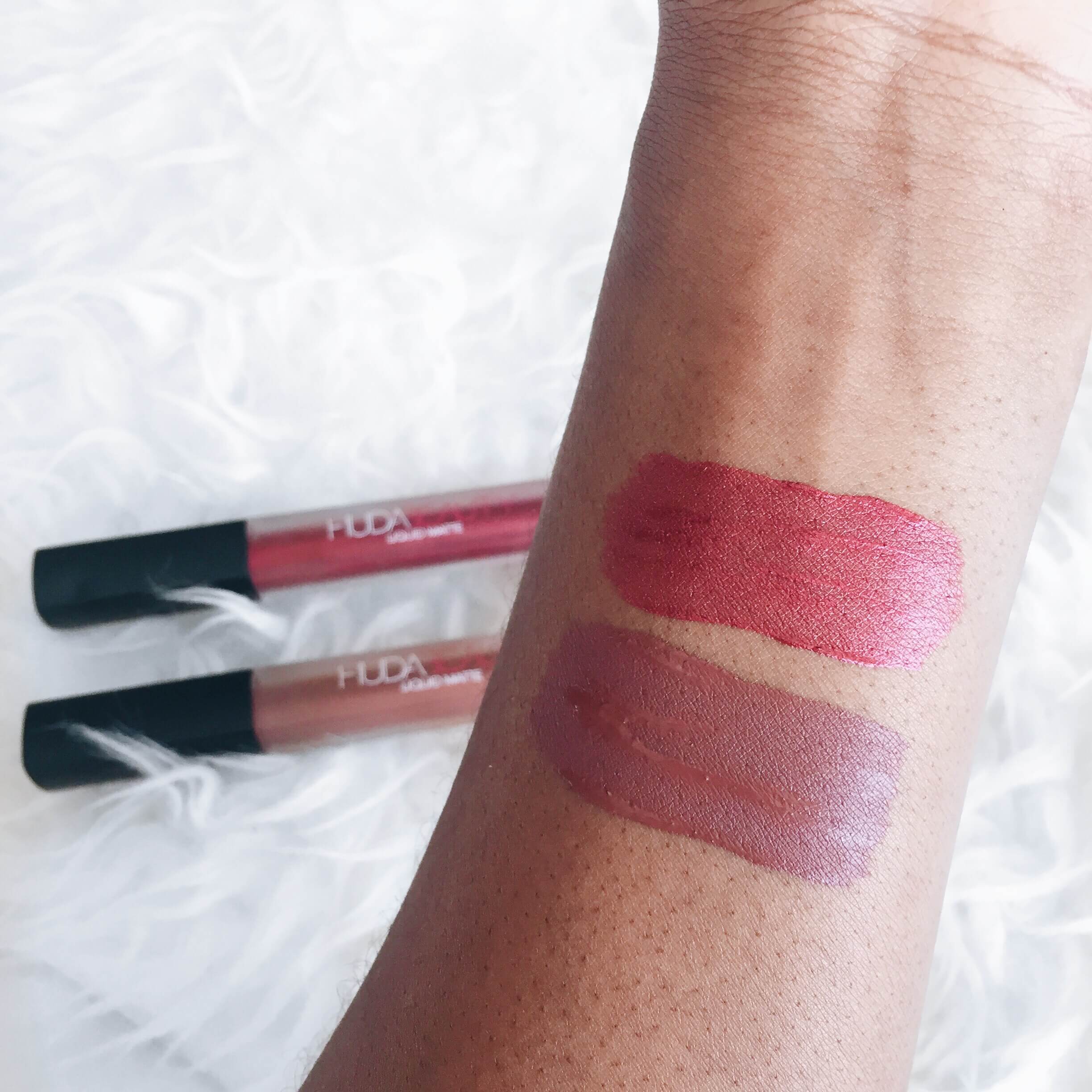 When I received the lipsticks, I was impressed highly by the packaging and the design of the lipsticks. They come in a sliding packaging with designs of what I presume to be Huda Lips having the lipstick in between them. The lipsticks come in a frosted tube with Huda's logo on top. The wand of the applicator is long and comes in a standard doe foot applicator. Now the lipsticks themselves are VERY runny! I was silly enough to hold it sideways and some literally dripped out like WATER! With that being said you would think something so liquid-y and light would take several coats on the lips to fulfil the colour…NOPE. One and a half coat is perfect and they are highly pigmented. When you apply, don't rub your lips together and allow your lips 30 seconds or so before you start to smack lips together.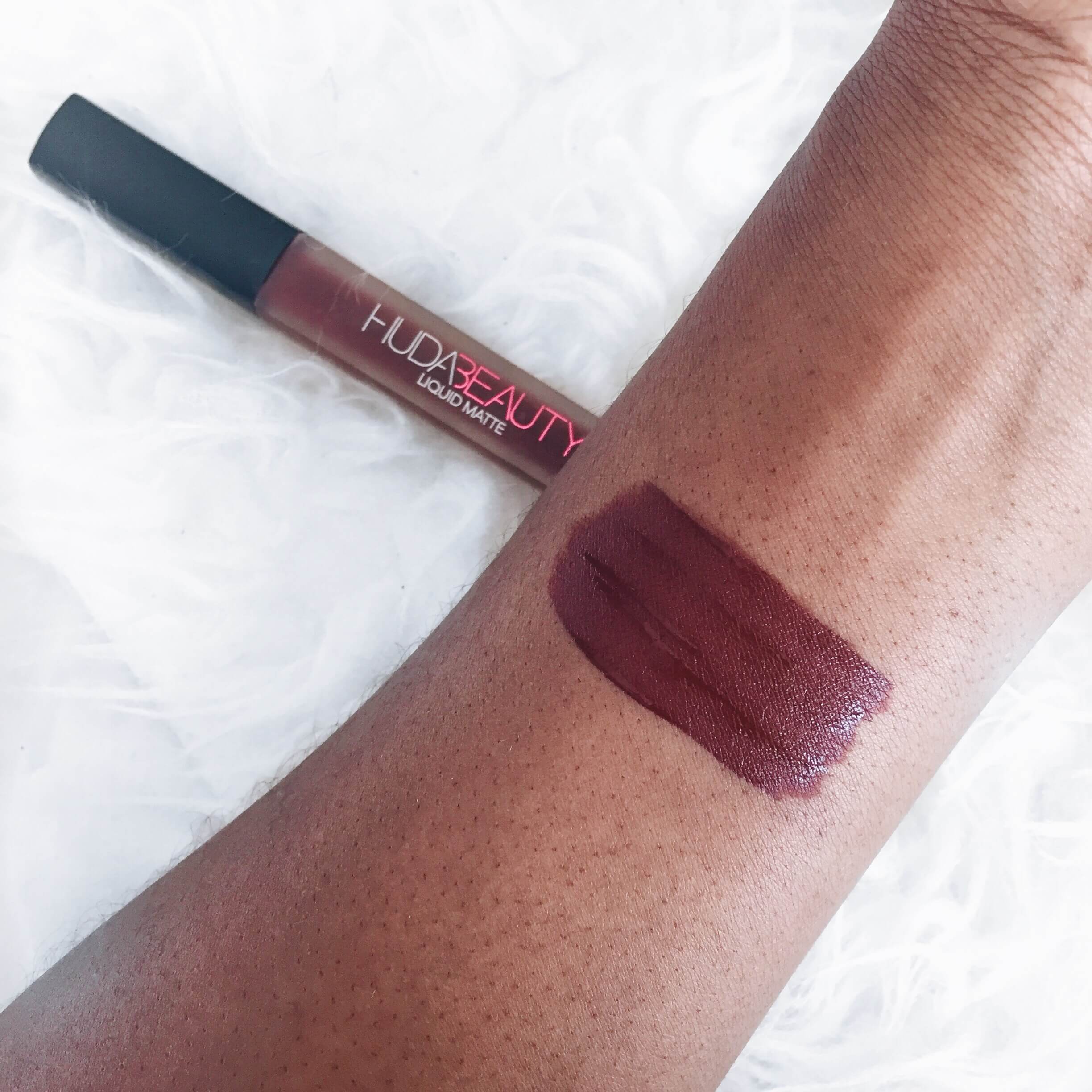 The lipsticks do have a fragrance and have somewhat of a vanilla/ cake batter smell to them which is intoxicating and not nauseating. Testing Spice Girl and Showgirl (which are both two different colours) they both had the same lasting of 7+ hours. I do find that some lipsticks depending on the colour can have different lasting, formula and textures, but I don't have this problem with Huda Beauty lipsticks, Being so impressed by the two I bought, I quickly purchased another full shade in vixen (dark brown) and also picked up her mini liquid lipstick range in the Red Edition, which consist of Heartbreaker (cool red) Material Girl ( deep plum) Showgirl (metallic cranberry) and Famous (vamp red).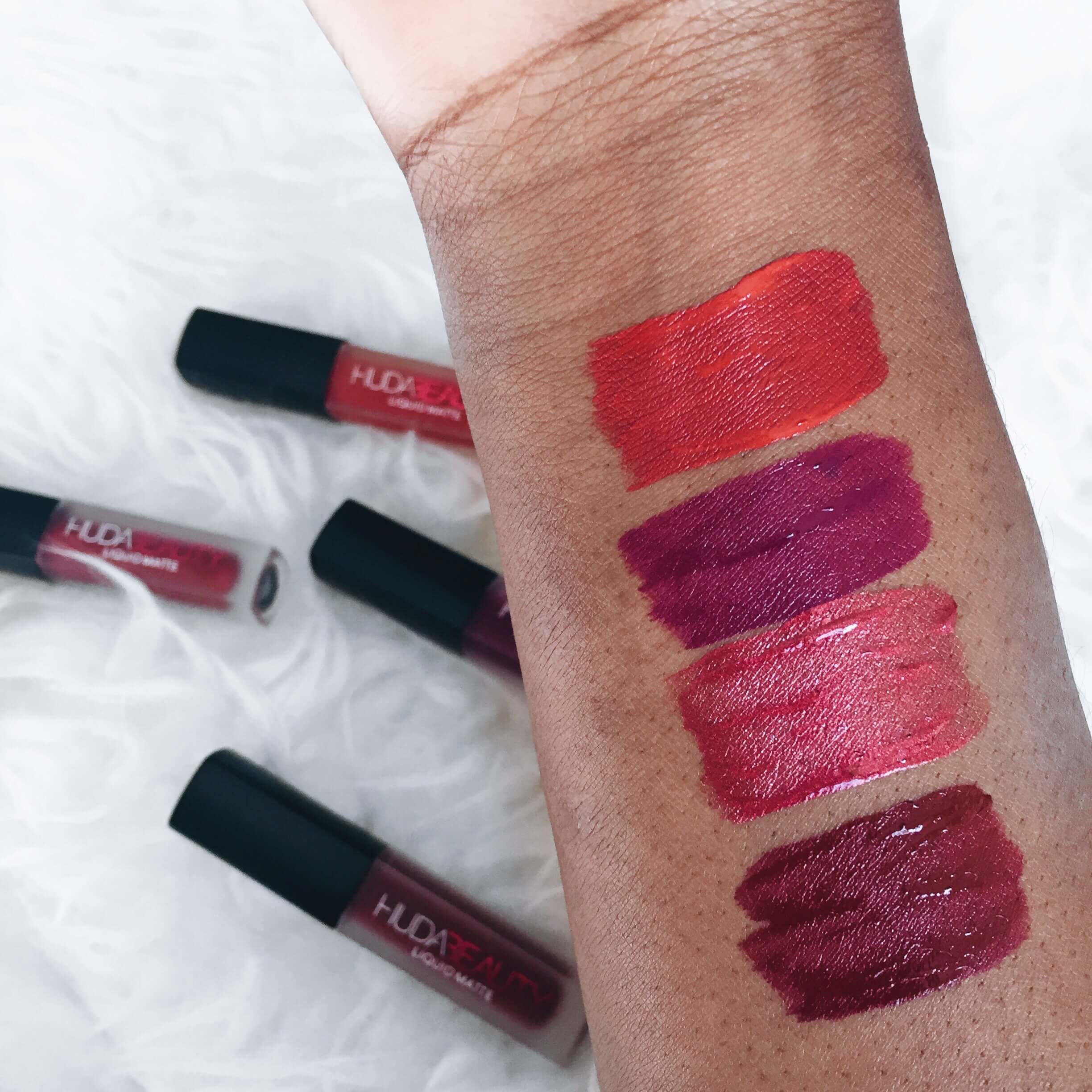 All in all I am addicted to Huda's lipsticks. They all wear evenly on my lips, but I am bearing in mind its because I have relatively darker shades. I do tend to find that lighter shades can run streaky and cling on to dry patches of the lips, but I have not had this problem with Spice Girl, but I will be purchasing some more nude shades of hers and I will do a continued review on how I find them. Without a doubt my favourite colour is Spice Girl… hands down this is best nude colour for dark skinned girls that I have found thus far. I love that when I have had to top up that it doesn't make my lips feel cakey or heavy and still remains very lightweight. They are extremely comfortable and feel non existent on my lips. Huda give yourself a pat on the back girl!
Have you tried Huda's Lipsticks? What is your favourite liquid lipstick?