Black Friday is coming on the 25th November. I know too well about Black Friday, from watching the news and seeing the hundreds to thousands of serious bargain hunter fanatics going Ape Shizzle in various shops. You have the big stores such as Argos, Curry's and Amazon usually participating in Black Friday, but what about the beauty online websites? I've never actually bought anything on Black Friday so I'm not sure what to expect. None the less I thought I would still go ahead and create a beauty wishlist of the products I am most gagging to get my hands on, and getting it for half the original price would be the angel topping on my Christmas tree!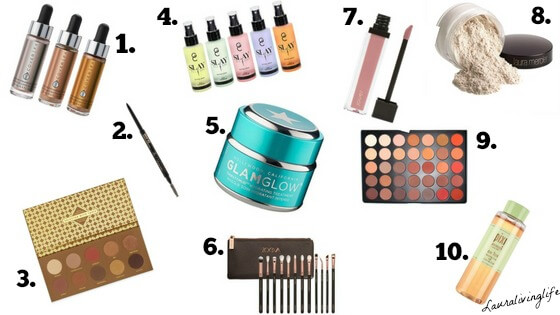 1. Cover FX – Custom Enhancer Drops £34.00
I'm pretty sure this highlight has been on my wishlist since January 2016. The rave reviews of bloggers and YouTubers saying that the drops have been brighter than their future has got me pretty obsessed to see what all the kerfuffle is about. The only issue is that Candlelight ( a deep bronzed metallic highlight) is never in stock on the UK websites and I really don't want to fork out on shipping fees and custom charges for a product that I haven't swatched let alone sampled. Although if it did manage to go down to half price or below, then I guess I wouldn't mind going the extra mile to pay a little fee to have it in my possessions.
2. Anastasia Beverly Hills Brow Wiz Pencil £15.50
Another hype from beauty gurus and their grandmas has me wanting to see if they are right and if it will give me the ultimate Instagram sought after eyebrows. I have sparse brows that are quite thinning so I've heard this pencil is the one I need to get.
3. Zoeva Caramel Melange Eysehadow £18.00
I have the Zoeva Cocoa Blend eyeshadow (read here ) which I absolute love and have pretty much hit pan on about 5 of the colours. So seeing that Zoeva has come out with the caramel eyeshadows I need to get my hands on them. Cant you see that they are the ultimate warm toned lovers dream palette!
4. Gerard Cosmetics Slay All Day Setting Spray £14.50
I swear by my MAC Fix + and Urban Decay setting spray, but I've heard the Gerard spray is just as good, by helping makeup not look cakey, settling into fine lines and minimising large pores. Sounds good to me, plus oily chicks will love this as its been formulated to control the amount of oil you produce.
5. GLAMGLOW THIRSTYMUD Hydrating Treatment £39.00
I'm not even going to front, I just want to buy this smear it all over my face and do the duck pout for the Grams #GLAMAHOLICS ! Anywhoooo Glamglow claims to provide deep instant hydration, moisturise, restore, replenish and calms the skin. Hmmm saying all the right things, but does it live up to its promises?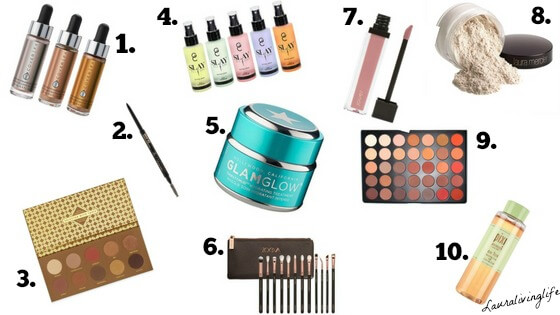 6. Zoeva Rose Golden Complete Eye Set £65
Who doesn't love a bit of rose gold, let alone high quality brushes. Zoeva are known for their high quality brushes to create stunning looks from a natural to smokey eye. The set holds 12 brushes and are made of synthetic. A friend owns this set and she says she has wash them so many times and they still hold their quality. I don't own a full set of eye brushes and really want to get my hands on these bad boys.
7. Jouer Cosmetics Long-Wear Lip Creme Liquid Lipstick £15.00
YouTube babe Jackie Aina, says these are one of her favourite liquid lipsticks to go to and she has never failed me with her other recommendations that I have purchased, so I want to test it out for myself. Described as beautifully bold and highly pigmented they are available in 16 shades of matte and metallic and I desperately want to get Fraise Bonbon and Noisette.
8. Laura Mercier Translucent Loose Setting Powder £29.00
Come on now tell me who doesn't want to own this (if they don't already). I love my Sacha Buttercup setting powder to the moon and back, however hearing that the Laura Mercier powder is finely milled, makes your face feel like feather, and has light reflecting qualities that makes your appearance look smoother and flawless, Errrrrr I'll take about ten of those THANK YOU VERY MUCH!
9. Morphe 35OM Palette £21.75
I've got the Morphe 35O Palette which is a mixture of matte, shimmer, metallic and foiled shades, yet I just got to have the 35OM which is the 35O palette but all MATTE! I simply cant get enough of Morphe and have a review of their 35T palette coming to the blog soon! 🙂
10. Pixi Glow Tonic £18.00
Finally on my Black Friday Wishlist is the Pixi Glow Tonic. After seeing so many positive reviews, I don't think this toner is a gimmick but rather the real deal. With my hyper pigmentation the glycolic acid that's in the product could really help dissolve the dead skins on my face and produce new healthy skin cells instead. I need a miracle and the glow tonic might be it!?
Fingers crossed I can get my hands on a few of them, or its going to be peak for family and friends, when I start wavering around my Christmas presents list for them (JK…NOT).
What are your plans on Black Friday? What beauty and non beauty products would you love to get your hands on? Please like, share and comment and I'll see you TOMORROW!