Yes, Yes, Yes Autumn is just around the corner, but that hasn't stopped me from embracing it right now. I love Autumn and its by far my favourite season of the year. My personal style is more suited to the colder months. I'm a sucker for turtle necks, chunky knit jumpers, leather skirts, chunky boots and over sized EVERYTHING. Mostly tho is the Autumnal makeup! Dark eye-shadow everything and a sexy red or berry lip. LOOK COMPLETED. So today I want to share with you my favourite fall lipsticks that I reach for on a daily to complete my fall look.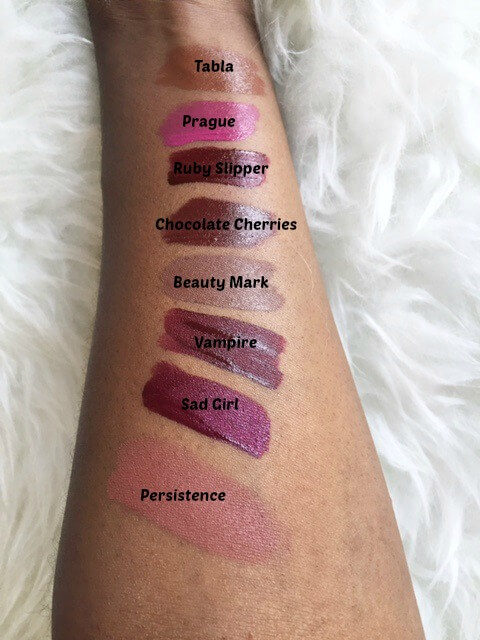 MAC Persistence
Persistence is that sweet transition from Summer to Autumn. This peachy brown is a comfortable matte that applies smoothly onto the lips. Its pigmented and will compliment any look. You can wear it with warm brown eye shadows or use it as a subtle colour when going for a dramatic eye look.
Anastasia Beverly Hills Liquid Lipstick in Sad Girl
Yaaaaaas Anastasia! There is nothing sad about this girl (me) when I got this banger on my lips! Its a dark plum shade with a metallic finish. The lasting power of these phenomenon shade is sickeningly perfect. Can be worn alone a lip liner for precise detailed definition. Go grab Sad Girl guys!
LA Splash Lip Couture in Vampire
Oh Halloween I see you boo. So true too its name, Vampire is a dark burgundy lippie. To say I feel like such a bad ass when I got this seductive, alluring lipstick on is an understatement. It is a very statement lip colour and I will be wearing it with a matte face and a dark Gothic eye look.
NYX Lip Lingerie in Beauty Mark
Beauty Mark is a gorgeous brown mixed with an undertone of grey. It is such a gorgeous autumnal shade to wear everyday and really gives off a grungy 9os style look when teamed with a dark brown lip liner. A con on this lippie is that its very drying and slightly tacky, but a good pea size of Vaseline or a lip gloss on top can make it much better.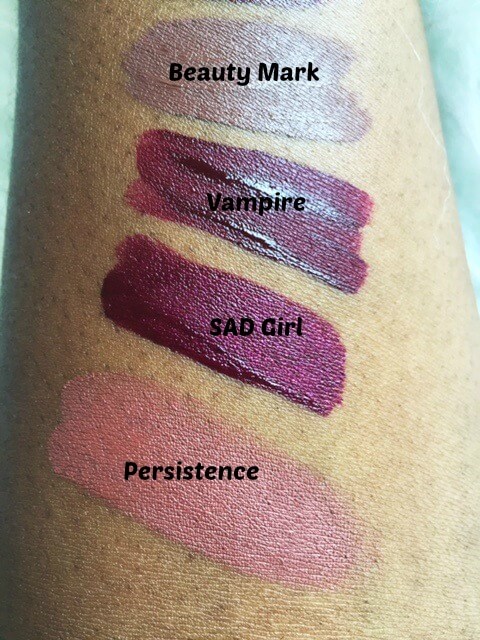 Two Faced Melted Chocolate Liquified Lipstick in Chocolate Cherries
Now this was something I recently picked up on a recent trip to Sephora when I went on a weekend break to Barcelona with the bae. I wasn't aware that two faced had done a cocoa powder infused liquefied lipstick range. When I swatched Chocolate Cherries on my hand, it was an instant no brainier that I was going to buy it. It is exactly a liquid formula of its name. A seductive chocolate colour with a mouth watering cherry colour undertone. Its is no way drying to the lip and stays put ALL DAY. It does sit onto the lip comfortably and makes my put look so full and juicy. Will most definitely be picking up more of the other 5 shades in their range.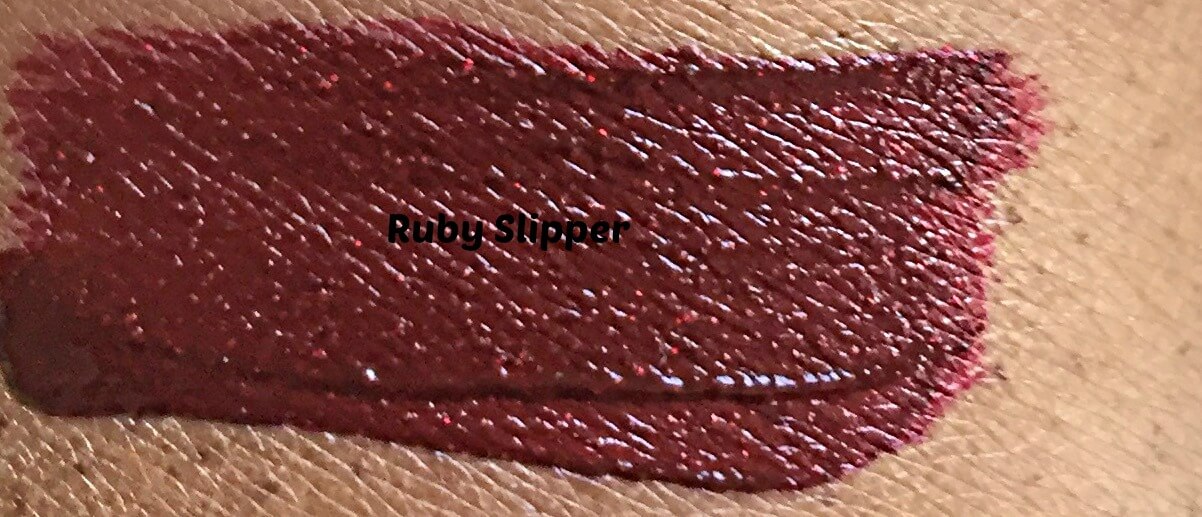 Gerard Cosmetics Hydra Matte in Ruby Slipper
Ladies on a night out, Ruby slipper is your right hand woman. This liquid lipstick is not only a gorgeous dark red but is has tiny speckles of sparkling glitter to give your lips the Gold medal of sexy lips! Its applies smoothly and does dry down very matte. Can I also add that its a b**** to get off and when you do your lips will see have a rosy tint to them. At least you can be rest assured that its staying put.
NYX Matte Lip Creams in Prague
Another night time lippie is Prague. Super pigmented, creamy and smooth, this vibrant purple will have people doing a double take to look at whats on your lips. Its not drying whatsoever but does look very matte on you lips.
MAC Tabla
Ooooh Weee this hot milk chocolate blends so well with my lip, people have been convinced I just have gloss on. The formula is glossy and opaque and is definite an universal shade for all skin tones.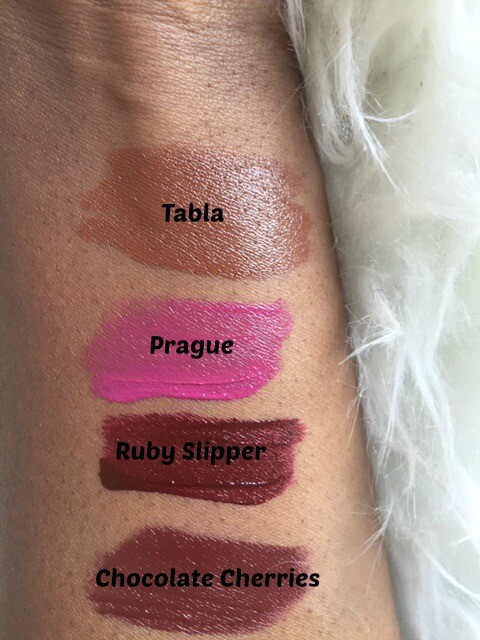 I have so much more lippies that I could share but honestly these I suggested will be ones I will reaching out too the most. If you would like more recommendations on more autumn lippies then leave a comment below and i will happily do a part two for you guys. Also share down below what is your staple lipstick that you reach other. A girl can never have to many lipsticks after all 😉
You can follow me on my social sites: Twitter, Instagram, YouTube
As per usual thank you so much reading guys and i'll see you in my next post.