I think every girl is waiting for that day till they find their perfect foundation and no longer have to keep hunting. Luckily I am all about trying out new foundations and seeing what works for best for my skintone. So you have dry skin, with the odd oily T-Zone every now again (especially in high humidity weather) then continue reading and checking up on the new foundations I try.
Today I am coming to you with two Nars products: The Nars All Day Luminous Weightless Foundation and The Nars Radiant Creamy Concealer. I am pretty sure every blogger/vlogger and their mum, gran and unborn child has either got the foundation or the concealer. I have done pretty well trying not to jump on the hype bandwagon, but there I was in John Lewis in Oxford Circus, minding my own business, briefly looking at the blushers and then one of the bloody Nars girls approached me with her perfect, flawless, immaculate makeup, and I couldn't help but ask what makeup she was wearing. Of course her reply was 'Oh it's the all day luminous weightless foundation… would you like me to try it out on you?' Before you know it I am sitting in one of their chairs facing their steal worthy mirrors in front of me, and twenty minutes later I have handed the cashier my bank card and leaving the shop with two of their products in hand.
Now if you have read my Clinique Beyond Perfecting foundation review, you will know that I am not usually one to splash out the cash on foundations straight away and always seek out a sample before I fully commit. So the fact that I payed out on the foundation and concealer without a second thought, could only mean good things right? Continue reading to hear my thoughts on them.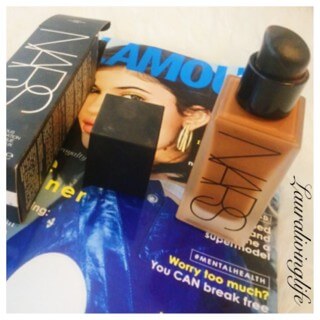 Nars All Day Luminous Weightless Foundation
The Nars all day luminous weightless foundation is oil free and is designed to deliver full, natural looking coverage with only one pump. It is claimed to be lightweight with a 16 hour wear. Nars I stand up and applaud you, because you have really outdone yourself with this gem! Like it is advised I only applied one pump of the product on to my hand and used my beauty blender to apply it all over my face. This ish right here is full coverage! I swear to you my face was glowing and legit looked luminous. Even my boyfriend commented asking what i had on my face because it is so different to other foundations I have used. Personally one pump covered up most of my imperfections, but for the chick that likes the ultimate full coverage then two pumps will do you fine. I used two pumps recently on a night out and the finish was still natural and lightweight. Nars claimed that this product is a 16 hour wear foundation. I cant vouch for that because my makeup is not usually on my face for longer than 10-12 hours but I can say that after my working day, my face still looked in tact and I hadn't need to touch up whatsoever. Can you believe that I went to the gym with this makeup on and was sweating profusely and honestly my makeup did not smudge. If anything it gave me more of a glow. My only gripes with the foundation is that it really settles into my laugh lines, which is such a bugger but to be fair I haven't found any foundation yet that doesn't chillax in my laugh lines so its not all to bad. I also have an issue with how grubby the bottle lid gets. As you can see from the picture above it has makeup marks on it, which makes the bottle look unflattering. I am excited to see if the foundation will work to reduce discolouration to give me a more even skin tone as this is another claim Nars say about the foundation. It is ideal for all skin types, and I am in the shade New Orleans.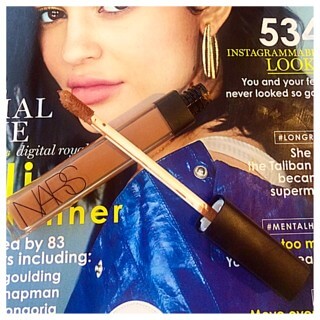 Nars Radiant Creamy Concealer
Nars claim that the concealer is creamy that hydrates and has multi skin care benefits. It is designed with a light diffusing technology that creates a softer smoother complexion. I BFF this concealer! I got mine in the shade Amande, as I wanted not only a concealer for my under eye but a concealer to create a nice highlight, under my eye, down the bridge of my nose, centre of my forehead, above my top lip and the middle of my chin. This concealer delivers and more. What made me love it to the fullest, is the fact that this concealer doesn't crease in the slightest. I am talking smooth, soft canvas. It is so moisturising and creamy that I don't really need to use a lot of product to get my desired result. The applicator is a doe-foot and carries just about the right amount of product to use in one use. It stayed put on my face all day, and considering that I am applying the concealer in my t-zone areas that tend to get oily in warmer conditions, I am very impressed that it didn't budge or spread. The concealer is a medium to full coverage, but it is not by all means cakey and leaves me with such a natural polished finished. The concealer is ideal for all skin types, and due to the multi active botanical, the concealer will helps your skin become more visibly smooth and even toned. Which I would highly agree. I have found my under eye looking more even toned and fresh. I am sure everyone has this already, but for anyone who doesn't and is unsure… you can now be fully rest assured because it is amazing!
Just to add, as some people can be quite particular about certain ingredients in the formula of products, this does not contain; Parabens, sulphates, phthalates, alcohol and is fragrance free.
All in all, I am very happy with my two purchases and it was definitely money well spent. I do see why there has been so much hype about the foundation and the concealer because it really is the bomb dot com. I will need to use the foundation religiously for four weeks straight to see if the claim of improving discolouration is correct, but I'm so psyched about how great this foundation is that I really wont mind if it doesn't help with my discolouration. (but it would be an additional bonus) The Nars foundation retails for £32.00 and the concealer retails at £22.50
Silly question, but who has tried this foundation and what did you think about it? Do you think there is any better foundations out there that you would recommend. Leave a comment below. You can also follow me on Twitter and Instagram. Thank you so much for reading and I'll see you in my next post.