Hello Lovelies, Today I am coming with a review on the amazing Merumaya Iconic Youth Serum. I was kindly gifted the product and couldn't wait to try it out. I don't know whether I am becoming more concious of trying to keep my skin nice and well kept, or whether its the many blogging post I have seen on skincare (most likely the latter) but I've become somewhat obsessed with trying to find the perfect skincare routine for my face. I love makeup to bits but I would like to try and rock my face bear once in a while, and in order to do this, I need to ensure my skin is in top notch.
When I did receive the product, I was a bit apprehensive as to whether this product would work for me, I do not have any fine lines or wrinkles so I wasn't quite sure what I would achieve from it. But after fully researching I was happy to see that the youth serum does more than improve your lines and wrinkles but also helps with keeping elasticity in the skin, giving you a glowy radiance as well as hydrating, combating dark spots and plumpness, which all in all will result in giving us a more healthy looking, youthful skin.
Claim
An exclusive complex of 10 clinically tested, active ingredients all used in full concentration, makes this uniquely anti-ageing and preventative ageing face serum, an essential part of every skincare routine. It truly is the Integrative concept in a bottle. No matter our age, it is never too late to prevent further skin ageing and even though young, you already have skin damage that needs addressing. All about ageing youthfully, this face serum is also brilliant for those with problem/blemish/acneic skins because it contains ingredients that help to stimulate the beta defensins that help to prevent the microbial invasion that causes spots as well as those that calm the skin. Perfect too for sensitive skins that need strong anti-inflammatory action to soothe and calm irritation and redness.
Application
Apply the serum to your face and neck. Using the excess of the serum on your palms, you can apply it onto your lips and the back of your hands.
At night you can use a little bit more, with Meumaya claiming that all the 10 powerhouse active ingredients can work to rejuvenate your skin while you sleep.
Price
The Merumaya Iconic Youth Serum, retails for £36.50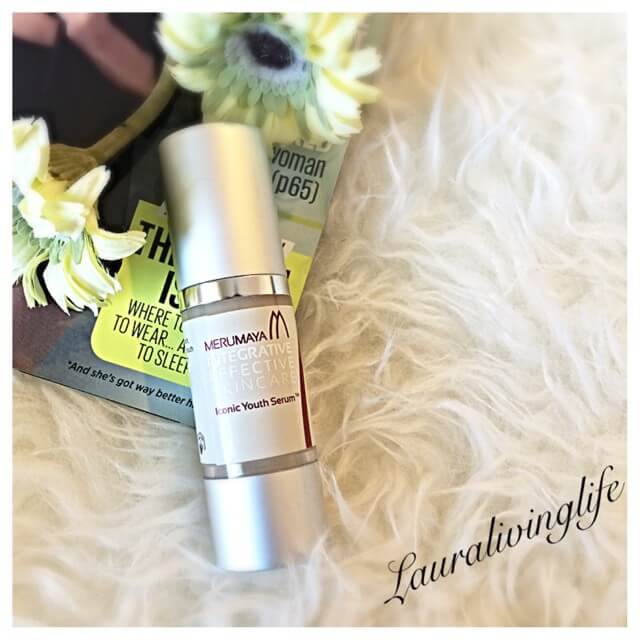 Verdict
Being that I have sensitive skin, with any new skincare product I get I always do a two day tester of applying a little bit in my most problematic areas and praying that I don't have a horrible reaction to it. Dare I say after two days I noticed that although the pigmentation was still there, it looked somewhat radiant and looked as if it was in the process of fading. Later on that night after having my bath, I used overly a bit too much and slathered it all over my face. The texture is velvety soft and not tacky in the slightest, which you can find with most serums. My face practically drank this stuff and sinked into my skin perfectly. In the morning my face felt and looked refresh. I have definitely incorporated this into my skincare routine. Now as much as I want to leave this review with only saying good stuff about this amazing serum, I have to be truthful with my one and only gripe. The smell… I literally cant handle it. It smells sooo herb-y. I would compare it to the way a spa smells when you are getting a massage with all the different oils. Its not unbearable and it does fade after a while, or maybe I am too fast asleep to notice it, but because of the smell I haven't applied it in the morning as I don't want to smell it under my makeup. Its my second week of wearing it and my skin looks brighter and ridiculously smooth. I am not expecting fast results so the pigmentation I have around my eyes and my mouth are still visible but the rest of my face does look radiant and evened out. As said above I don't have any deep lines or wrinkles, so I cant say whether it works, but if its working from deep within to keep them away for the distant future, I am happy with that. On another note, I did squeeze a sample of the serum into a little pot for my mother in law (who is in her 40s, but doesn't look it ;)) and she has only been using it for a couple of days and she really likes it. She also commented on the fact that it left her skin smooth and surprisingly she doesn't mind the smell, so each to their own really!
I am going to keep on using this product religiously and in about two months I will do another mini review on any improvements or changes I have noticed since now.
You can check out Merumaya Iconic Youth Serum here, they also have other products that could be of interest to anyone looking for a good skincare regimen.
Has anyone tried the Iconic Youth Serum before or any other of their products? What did you think of it. Would love to hear your comments below. Thank you so much for reading and I'll see you in my next post.
*PR Sample. However all opinions are my own.