In 2017 body shaming is a bigger issue than it ever was. Instagram, Twitter, Snapchat, Memes have all included conversation, visual images and videos degrading how men and women look. It has become the norm to actually mock the way someone looks.
Body shaming is described as an action or practice of humiliating a person by making mocking or critical comments about their body shape or size.
In todays society we are being conditioned to focus A LOT on what how we look and what is wrong with our bodies. I am sure we can all admit that we have or at some point thought we are not 'good enough' because we look 'different' to what society has deemed 'normal' .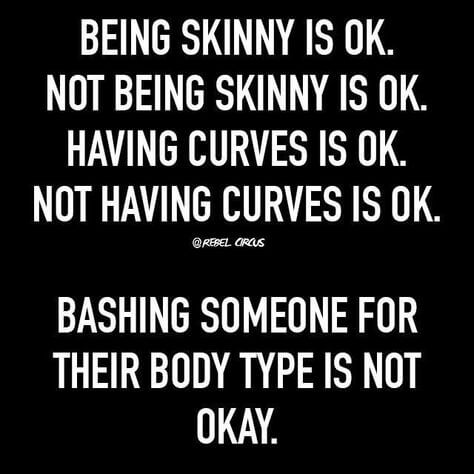 My personal experience with being body shamed, was actually not by a friend, or an internet troll, or a passer by comment, but actually by a boyfriend at the time. I was quietly minding my own business watching a Youtuber doing a bikini haul. I was admiring her and her bikini choices and not even a second thought came into my mind, that I wish I looked like her, until said boyfriend came into the room, looked at her and then me and then proceeded to say ' Wow, you used to look like that… when are you going to look like that again' . I swear to you, I could of chocked on the biscuit I was eating. I automatically felt disgusting, fat and most importantly ugly. I would be lying to you if I said, I felt sad for so so hours and moved on, Nope! The next day I signed up to the gym, threw away all my junk food and tried surviving on cows food with the hopes I would become 'skinny enough' quickly. Did it work? No… I still went to the gym, but then I started hiding crisps and chocolates whenever he was around, and only snacking on fruits and vegetables out of fear of being body shamed again.
I am being Body Shamed, what should I do?
I cant say what is the right or the wrong way about dealing it, but what I can tell you from personal experience, is that the 95% of the person who is doing the body shaming, are actually very insecure and not comfortable with their own selves, that they are now reflecting their issues onto others. They are only body shaming you because they are not confident with themselves, and body shaming you, actually makes them feel better in some absurd way. TRY to not let it get to you. If they see you are being affected by the comments, they are actually more likely to carrying on with the taunting. If you are happy and secure with the way you look, why should someone else's perception get you down.
Now If you do have issues with the way you look, and being body shamed hasn't stemmed this feeling, then do something about it. Everything is a working progress, I have learned. You can sign up to the gym, but you need to get out of that unrealistic thought that after 2 weeks, you will have surfboard abs. Its impossible. For me personally I just try to think that ultimately I want to be healthy and not stick thin, and by eating healthily and regularly working out I will feel much better about myself in the long run.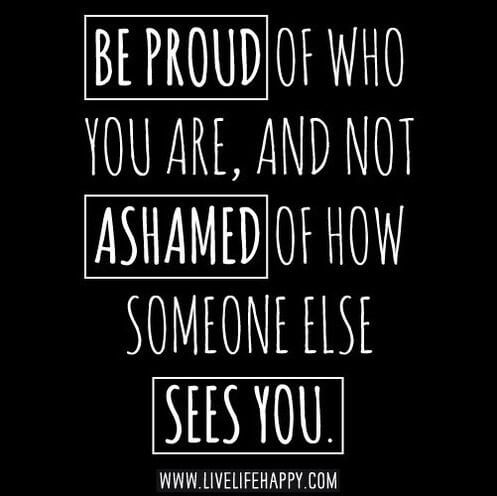 What advice would I give?
Girlfriend/Boyfriend/Husband/wife– Stop putting your other half down if you believe they have gained or lost a few pounds. Remember why you decided to be with them in the first place. if it was because of their shape or size, then you are very superficial and need to go and revaluate what a relationship should really be about.
Mothers– Stop making passing comments about what your child is or should be eating. Also stop putting so much pressure on yourselves on what you should or shouldn't be eating, children pick up their parents habits very quickly.
Fathers– Stop passing your judgements on your son/daughters bodies. You are not their gym instructor. You are supposed to love them unconditionally.
Friends– Stop comparing your bodies to your friends. We are all genetically designed differently. What may look good on, doesn't have to look good on others.
Final Words?
We are all guilty of at some point in our lives body shaming, whether done intentionally or unintentionally. We need to not do this, we should encouraging and picking each other up. We also need to stop picking ourselves apart, because we believe we don't meet a specific criteria or standard of how society says we should 'look'. As a mother I would hate to pass on my 'self hate' I have with myself at times on to my child. I wouldn't want my son to feel like his worth is only dependable on how he looks. Social media, magazine etc, you need to stop spewing out your perceptions of how the perfect body looks like. Its degrading and it's only giving more ammunition for people to body shame.
Have you experienced Body Shaming? What advice would you give?